printer friendly version
Khalifa Port, Abu Dhabi chooses CEM
September 2013
Access Control & Identity Management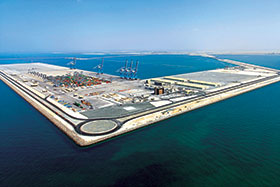 CEM Systems, part of Tyco Security Products, has secured the prestigious Khalifa Port & Industrial Zone (KPIZ), Abu Dhabi with the CEM AC2000 SE (Standard Edition) system. The system was installed at Khalifa Port by CEM Approved Reseller Tyco Fire & Security U.A.E.
Khalifa Port, the state-of-the-art gateway to Abu Dhabi was officially opened in December 2012. It is crucial to the ADPC (Abu Dhabi Ports Company) megaproject which includes Khalifa Industrial Zone Abu Dhabi (Kizad). Featuring the latest technology and designed to accommodate the world's largest ships, Khalifa Port will become one of the biggest ports in the world when all phases are completed, estimated to be two-thirds the size of Singapore.
"CEM has provided a sophisticated security solution for Khalifa Port," said Philip Verner, regional sales director, EMEA, CEM Systems. "This was an exciting yet challenging project for CEM, which delivered not one but two systems for the Port; AC2000 and a highly customised gate management system providing high level integration to multiple port security systems to ensure the monitoring and control of vehicles coming onsite." The AC2000 Gate Management Solution integrates with a number of third-party systems all interfaced to ensure multiple checks are made before a vehicle can enter site. The driver firstly swipes their card then passive or active long range RFID tags are used on trucks and light vehicles and then finally ANPR licence plate recognition is used and the gate opens.
"Khalifa Port required a highly secure and flexible access control system, which could be used for more than just access control," said Craig Menzies, security division manager, Tyco Fire & Security UAE. "Having worked with CEM before on projects such as Dubai International Airport, we knew the CEM AC2000 solution would be a perfect fit for the port."
CEM's hardware was used throughout the port including over 700 S610e and S610f fingerprint readers, S3020 portable card readers and over 300 DIU (door interface unit) 230s utilising PoE+ (Power over Ethernet) technology.
The multi-technology CEM S610e IP card readers installed at Khalifa Port are IP 66 rated to protect against dust and water. The S610e reader displays meaningful user messages such as 'Wrong Time-Zone & 'Card Expiring' and features a keypad for additional PIN code security. The S610e reader also offers the highest level of reliability as it features an internal database for offline card validation. The reader's database holds up to 200 000 card holder records internally and up to 8 000 records offline. This means that should communication be temporarily lost at the Khalifa Port, staff can still validate cards throughout the port at all times.
CEM S610f fingerprint readers will also be installed on critical doors/areas throughout Khalifa Port. The S610f reader has all the features of the S610 reader but the added benefit of biometric security. For high security areas users will be prompted for three identity checks (card, PIN and biometric verification) using one device.
Being such a large and expansive site, Khalifa Port required mobile security. The CEM S3020 portable reader is ideal for roaming security. The lightweight, handheld mobile reader can be used at remote port sites or temporary entrances which have no power during the construction phases.
Khalifa Port also chose CEM's Power over Ethernet door interface units for seamless installation and to ensure cabling was kept to a minimum. The DIU 230 door interface unit utilises CEM Power over Ethernet Plus technology to power readers and heavy duty maglocks on two doors, using a single Ethernet network cable. This created sizable cost savings on the project as it eliminated the need to fit mains power supplies/fused spurs above each door.
Khalifa Port also use the AC2000 security management system to its maximum efficiency taking advantage of software applications such as AC2000 AED (Alarm Event Display), VIPPS ID badging and visitor management.
Credit(s)
Further reading:
Protecting our most vulnerable
Access Control & Identity Management
In a nation grappling with the distressing rise in child kidnappings, the need for innovative solutions to protect our infants has never been more critical. South Africa finds itself in the throes of a child abduction pandemic.
Read more...
---
New generation of cyber-focused controllers
Gallagher News & Events Access Control & Identity Management Products & Solutions
The C7000 gives users an opportunity to leverage their hardware and firmware to build a platform designed to catapult their organisation into the future, with cybersecurity baked in from inception.
Read more...
---
New T&A terminal features revolutionary AI technology
Suprema News & Events Access Control & Identity Management AI & Data Analytics
Suprema has launched BioStation 2a, the world's first deep learning-based fingerprint recognition solution, providing powerful access control features and an improved ability to extract templates from low-quality fingerprints.
Read more...
---
Unlocking efficiency and convenience
OPTEX Access Control & Identity Management
The OVS-02GT vehicle detection sensor is the newest member of OPTEX's vehicle sensor range, also known as 'virtual loop', and offers reliable motion detection of cars, trucks, vans, and other motorised vehicles using microwave technology.
Read more...
---
Access to data centre secured
Suprema Access Control & Identity Management Infrastructure
GBM required a modern access control system to increase the security of its facilities in a productive environment without affecting the operation of the offices and the data centre, which are carried out 24/7/365.
Read more...
---
Enhanced security at Xanadu Nature Estate
Turnstar Systems Access Control & Identity Management Products & Solutions
Turnstar Systems recently installed two bicycle turnstiles at the 240-hectare Xanadu Nature Estate, set in the Magaliesberg, the perfect location for secure communal living catering to the lifestyle of residents.
Read more...
---
Digital identity verification checks to pass 70 billion in 2024
Access Control & Identity Management News & Events
A new study from Juniper Research has found that the number of digital identity verification checks will surpass 70 billion in 2024, growing 16% on the previous year's number of 61 billion.
Read more...
---
Reliable access management for famous film location
Paxton Access Control & Identity Management Residential Estate (Industry)
The Royal Connaught Park features a private swimming pool, health and fitness suite, outdoor tennis court and onsite parking, with over 100 residents coming and going every day.
Read more...
---
Smart opener for gates and garages
Smart Home Automation Access Control & Identity Management
The Smart Gate and Garage Opener allows consumers to control and monitor gates and garage doors that have already been fitted with automation devices via the Yale Home app on their smartphone.
Read more...
---
Mobile access to multiple locations
Suprema Access Control & Identity Management Products & Solutions
A central security network was used to link multiple sites across VPN connections to allow the Suprema CoreStations installed at various locations to talk to the remote server.
Read more...
---