printer friendly version
SA's biometric industry under threat
September 2013
Access Control & Identity Management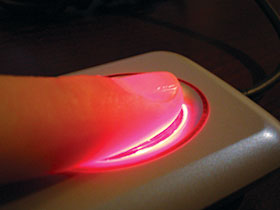 Misinformed service providers, fly-by-night operators and buck-chasers continue to pose a threat to the development of South Africa's biometric identity management industry by fuelling negative perceptions of products and undermining the value of legitimate offerings.
"The country faces an uphill battle against ruthless suppliers who vaguely understand biometrics and are driving sales targets without providing adequate after-sales service. There are also many posers who have no genuine track record in the market or sufficient expertise to add any real value," says Marius Coetzee, CEO, Ideco.
"This impacts on customer experience", says Coetzee. "Manufacturers from around the world are flooding our market with every possible biometric option. With the typical DIY culture in SA, every developer thinks that ordering a biometrics unit online and downloading the development tools makes him an expert in the field. Every biometric modality (fingerprint, facial, iris, voice, etc) is available in our market and sold on the gimmicks. Some readers talk to you, some read under water and some 'see it all'."
The truth is that currently only one modality (fingerprint) is regarded as mature and available for large scale commercial deployment, and there are only a selected few brands that are tested, proven and chosen for the South African conditions.
Ideco has established a leadership position in the market and has contributed substantially to South Africa's long-time dominance in the world market in the adoption of biometrics for access control and time and attendance applications. However, this dominance has ebbed away as a result of being saturated with offerings and the rapid increase in the number of competitors – many of whom do not have the credentials to live up to their promise or look after the customer.
Coetzee says that while there are global standards, these don't guarantee quality, or service. "The reality is that even a sub-standard biometric offering can be made to comply with certain standards.
"The best advice is to follow global leaders and make sure that your purchase meets their expectation. FBI approval on biometric readers is not a North American specific approval, but an international benchmark of quality that meets law enforcement and judicial requirements. This means that biometric evidence submitted from the FBI approved reader in a forensic investigation or an HR dispute will be accepted as irrefutable identity proof by judicial and law enforcement departments. If readers are used in environments such as Interpol, FBI, Scotland Yard and our SAPS you can be assured of its quality."
The application of biometric solutions in the legal process is one of the primary areas where technology is truly put to the test. Coetzee says Ideco has come across numerous case studies from frustrated customers who have been disappointed with the results of biometric evidence that could not be used or did not live up to expectations as an effective security mechanism.
Against this background, Coetzee believes the solution lies in collaboration between all stakeholders. Suppliers need to realise their responsibility towards the market to only deal with products that comply with FBI standards.
"Customers need to realise that biometrics is regarded as personal information which is subject to many regulatory and judiciary requirements. Consultants need to realise that no biometric solution operates in total isolation. At some point customers may be required to use the transactions as evidence in a court of law, or to link to the Criminal Record Centre of SAPS or to verify identities against the Department of Home Affairs."
Credit(s)
Further reading:
Facial access control for ministry
Issue 1 2020, ZKTeco , Access Control & Identity Management
The Ministry of Culture in Saudi Arabia has adopted ZKTeco's facial recognition technology and fingerprint biometrics to manage access control into its building.
Read more...
---
New Door Pilot app from dormakaba
Issue 1 2020, dormakaba South Africa , Access Control & Identity Management
With new dormakaba Door Pilot, automated doors can also now be operated on the basis of remote control technologies. The system, comprising the Door Pilot app for smartphones and a Wi-Fi interface for ...
Read more...
---
Identity lifestyle
Issue 1 2020, Suprema , Access Control & Identity Management
Once the technology of the future, biometrics has quietly snuck into our daily lives through smartphones and access controls into our places of work.
Read more...
---
Securing BP's new head office
Issue 1 2020, ISF SFP , Access Control & Identity Management
ISF SFP was awarded the contract to secure the first development phase for Oxford Parks, the new head office for BP South Africa.
Read more...
---
Combining aesthetics and access control
Issue 1 2020, Turnstar Systems , Access Control & Identity Management
Prestigious law firm Bowman Gilfillan recently upgraded its physical security with the addition of four Turnstar Speedgate Express access control lanes.
Read more...
---
Video doorbells from Ring
Issue 1 2020 , Access Control & Identity Management
Ring has a number of video doorbells available in South Africa that run off batteries or power and enable users to answer their doors from anywhere.
Read more...
---
Centurion to unveil new product
Issue 1 2020, Centurion Systems , Access Control & Identity Management
Centurion Systems will be hosting its third Access Automation Expo this year, with dates confirmed for Durban, Johannesburg and Cape Town.
Read more...
---
Looking ahead with mobile access technologies
Access & Identity Management Handbook 2020, Technews Publishing, HID Global, dormakaba South Africa, Salto Systems Africa, Suprema, Gallagher , Access Control & Identity Management, Integrated Solutions
Given the broad use of smartphones around the world and the numerous technologies packed into these devices, it was only a matter of time before the access control industry developed technology that would ...
Read more...
---
Mobile access is more secure than card systems
Access & Identity Management Handbook 2020 , Access Control & Identity Management
The ability to use mobile phones as access credentials is one of the biggest trends in a market that historically has been slow in adopting new technology.
Read more...
---
This is the future. This is what we do.
Access & Identity Management Handbook 2020, ZKTeco , Access Control & Identity Management
ZKTeco has created a unique range of visible light facial recognition products combined with a flexible Android platform.
Read more...
---