printer friendly version
SA's biometric industry under threat
September 2013
Access Control & Identity Management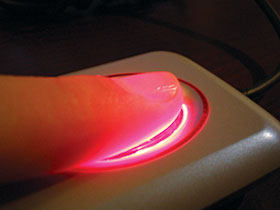 Misinformed service providers, fly-by-night operators and buck-chasers continue to pose a threat to the development of South Africa's biometric identity management industry by fuelling negative perceptions of products and undermining the value of legitimate offerings.
"The country faces an uphill battle against ruthless suppliers who vaguely understand biometrics and are driving sales targets without providing adequate after-sales service. There are also many posers who have no genuine track record in the market or sufficient expertise to add any real value," says Marius Coetzee, CEO, Ideco.
"This impacts on customer experience", says Coetzee. "Manufacturers from around the world are flooding our market with every possible biometric option. With the typical DIY culture in SA, every developer thinks that ordering a biometrics unit online and downloading the development tools makes him an expert in the field. Every biometric modality (fingerprint, facial, iris, voice, etc) is available in our market and sold on the gimmicks. Some readers talk to you, some read under water and some 'see it all'."
The truth is that currently only one modality (fingerprint) is regarded as mature and available for large scale commercial deployment, and there are only a selected few brands that are tested, proven and chosen for the South African conditions.
Ideco has established a leadership position in the market and has contributed substantially to South Africa's long-time dominance in the world market in the adoption of biometrics for access control and time and attendance applications. However, this dominance has ebbed away as a result of being saturated with offerings and the rapid increase in the number of competitors – many of whom do not have the credentials to live up to their promise or look after the customer.
Coetzee says that while there are global standards, these don't guarantee quality, or service. "The reality is that even a sub-standard biometric offering can be made to comply with certain standards.
"The best advice is to follow global leaders and make sure that your purchase meets their expectation. FBI approval on biometric readers is not a North American specific approval, but an international benchmark of quality that meets law enforcement and judicial requirements. This means that biometric evidence submitted from the FBI approved reader in a forensic investigation or an HR dispute will be accepted as irrefutable identity proof by judicial and law enforcement departments. If readers are used in environments such as Interpol, FBI, Scotland Yard and our SAPS you can be assured of its quality."
The application of biometric solutions in the legal process is one of the primary areas where technology is truly put to the test. Coetzee says Ideco has come across numerous case studies from frustrated customers who have been disappointed with the results of biometric evidence that could not be used or did not live up to expectations as an effective security mechanism.
Against this background, Coetzee believes the solution lies in collaboration between all stakeholders. Suppliers need to realise their responsibility towards the market to only deal with products that comply with FBI standards.
"Customers need to realise that biometrics is regarded as personal information which is subject to many regulatory and judiciary requirements. Consultants need to realise that no biometric solution operates in total isolation. At some point customers may be required to use the transactions as evidence in a court of law, or to link to the Criminal Record Centre of SAPS or to verify identities against the Department of Home Affairs."
Credit(s)
Further reading:
Protecting our most vulnerable
Access Control & Identity Management
In a nation grappling with the distressing rise in child kidnappings, the need for innovative solutions to protect our infants has never been more critical. South Africa finds itself in the throes of a child abduction pandemic.
Read more...
---
New generation of cyber-focused controllers
Gallagher News & Events Access Control & Identity Management Products & Solutions
The C7000 gives users an opportunity to leverage their hardware and firmware to build a platform designed to catapult their organisation into the future, with cybersecurity baked in from inception.
Read more...
---
New T&A terminal features revolutionary AI technology
Suprema News & Events Access Control & Identity Management AI & Data Analytics
Suprema has launched BioStation 2a, the world's first deep learning-based fingerprint recognition solution, providing powerful access control features and an improved ability to extract templates from low-quality fingerprints.
Read more...
---
Unlocking efficiency and convenience
OPTEX Access Control & Identity Management
The OVS-02GT vehicle detection sensor is the newest member of OPTEX's vehicle sensor range, also known as 'virtual loop', and offers reliable motion detection of cars, trucks, vans, and other motorised vehicles using microwave technology.
Read more...
---
Access to data centre secured
Suprema Access Control & Identity Management Infrastructure
GBM required a modern access control system to increase the security of its facilities in a productive environment without affecting the operation of the offices and the data centre, which are carried out 24/7/365.
Read more...
---
Enhanced security at Xanadu Nature Estate
Turnstar Systems Access Control & Identity Management Products & Solutions
Turnstar Systems recently installed two bicycle turnstiles at the 240-hectare Xanadu Nature Estate, set in the Magaliesberg, the perfect location for secure communal living catering to the lifestyle of residents.
Read more...
---
Digital identity verification checks to pass 70 billion in 2024
Access Control & Identity Management News & Events
A new study from Juniper Research has found that the number of digital identity verification checks will surpass 70 billion in 2024, growing 16% on the previous year's number of 61 billion.
Read more...
---
Reliable access management for famous film location
Paxton Access Control & Identity Management Residential Estate (Industry)
The Royal Connaught Park features a private swimming pool, health and fitness suite, outdoor tennis court and onsite parking, with over 100 residents coming and going every day.
Read more...
---
Smart opener for gates and garages
Smart Home Automation Access Control & Identity Management
The Smart Gate and Garage Opener allows consumers to control and monitor gates and garage doors that have already been fitted with automation devices via the Yale Home app on their smartphone.
Read more...
---
Mobile access to multiple locations
Suprema Access Control & Identity Management Products & Solutions
A central security network was used to link multiple sites across VPN connections to allow the Suprema CoreStations installed at various locations to talk to the remote server.
Read more...
---