printer friendly version
Separate security hype from reality
September 2013 Surveillance, Perimeter Security, Alarms & Intruder Detection, Infrastructure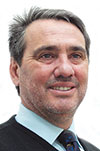 Peter Turvey
Wireless networks have been labelled as generally insecure, supported by all sorts of horror stories on the Internet and even mainstream press. Hi-Tech Security Solutions spoke to Peter Turvey and Nick Ehrke from Radwin SA to find out how insecure wireless really is.
Turvey is quick to point out that we generally lump all wireless communications in the same basket as public WiFi access. This is a mistake as the WiFi you access at a coffee shop or the airport is designed to be widely available to as many people as possible. These networks are designed for easy access, making them somewhat insecure by design.
When looking at wireless networks used for transmitting business data and, specifically to the security industry, video surveillance, Turvey explains that these systems are not WiFi and run on different protocols and frequencies.
"Radwin's technology was designed for use in the Israeli military," explains Turvey. "It needed to be secure, have a longer range than WiFi and be reliable enough to use in situations where loss of communications or hacking could lead to a loss of life. These systems are built to reliably support high throughput in harsh conditions."
This need for secure communications led to the security settings being hardware encoded to ensure they can't be changed. For example, Turvey says that when setting up a (non-WiFi) wireless connection, you don't broadcast the network's existence and ask people to log on. In Radwin's case, the systems can be set up so that only a specific Radwin device will speak to another specific Radwin device based on each one's Mac addresses. The communication is also encrypted.
This means that even if someone does find the network, the device will reject any communications from non-specified devices. Using the Mac address means that even if a hacker is using a Radwin device, if it does not have the specified Mac address (or addresses), it will be excluded from the network until an administrator physically adds the new address.
This is even more secure than cabled networks. If you plug a laptop into an Ethernet port at a company, you almost always automatically have access to the first layer of the network as the end point synchronises automatically. For most people this means nothing, but for a hacker with time and skills it's a starting point. You can't even get that far on secure wireless networks.
Radwin's southern African sales director, Nick Ehrke says that the wireless option is finding more acceptance in areas where traditional cabling is impossible, unsightly or even inconvenient. An example is in residential estates where digging up the streets is unpopular. It also avoids problems of cutting cables, either by accident or intentionally, while permitting high throughput for high definition and megapixel cameras.
The benefits of wireless are self evident. Ehrke notes that the wireless cameras on some of Cape Town's highways have reduced the average response time to accidents from around 20 minutes to about two. Safe City projects are also looking to wireless surveillance links because some city leaders understand that if they can provide a safe environment they will attract businesses and consumers, who will contribute to the city's tax coffers. Additionally, wireless systems are quicker to deploy without digging up the streets.
Of course, in some smaller companies or private residences, WiFi might be the better choice when networking cameras. However, in these scenarios there are generally a limited number of cameras and constant HD viewing is not a necessity. Even in this scenario, setting up the network securely will make it more difficult for people to find it and hack into it.
The convenience of wireless networking is a given, and with the correct technology and configuration, users can be assured of the security of their data and the cost effectiveness of not having to lay cables. Wireless may not be the solution for every need, but effective planning and research will show that the right wireless solution is often exactly the solution companies require.
Credit(s)
Further reading:
Safer roads to a sustainable future
Dahua Technology South Africa Surveillance
With the ever-increasing number of vehicles on the road, it is imperative to constantly improve the quality of transportation monitoring and traffic management in urban and rural areas.
Read more...
---
From damage management to false alarm prevention
Dallmeier Electronic Southern Africa Transport (Industry) Surveillance Logistics (Industry)
Video surveillance is undergoing an exciting evolution; today's IP-based solutions can be fully integrated into digital systems. With the increasing integration of artificial intelligence (AI); logistics, in particular, can make processes more transparent and exploit previously untapped potential.
Read more...
---
Majority of South African companies concerned about cloud security
Information Security Infrastructure
Global and local businesses share a common concern when it comes to cloud security. 95% of global businesses and 89% of local businesses are concerned about the security of public clouds.
Read more...
---
Consolidated cybersecurity management
Technews Publishing Editor's Choice Information Security Infrastructure
SMART Security Solutions spoke to Gareth Redelinghuys, Country Managing Director, African Cluster at Trend Micro, to find out what makes Trend stand out from the crowd and also its latest market offerings.
Read more...
---
Access to data centre secured
Suprema Access Control & Identity Management Infrastructure
GBM required a modern access control system to increase the security of its facilities in a productive environment without affecting the operation of the offices and the data centre, which are carried out 24/7/365.
Read more...
---
Olarm advances smart security with Texecom integration
Olarm News & Events Perimeter Security, Alarms & Intruder Detection Products & Solutions
Following Olarm's achievement as the OSPA 2023 winner of 'Outstanding Security Integrator', it has taken another significant step in its innovation journey with the announcement of its integration with Texecom Premier Elite.
Read more...
---
Marshall Security partners with Blacklight to introduce Reconeyez to KZN
News & Events Surveillance Power Management
Marshal Security has joined forces with Blacklight Group to launch Reconeyez, a cutting-edge battery-powered surveillance platform with mesh network capability, in the KwaZulu-Natal market.
Read more...
---
Africa's growth lies on shoulders of renewable energy
News & Events Infrastructure
The Africa Tech Festival from 13 to 16 November in Cape Town will unpack the challenges and discuss the pivotal role of sustainability & renewable energy in advancing technological development in Africa.
Read more...
---
Commvault appoints Graham Brown as Channel Manager for South Africa/SADC
News & Events Infrastructure
Commvault announced the appointment of industry veteran Graham Brown as Channel Manager for the South Africa/South African Development Community (SADC) region.
Read more...
---
Professional mobile video management in your pocket
Dallmeier Electronic Southern Africa Surveillance
With the SeMSy Mobile Client for its Domera and Panomera cameras, Dallmeier is now launching a solution that combines the functional and security requirements of professional organisations with the user-friendliness and simplicity of consumer apps.
Read more...
---