printer friendly version
IP standardisation proving its value
September 2013 Surveillance, Integrated Solutions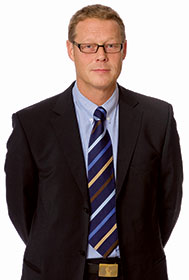 Few would argue that as the industry continues its progression to widespread deployment of IP security technology, some type of standards are necessary to guide the industry in a unified direction. Over the past few years, ONVIF has been one of the organisations at the forefront of the standards movement.
Since its inception in 2008, the organisation has made considerable gains with more than 3700 products now certified as conformant with the ONVIF interoperability specification. When we first started this initiative on behalf of a handful of companies, the industry was on the verge of beginning the transition to IP and that, of course, has had a huge impact on our efforts over the past few years. Now, the industry is moving more rapidly toward standardisation as it looks to take advantage of the opportunity to integrate with the multitude of new products coming on the market.
The industry participation that ONVIF has achieved speaks for itself. From just a few companies, ONVIF now has more than 460 members. More importantly, we are reaching a critical mass of representation from small firms as well to contribute to the work going forward and to implement the interface to their products. Comparisons with other groups such as PSIA are difficult because our approach is quite different. ONVIF excels with its Web services and strong legal framework as well as its decision to establish an underlying specification and then tackle each discipline, such as video or access control or intrusion, individually.
Making standards simpler
By their very nature, standards specify minimum operation requirements so the conforming devices can guarantee interoperability at the most fundamental level. As more functions are considered 'basic', ONVIF will evolve to include interface specifications for these functions as part of the specification. And as manufacturers innovate and add special features, we'll continue to explore those areas to add the specification.
Another ONVIF push is our Profile S for video streaming to simplify and improve the conformance process. The primary benefit is knowing that when two products bear the Profile S mark, they will work together. Rather than trying to figure out whether one version of the ONVIF specification is compatible with another, or which features of the product might interfere with interoperability, seeing the Profile S mark ensures a successful interface. And this will be true going forward with subsequent profile releases, such as Profile G for recording and storage products and Profile C for physical access control and video integration.
Looking to the future
Although standardisation is typically a more gradual, evolutionary process, ONVIF has grown in size and strength quite rapidly over these first four years. Not surprisingly, this has resulted in some growing pains between the market's expectations for the specification and the technical limitations for standards based on the current maturity level of IP technology. Both ONVIF and IP have experienced rapid deployment.
With that in mind, the next few years will be focused not only on moving forward into new technical areas, but we will also concentrate on refining the overall process of standardisation. A strong focus on the conformance process will ensure the quality of the specification and its continuing acceptance in the market.
From the beginning, ONVIF's focus was video because we knew we could get the proper feedback from the marketplace and because the need for standards and interoperability on the network video side was so acute. But we have also recognised from the start the need for specifications in other industry segments.
After the expected release of the fundamental access control specification and test tools early next year, ONVIF will decide on its next area of concentration. This could include new advances in physical access control or intruder alarms – both of which seem to be the next natural step – but it is up to our members to decide the course.
Per Björkdahl is Chairman of the Steering Committee of ONVIF. For more information, please visit www.onvif.org
Further reading:
Pentagon appointed as Milestone distributor
Elvey Security Technologies News & Events Surveillance
Milestone Systems appointed Pentagon Distribution (an Elvey Group company within the Hudaco Group of Companies) as a distributor. XProtect's open architecture means no lock-in and the ability to customise the connected video solution that will accomplish the job.
Read more...
---
Integrated transportation security
Guardian Eye AI & Data Analytics Integrated Solutions Logistics (Industry)
HG Travel installs an AI-powered camera system integrated across 115 vehicles throughout a fleet comprising 160 vehicles of different sizes, along with predictive and self-monitoring tools to track tyre condition, fuel consumption and theft, and overall vehicle maintenance.
Read more...
---
Embracing next-generation surveillance for safer cities
Surveillance Integrated Solutions AI & Data Analytics
With the South African government highlighting the importance of building smart cities by integrating advanced technologies to make them more resilient and liveable, the role of next-generation network video and surveillance technologies cannot be ignored.
Read more...
---
Gallagher Security releases Command Centre v9
Gallagher News & Events Access Control & Identity Management Integrated Solutions
Richer features, greater integrations, with the release of Gallagher Security's Command Centre v9 security site management software designed to integrate seamlessly with various systems and hardware.
Read more...
---
Hik-Connect for Teams released
Hikvision South Africa Products & Solutions Surveillance
Hikvision has released an update for its security management platform; Hik-Connect for Teams not only meets the specific needs of individual users, but also caters to various medium-sized businesses (SMBs) and multi-site management scenarios.
Read more...
---
The human factor side of video management systems
Leaderware Editor's Choice Surveillance Risk Management & Resilience
A video management system (VMS) is central to, and the most vital element to any control room operation using CCTV as part of its service delivery, however, all too often, it is seen as a technical solution rather than an operational solution.
Read more...
---
A simple system for complex protection
Surveillance AI & Data Analytics IoT & Automation
Reconeyez is a company that provides autonomous wireless visual verification systems with built-in artificial intelligence. Running on batteries, each device includes communication capabilities, creating a mesh network between the various devices, linking them to the control room.
Read more...
---
Integrating farming and security solutions for productivity
Security BIS Agriculture (Industry) Integrated Solutions
Security challenges are a harsh reality in South Africa, particularly for those in remote areas. Sadly, recurring rural crimes like farm attacks and livestock theft are part of the farming community's lives.
Read more...
---
Revolutionise your security with integrated solutions
Secutel Technologies Products & Solutions Surveillance
By merging the capabilities of SecuVue and Secutraq, Secutel has forged a robust system empowering users to fine-tune analytics and harness facial recognition, pose detection, and XFS, among other features.
Read more...
---
Safer roads to a sustainable future
Dahua Technology South Africa Surveillance
With the ever-increasing number of vehicles on the road, it is imperative to constantly improve the quality of transportation monitoring and traffic management in urban and rural areas.
Read more...
---