printer friendly version
STAT-X fire suppression
September 2013 Fire & Safety, Products & Solutions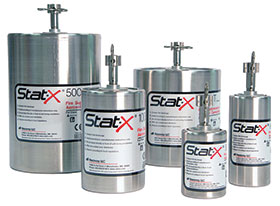 The objective is always to save lives and property. But innovative fire protection does more. It combines science and economics. A superior, environmentally friendly fire suppressant provides for easier and more cost-effective installations, and advanced methods for protecting more challenging applications.
The Stat-X fire suppressant is a patented potassium-based aerosol that suppresses fire by chemically interfering with the free radicals of flame. It is ecologically safe, ten times as effective as halon replacements with zero ozone depletion and no global warming potential.
The Stat-X application technology requires no pressure vessels, manifolds, nozzles or pipe work, factors which result in significant installation and maintenance savings to customers. Stat-X fire suppression systems are available in three configurations:
* Electrical units.
* Thermal units.
* Manual units.
STAT-X advantages
* Effective fire suppression.
* 24/7 automatic protection.
* Extended service life.
* Ideal for harsh environments.
* Rugged, sealed stainless steel construction.
* Compact and modular design.
* UL Listed (and many other certifications).
* Zero global warming potential.
* Zero ozone depletion potential.
* Non-corrosive, non-conductive.
* Non-toxic.
* Easy retrofit option.
* No maintenance required.
* Low cost.
Typical applications
* Telecommunications.
* Mining.
* Flammable liquid storage.
* Data centres.
* Marine.
* Offshore industry.
* High value mobile equipment.
* Power plants.
* Storage vaults.
* Wind turbine.
Credit(s)
Further reading:
Effective access control
Flow Systems Access Control & Identity Management Products & Solutions
Flow Systems has introduced its new Extra Heavy Duty Industrial Rising Vehicle Barrier, which provides a high level of protection. It is a traditional-looking control barrier with the benefits of high-level physical protection.
Read more...
---
Different types of fires
Fire & Safety
Fire is a powerful force of nature; according to SafeQuip, a distributor of fire-related equipment; understanding the different types of fires and how to combat them is essential for safety and protection.
Read more...
---
SafeQuip introduces lithium fire extinguishers
Fire & Safety Products & Solutions
With the use of Lithium batteries increasing in many types of portable devices and battery storage solutions, SafeQuip, in partnership with AVD Lithex, is introducing a fire extinguisher aimed at suppressing and extinguishing, and also preventing re-ignition of lithium fires.
Read more...
---
Modern warehouses come with added fire risk
Fire & Safety Transport (Industry)
Along with increased investments in modern warehousing in Africa, there is also a need to focus on protecting warehouses from crime, however, fire can arguably be a greater danger to business continuity.
Read more...
---
New generation of cyber-focused controllers
Gallagher News & Events Access Control & Identity Management Products & Solutions
The C7000 gives users an opportunity to leverage their hardware and firmware to build a platform designed to catapult their organisation into the future, with cybersecurity baked in from inception.
Read more...
---
Nextivity CEL-FI ROAM R41 boosts your cell signal
IoT & Automation Products & Solutions
Designed for cars, trucks, and boats, it is the industry's most powerful cellular coverage solution for on-the-go applications. It features the 4th generation IntelliBoost chip to deliver channelised coverage for mobile network operator (MNO) signals.
Read more...
---
Wireless fire tech offers unexpected benefits for load shedding
Technoswitch Fire Detection & Suppression Editor's Choice
For the long-suffering residents of South Africa, the policy of load shedding to help manage demand from the country's ageing and poorly maintained electrical generation and distribution system, is a major inconvenience, and it can be fatal to fire alarm systems.
Read more...
---
How to prevent solar inverter short-circuits and fires
Fire & Safety
With many South Africans installing inverters as part of solar power systems to mitigate the impact of load shedding in homes and at businesses, users need to be aware of the potential fire risks.
Read more...
---
Olarm advances smart security with Texecom integration
Olarm News & Events Perimeter Security, Alarms & Intruder Detection Products & Solutions
Following Olarm's achievement as the OSPA 2023 winner of 'Outstanding Security Integrator', it has taken another significant step in its innovation journey with the announcement of its integration with Texecom Premier Elite.
Read more...
---
Enhanced security at Xanadu Nature Estate
Turnstar Systems Access Control & Identity Management Products & Solutions
Turnstar Systems recently installed two bicycle turnstiles at the 240-hectare Xanadu Nature Estate, set in the Magaliesberg, the perfect location for secure communal living catering to the lifestyle of residents.
Read more...
---