printer friendly version
Bosch fire solutions
September 2013 Fire & Safety, Products & Solutions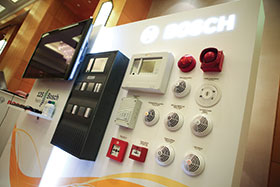 Having the right building protection system gives everyone peace of mind, from property owners and security personnel to employees and visitors. When safety is at stake, the system has to respond immediately, with accurate, reliable performance, and with clear messages that keep everyone calm, no matter what.
Bosch takes an integrated approach to building protection, offering a combination of systems that delivers good performance. Beginning with reliable fire detection and continuing through advanced voice evacuation, Bosch delivers a safe, future-proof investment for every kind of venue.
The integrated Bosch system provides a complete safety chain, from earliest detection to an orderly evacuation. Detectors by Bosch, known for their accurate detection, indicate exactly where hazards exist. Peripherals like sirens and flashing lights can be used to indicate different events, and the system can automatically alert the fire department or initiate pre-recorded voice messages. The voice evacuation system can address the problem area or the entire building with the correct message. Additional warning, with different messages, can be used to alert extra local security teams.
The addressable fire alarm system includes high-quality panels and peripherals, designed for earliest detection. Advanced detectors, interface modules, manual call points, sounders, and other peripherals add flexibility and support special applications. Maintenance is easy, with permanent supervision of all system functions and peripherals for added reliability. For smaller venues, the Fire Panel 1200 series supports up to 254 peripherals, and, in large facilities, a networked solution with Modular Fire Panel 5000 Series, can accommodate up to 32.000 peripherals.
Further reading:
Effective access control
Flow Systems Access Control & Identity Management Products & Solutions
Flow Systems has introduced its new Extra Heavy Duty Industrial Rising Vehicle Barrier, which provides a high level of protection. It is a traditional-looking control barrier with the benefits of high-level physical protection.
Read more...
---
Different types of fires
Fire & Safety
Fire is a powerful force of nature; according to SafeQuip, a distributor of fire-related equipment; understanding the different types of fires and how to combat them is essential for safety and protection.
Read more...
---
SafeQuip introduces lithium fire extinguishers
Fire & Safety Products & Solutions
With the use of Lithium batteries increasing in many types of portable devices and battery storage solutions, SafeQuip, in partnership with AVD Lithex, is introducing a fire extinguisher aimed at suppressing and extinguishing, and also preventing re-ignition of lithium fires.
Read more...
---
Modern warehouses come with added fire risk
Fire & Safety Transport (Industry)
Along with increased investments in modern warehousing in Africa, there is also a need to focus on protecting warehouses from crime, however, fire can arguably be a greater danger to business continuity.
Read more...
---
New generation of cyber-focused controllers
Gallagher News & Events Access Control & Identity Management Products & Solutions
The C7000 gives users an opportunity to leverage their hardware and firmware to build a platform designed to catapult their organisation into the future, with cybersecurity baked in from inception.
Read more...
---
Nextivity CEL-FI ROAM R41 boosts your cell signal
IoT & Automation Products & Solutions
Designed for cars, trucks, and boats, it is the industry's most powerful cellular coverage solution for on-the-go applications. It features the 4th generation IntelliBoost chip to deliver channelised coverage for mobile network operator (MNO) signals.
Read more...
---
How to prevent solar inverter short-circuits and fires
Fire & Safety
With many South Africans installing inverters as part of solar power systems to mitigate the impact of load shedding in homes and at businesses, users need to be aware of the potential fire risks.
Read more...
---
Olarm advances smart security with Texecom integration
Olarm News & Events Perimeter Security, Alarms & Intruder Detection Products & Solutions
Following Olarm's achievement as the OSPA 2023 winner of 'Outstanding Security Integrator', it has taken another significant step in its innovation journey with the announcement of its integration with Texecom Premier Elite.
Read more...
---
Enhanced security at Xanadu Nature Estate
Turnstar Systems Access Control & Identity Management Products & Solutions
Turnstar Systems recently installed two bicycle turnstiles at the 240-hectare Xanadu Nature Estate, set in the Magaliesberg, the perfect location for secure communal living catering to the lifestyle of residents.
Read more...
---
BMS for smaller businesses
Security Services & Risk Management Products & Solutions Risk Management & Resilience
Small businesses can also benefit from tailored energy management solutions just like large corporations. Effective energy management is essential for more sustainable and efficient operations.
Read more...
---