printer friendly version
New LSNi voice sounder
September 2013 Fire & Safety, Products & Solutions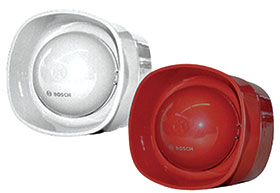 With the introduction of the new LSNi Voice Sounder, Bosch now offers a standalone and uninterruptible voice sounder. The LSNi Voice Sounders combine sounder signals with a clear, synchronised voice message to improve the communication to people who need to be warned of hazardous situations. Clear and understandable messaging reduces the time taken for those at risk to recognise that an emergency exists.
The major advantage of the new LSNi Voice Sounder is its adaptability to customer´s requirements. With 32 pre-programmed signals and voice messages in seven different languages the device is easy to individualise and to adapt to the customer's needs.
With the help of an installed database, the sounder can be flexibly equipped with individual recorded information. Even unique customer requests relating to the language or the text of the message are possible. In this case and to meet the highest quality demands, the customised messages get professionally recorded and supplied to the customer.
For locations with demanding safety requirements, uninterruptible voice sounding is an essential feature. Uninterruptible means that whether a T-tap interruption, one cable interruption, or even two cable interruptions occur in the loop, the sounder remains active. To activate this feature, an industrial high-performance battery with a life time of 10 years is needed and can be ordered separately. Besides the fact that sounders of the same LSN loop and with the same message always provide immediate synchronisation, the battery allows the sounder volume to remain constant, even in the case of voltage drop.
For more information contact Bosch Security Systems - South Africa & Sub-Sahara Africa, +27 (0)11 651 9813, jaco.liebetrau@za.bosch.com, www.boschsecurity.co.za
Credit(s)
Further reading:
Effective access control
Flow Systems Access Control & Identity Management Products & Solutions
Flow Systems has introduced its new Extra Heavy Duty Industrial Rising Vehicle Barrier, which provides a high level of protection. It is a traditional-looking control barrier with the benefits of high-level physical protection.
Read more...
---
Different types of fires
Fire & Safety
Fire is a powerful force of nature; according to SafeQuip, a distributor of fire-related equipment; understanding the different types of fires and how to combat them is essential for safety and protection.
Read more...
---
SafeQuip introduces lithium fire extinguishers
Fire & Safety Products & Solutions
With the use of Lithium batteries increasing in many types of portable devices and battery storage solutions, SafeQuip, in partnership with AVD Lithex, is introducing a fire extinguisher aimed at suppressing and extinguishing, and also preventing re-ignition of lithium fires.
Read more...
---
Modern warehouses come with added fire risk
Fire & Safety Transport (Industry)
Along with increased investments in modern warehousing in Africa, there is also a need to focus on protecting warehouses from crime, however, fire can arguably be a greater danger to business continuity.
Read more...
---
New generation of cyber-focused controllers
Gallagher News & Events Access Control & Identity Management Products & Solutions
The C7000 gives users an opportunity to leverage their hardware and firmware to build a platform designed to catapult their organisation into the future, with cybersecurity baked in from inception.
Read more...
---
Nextivity CEL-FI ROAM R41 boosts your cell signal
IoT & Automation Products & Solutions
Designed for cars, trucks, and boats, it is the industry's most powerful cellular coverage solution for on-the-go applications. It features the 4th generation IntelliBoost chip to deliver channelised coverage for mobile network operator (MNO) signals.
Read more...
---
How to prevent solar inverter short-circuits and fires
Fire & Safety
With many South Africans installing inverters as part of solar power systems to mitigate the impact of load shedding in homes and at businesses, users need to be aware of the potential fire risks.
Read more...
---
Olarm advances smart security with Texecom integration
Olarm News & Events Perimeter Security, Alarms & Intruder Detection Products & Solutions
Following Olarm's achievement as the OSPA 2023 winner of 'Outstanding Security Integrator', it has taken another significant step in its innovation journey with the announcement of its integration with Texecom Premier Elite.
Read more...
---
Bosch Building Technologies to focus on SI business
Bosch Building Technologies Editor's Choice
Bosch Building Technologies, which includes the security division, aims to "consolidate its capabilities to achieve a globally leading position in the systems integration market", a move that will include selling most of its product business.
Read more...
---
Enhanced security at Xanadu Nature Estate
Turnstar Systems Access Control & Identity Management Products & Solutions
Turnstar Systems recently installed two bicycle turnstiles at the 240-hectare Xanadu Nature Estate, set in the Magaliesberg, the perfect location for secure communal living catering to the lifestyle of residents.
Read more...
---