printer friendly version
Superior installations and fast response time
September 2013
Surveillance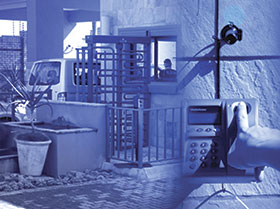 AMAX was founded in 1996 as a wireless ISP. CEO Freeg Stoltz says that the company identified the need for security equipment to be constantly monitored and maintained. This resulted in the development of a control room where all field equipment is monitored 24/7. "Should a fault occur on a client's site, the control room then immediately dispatches a technician to resolve the issue."
The company has over 10 years' experience in gated community security systems, integrating multiple state-of-the-art applications over one network. "We believe that each application is unique and therefore perform a complete assessment of all risks and customise solutions and software that will produce optimum results for the customer. We are involved from the design stage, through supply, installation and commissioning, followed by full technical support," said Stoltz.
The company's core capabilities include voice, data, video surveillance, access control (booms, licence plate recognition, spike barriers, anti-passback, T&A and turnstiles), zoned electric fencing, and command and control centre setup.
The company has branches in Pretoria North, Pretoria East, Midrand and Alberton and services a number of well-known upmarket estates in the Gauteng region. "We represent a number of leading agencies such as Miro, Security Warehouse and Ideco and we invest in continuous research to ensure that the solutions we provide for customers are leading-edge technology," said Stoltz.
"By further investing in the development and upskilling of our employees, we are able to leverage their intellectual property to ensure each client system receives the attention it deserves. Amax employees regularly attend training sessions held by Security Warehouse, which is SASSETA accredited. In addition, our service level agreement (SLA) has provision for ongoing training for all customers after an installation is complete."
Amax's networks are an integration of voice, data and video and cover IP and analogue phones with free on-net calls and e-mail hosting. "We utilise fibre optic, Wi-Max and WiFi radio, and copper-based Ethernet networks. Generator backup power and lightning and surge protection are provided for complete peace of mind with regard to continuity of service," said Stoltz.
Other services provided by Amax include PC and peripheral repairs, Microsoft Windows support, offsite data backup and recovery and tailor-made financing packages.
"I believe that major differentiators for us in the market include our remote offsite monitoring service, wireless network covering Gauteng (IENS, IECNS Licensed), the fact that all our installations and equipment are fully backed by Security Warehouse, our 24/7 support technician availability, four-hour response time, no call-out or repair charges and our onsite swap out of faulty equipment," said Stoltz.
"Ultimately our aim is to provide a superior customer experience and we achieve this by aligning ourselves with suppliers of high-quality technology and by maintaining open communication lines with our customers."
For more information contact Amax Electronics, +27 (0)12 543 2394, freeg@amaxelectronics.co.za, www.amaxelectronics.co.za
Credit(s)
Further reading:
Safer roads to a sustainable future
Dahua Technology South Africa Surveillance
With the ever-increasing number of vehicles on the road, it is imperative to constantly improve the quality of transportation monitoring and traffic management in urban and rural areas.
Read more...
---
From damage management to false alarm prevention
Dallmeier Electronic Southern Africa Transport (Industry) Surveillance Logistics (Industry)
Video surveillance is undergoing an exciting evolution; today's IP-based solutions can be fully integrated into digital systems. With the increasing integration of artificial intelligence (AI); logistics, in particular, can make processes more transparent and exploit previously untapped potential.
Read more...
---
Marshall Security partners with Blacklight to introduce Reconeyez to KZN
News & Events Surveillance Power Management
Marshal Security has joined forces with Blacklight Group to launch Reconeyez, a cutting-edge battery-powered surveillance platform with mesh network capability, in the KwaZulu-Natal market.
Read more...
---
Professional mobile video management in your pocket
Dallmeier Electronic Southern Africa Surveillance
With the SeMSy Mobile Client for its Domera and Panomera cameras, Dallmeier is now launching a solution that combines the functional and security requirements of professional organisations with the user-friendliness and simplicity of consumer apps.
Read more...
---
Leveraging AI to boost security in SA
AI & Data Analytics Surveillance
By shifting data analysis and processing to the edge of a company's network, decision-makers can ensure their remote offices can access real-time computing across multiple locations, supporting informed business decisions.
Read more...
---
Safeguard surveillance devices from cyberattacks
Axis Communications SA Surveillance Information Security
Cybersecurity concerns extend through the organisation and out among its stakeholders and supply chains. It also covers video surveillance, which is critical to any organisation's physical security and asset protection strategy.
Read more...
---
Ring announces second generation indoor camera
Smart Home Automation Surveillance Residential Estate (Industry)
Introducing a removable manual privacy cover, Ring's latest indoor camera provides customers with increased privacy, control and peace of mind when it comes to home security.
Read more...
---
Body-worn evidence
Technews Publishing Forbatt SA Betatrac Telematic Solutions Secutel Technologies Surveillance Residential Estate (Industry) Products & Solutions
Body-worn cameras are no longer just a good idea or a luxury item; in fact, they are gaining popularity and finding use in various situations, one of these being in residential estates.
Read more...
---
Stop cheating with gaming analytics
Dallmeier Electronic Southern Africa Surveillance Entertainment and Hospitality (Industry)
The CAT gaming analysis solution from Dallmeier offers a range of analysis options with which casino operators can increase the 'game pace', combat fraud and gain valuable insights into the gaming action through real time data collection.
Read more...
---
Integrated, intelligent, informed and improved living
Guardian Eye Surveillance
Guardian Eye's range of solutions allow for monitoring and safeguarding your home through discreet, easy-to-maintain devices and solutions, watching your premises and alerting you in the event of unwanted happenings.
Read more...
---