printer friendly version
Continual learning and mentoring
September 2013
Security Services & Risk Management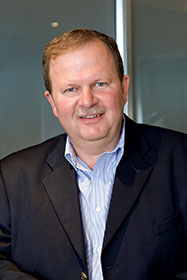 Willem Visser, group asset protection manager at AVI Ltd., studied security management at Unisa, National Security courses at the South African National Defence Force's SANDF College in Pretoria, as well as Training of Personnel courses at Atlas Aircraft Corporation in Kempton Park.
"The security management course covered risk identification, risk evaluation, risk control and risk financing. The national security course covered aspects of fieldwork in personnel clearances, evaluation and audit of security systems design, implementation of a security system and environmental health and safety. And the Training of Personnel course focused on identifying the training needs, design, implementation and evaluation of training courses, as well as computer-based training, supervisory and management training, and the functions of a manager and other management aspects," says Visser.
Visser's first job came as a uniformed police officer. "As all white males in the 1980s I had to do my national service after school. I was lucky to do it in the South African Police instead of the National Defence Force. At that stage I wasn't sure what career I wanted to follow and later in my national service period I started to enjoy the police service. I joined permanently and moved from uniformed police to the detective service. I certainly did not have my current position in mind when starting out."
That soon changed. "However, it soon dawned on me that the salary was not acceptable and, at the same time, I had an opportunity to move to Atlas Aircraft Corporation with a huge increase in salary and benefits. That is when my security career really started to take off."
He says he can't single out one particular event or project that helped shape his career since joining Atlas Aircraft Corporation. "There were several significant events. I am reluctant to single any one out as I was privileged to work with various talented and very dedicated persons in the security industry during the past few years. The success of these projects was because of these people that shared the common goal of fighting crime, and at the same time were prepared to think out of the box and approach the problem from a unique and totally different angle. I am in debt to them."
Visser is now appointed to assist the business units and shared services across the AVI Group to improve their security levels and, where appropriate, to motivate the use of external services and/or other requirements. He also plays a leading role in all material investigations into criminal activity or those that may lead to legal liability claims.
"I was fortunate to have worked in various industries from manufacturing to distribution/logistics to retail. Over the next year or two I want to continue in my current role at AVI, but at the same time I am taking an active interest in e-learning. I think there is huge opportunity to develop quality e-learning modules that can effectively be used to train risk/security officers, especially promising new leaders in the risk and security field."
When asked what advice he would have for up-and-coming security professionals on how to kick-start their careers, Visser advises: "It doesn't matter where the person starts or what his/her current position is, he or she must actively participate in the risk/security programme at his/her employer and aspire to attend as many training courses in the field as possible.
"At the same time there are distance learning courses available and he/she should enrol for these and complete them while still young. Once you get married and start a family it is very difficult to do part-time studies; ask me – I did it with a young family. I have huge respect for people that complete their studies successfully part-time as it shows dedication and self discipline, qualities that are not commonly found today in youngsters."
He thinks mentoring might also help a great deal: "Aspire to learn. While working in these industries, find a mentor/coach that you trust and learn from this person as much as possible. I have learned a lot from mentors, things that I never learned in any official training courses."
Further reading:
Tech developments lead hologram growth in 2024
News & Events Security Services & Risk Management
Micro-lenses, micro-mirrors and plasmonics are among the rapidly-emerging optical devices that have evolved on the back of holographic and diffractive technologies, and are seen as part of the natural evolution of optical science by R&D teams.
Read more...
---
Are you leaving money on the table?
Editor's Choice Security Services & Risk Management
How many customers have you helped since starting your business? Where does most of your new business come from? If the answer is not from your database's existing customers, you might have a problem.
Read more...
---
The business value of ChatGPT
Security Services & Risk Management Risk Management & Resilience
Transparency, policy and integrity. It is critical for organisations to have a line of sight into processes and procedures that clearly define employee use cases when it comes to ChatGPT, says Lizaan Lewis, Head of the Legal Department at Altron Systems Integration.
Read more...
---
BMS for smaller businesses
Security Services & Risk Management Products & Solutions Risk Management & Resilience
Small businesses can also benefit from tailored energy management solutions just like large corporations. Effective energy management is essential for more sustainable and efficient operations.
Read more...
---
Kidnapping for ransom
News & Events Security Services & Risk Management Risk Management & Resilience
There has been an 8,6% increase in reported kidnapping cases in South Africa compared to last year, with 3 854 cases reported between April and June this year, leaving ordinary South Africans increasingly vulnerable.
Read more...
---
The difference between a SOP and a SOP
Residential Estate (Industry) Integrated Solutions Security Services & Risk Management Risk Management & Resilience
SOPs are a touchy issue that need careful attention and automation to ensure they deliver the desired security results. Beyond design and automation, implementation is the ultimate road to success.
Read more...
---
Scoping out potential estates
Alwinco Security Services & Risk Management
When an intruder surveys a residential estate of 200 houses, they see at least 200 cars, 400 cell phones, 400 computers, 200 flat screen TVs, 600 bank cards, and various other items of value.
Read more...
---
Your face is the key
Suprema Editor's Choice Access Control & Identity Management Security Services & Risk Management Risk Management & Resilience
FaceStation 2, Suprema's newest facial authentication terminal, is an access control, time and attendance terminal, featuring a better user experience with Android 5.0 Lollipop and Suprema's latest algorithm, hardware, and software.
Read more...
---
Security without the skin
Alwinco Editor's Choice Security Services & Risk Management Residential Estate (Industry) Risk Management & Resilience
We all know about the layers of security required to form a comprehensive solution, but the layers go deeper than most consider. Andre Mundell dissects security in this article to start the journey into what is under the covers.
Read more...
---
Rack-mounted, three-phase online UPS
Security Services & Risk Management Infrastructure Products & Solutions
The new Eaton 93PX 15-20 kVA UPS combines high efficiency with a compact footprint, lower TCO, and improved cybersecurity to provide stable power for critical IT, industrial, manufacturing, and medical applications.
Read more...
---