printer friendly version
Continual learning and mentoring
September 2013
Security Services & Risk Management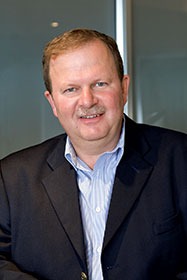 Willem Visser, group asset protection manager at AVI Ltd., studied security management at Unisa, National Security courses at the South African National Defence Force's SANDF College in Pretoria, as well as Training of Personnel courses at Atlas Aircraft Corporation in Kempton Park.
"The security management course covered risk identification, risk evaluation, risk control and risk financing. The national security course covered aspects of fieldwork in personnel clearances, evaluation and audit of security systems design, implementation of a security system and environmental health and safety. And the Training of Personnel course focused on identifying the training needs, design, implementation and evaluation of training courses, as well as computer-based training, supervisory and management training, and the functions of a manager and other management aspects," says Visser.
Visser's first job came as a uniformed police officer. "As all white males in the 1980s I had to do my national service after school. I was lucky to do it in the South African Police instead of the National Defence Force. At that stage I wasn't sure what career I wanted to follow and later in my national service period I started to enjoy the police service. I joined permanently and moved from uniformed police to the detective service. I certainly did not have my current position in mind when starting out."
That soon changed. "However, it soon dawned on me that the salary was not acceptable and, at the same time, I had an opportunity to move to Atlas Aircraft Corporation with a huge increase in salary and benefits. That is when my security career really started to take off."
He says he can't single out one particular event or project that helped shape his career since joining Atlas Aircraft Corporation. "There were several significant events. I am reluctant to single any one out as I was privileged to work with various talented and very dedicated persons in the security industry during the past few years. The success of these projects was because of these people that shared the common goal of fighting crime, and at the same time were prepared to think out of the box and approach the problem from a unique and totally different angle. I am in debt to them."
Visser is now appointed to assist the business units and shared services across the AVI Group to improve their security levels and, where appropriate, to motivate the use of external services and/or other requirements. He also plays a leading role in all material investigations into criminal activity or those that may lead to legal liability claims.
"I was fortunate to have worked in various industries from manufacturing to distribution/logistics to retail. Over the next year or two I want to continue in my current role at AVI, but at the same time I am taking an active interest in e-learning. I think there is huge opportunity to develop quality e-learning modules that can effectively be used to train risk/security officers, especially promising new leaders in the risk and security field."
When asked what advice he would have for up-and-coming security professionals on how to kick-start their careers, Visser advises: "It doesn't matter where the person starts or what his/her current position is, he or she must actively participate in the risk/security programme at his/her employer and aspire to attend as many training courses in the field as possible.
"At the same time there are distance learning courses available and he/she should enrol for these and complete them while still young. Once you get married and start a family it is very difficult to do part-time studies; ask me – I did it with a young family. I have huge respect for people that complete their studies successfully part-time as it shows dedication and self discipline, qualities that are not commonly found today in youngsters."
He thinks mentoring might also help a great deal: "Aspire to learn. While working in these industries, find a mentor/coach that you trust and learn from this person as much as possible. I have learned a lot from mentors, things that I never learned in any official training courses."
Further reading:
Post-Coronavirus communications: kick start your small business
Issue 4 2020 , Security Services & Risk Management
In these uncertain times, how should small companies and startups in the business-to-business domain recommence their selling and communication processes?
Read more...
---
The dashboard of the future
Issue 4 2020 , Security Services & Risk Management
Web-based Electronic Signature Dashboard offers quick access to eSignatures within the necessary legal parameters and incorporating advanced security.
Read more...
---
The end of blind alarms
Issue 3 2020 , Security Services & Risk Management, Perimeter Security, Alarms & Intruder Detection
Today's alarms should be supplemented by visual verification to ensure that guards are not dispatched to false alarms, wasting time and money.
Read more...
---
Is cash crime on lockdown this Easter?
Issue 3 2020 , Security Services & Risk Management
While Easter is generally a peak trading season for retailers, this has also always been one of the busiest times of the year for criminal activity – particularly at a retail level, as cash volumes rise ...
Read more...
---
Coronavirus scams abound
Issue 3 2020, Duxbury Networking , Security Services & Risk Management
Disturbingly, hackers are active even during times of global disaster, as evidenced in the various cyber-scams doing the rounds in the recent weeks.
Read more...
---
Now is the time to look for those hidden opportunities
Issue 3 2020 , Security Services & Risk Management
Now is the time to showcase your capabilities, to ensure that once the market turns, existing and potential clients know exactly what value you can offer.
Read more...
---
The COVID-19 lessons business must learn
Issue 3 2020, ContinuitySA , Security Services & Risk Management
Although the crisis is still unfolding, it's already clear that building resilience into your organisational DNA is more important than ever.
Read more...
---
All employees do it
Issue 3 2020 , Security Services & Risk Management
SearchInform analytics has summed up the most frequent security incidents detected in client companies.
Read more...
---
Can your backup solution handle business needs?
Issue 3 2020, Commvault , Security Services & Risk Management
With the accelerating growth of data continuing unabated, many organisations are faced with backup solutions that are unable to keep pace.
Read more...
---
South Africa to lead cloud adoption race on the continent
Issue 3 2020 , Security Services & Risk Management
As the battle between international cloud providers intensifies, Africa's cloud market is starting to gain traction with many enterprise customers seeking access to the cloud and associated services.
Read more...
---