printer friendly version
Mandela Day sees massive food drive
September 2013
News & Events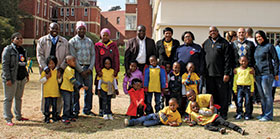 One thousand of Johannesburg's poorest families have received desperately needed food parcels as a result of a collaborative effort by Afrika Tikkun and the Hudaco Group in honour of Mandela Day 2013.
The organisations joined forces again this year to honour the 95th birthday of Nelson Mandela, former South African president and internationally recognised human rights icon, says Jonny Masinga, Hudaco group human resources and transformation executive.
"Mandela Day, commemorated throughout the world since 2008, acknowledges the 67 years that Madiba gave to the fight for justice and human rights in South Africa. Intended to honour him and ensure that his legacy lives on, Mandela Day calls for people to give 67 minutes of their time to a charity or to serving their communities and thereby make the world a better place."
According to Nancy Chimhandamba, communications manager of Afrika Tikkun, South Africa has enough food to feed the entire population. However, the reality according to a study by the University of Cape Town is very different. "In Johannesburg alone, 43% of the poor, at least one-fifth of whom are children, face death by starvation and malnutrition," she says. "Faced with terminal hunger and Jo'burg's icy winters, life becomes a bleak picture for the vulnerable among us."
Determined to make a tangible difference to their lives this winter, Hudaco and Afrika Tikkun, of which Nelson Mandela is patron-in-chief, threw their efforts into a project called "The Big Bin Food Collection". Hudaco members gave so generously that they ended up filling their delivery truck with non-perishable groceries, reports Masinga.
"Moments like these make me feel both proud and humble to be a part of the Hudaco family," he says. "It was heart-warming to see employees from all 21 businesses pull together as one, a unity which illustrates the direction in which this great country is heading and makes me proud to be a South African."
Having distributed the food parcels to the needy, Afrika Tikkun will now focus on helping those in need to become self-sustaining by teaching them how to plant and manage their own food gardens.
For more information contact Elvey Security Technologies, +27 (0)11 401 6700, priyesh.jagjivan@elvey.co.za, www.elvey.co.za
Credit(s)
Further reading:
Helping South African university students and staff to stay safe
News & Events
Buzzer is a free mobile app that allows users to quickly and easily report incidents of crime, violence, or harassment to campus security and other relevant authorities.
Read more...
---
Tech developments lead hologram growth in 2024
News & Events Security Services & Risk Management
Micro-lenses, micro-mirrors and plasmonics are among the rapidly-emerging optical devices that have evolved on the back of holographic and diffractive technologies, and are seen as part of the natural evolution of optical science by R&D teams.
Read more...
---
Trellix detects collaboration by cybercriminals and nation states
News & Events Information Security
Trellix has released The CyberThreat Report: November 2023 from its Advanced Research Centre, highlighting new programming languages in malware development, adoption of malicious GenAI, and acceleration of geopolitical threat activity.
Read more...
---
People are craving connection
News & Events
As 2023 nears its close, global security manufacturer Gallagher Security is sharing key observations from some of the year's biggest industry events, chief among them the rising importance of community building these events facilitate.
Read more...
---
ePSiRA online system
PSiRA (Private Security Ind. Regulatory Authority) News & Events
[Sponsored] As part of the digitisation of the security industry, the Private Security Industry Regulatory Authority (PSiRA) introduced the ePSiRA online system, which allows clients to transact online.
Read more...
---
New generation of cyber-focused controllers
Gallagher News & Events Access Control & Identity Management Products & Solutions
The C7000 gives users an opportunity to leverage their hardware and firmware to build a platform designed to catapult their organisation into the future, with cybersecurity baked in from inception.
Read more...
---
New T&A terminal features revolutionary AI technology
Suprema News & Events Access Control & Identity Management AI & Data Analytics
Suprema has launched BioStation 2a, the world's first deep learning-based fingerprint recognition solution, providing powerful access control features and an improved ability to extract templates from low-quality fingerprints.
Read more...
---
South African Cyber Risk Survey 2023
News & Events
Aon South Africa has released its 2023 Cyber Risk Survey for South Africa, providing insights on current trends in cyber risk governance practices being deployed by South African companies in various market segments.
Read more...
---
Africa Online Safety Fund announces grant winners
News & Events Information Security
The Africa Online Safety Fund (AOSF) has announced the winners of this year's grants; among them are five organisations operating in South Africa to educate people about online risks.
Read more...
---
From the editor's desk: Convergence is real
Technews Publishing News & Events
      SMART Security Solutions has been talking about convergence for a long time; in other words, the intersection and even integration between the physical and information security worlds. Before writing ...
Read more...
---