printer friendly version
Camera-based early warning detection system
August 2013
Fire & Safety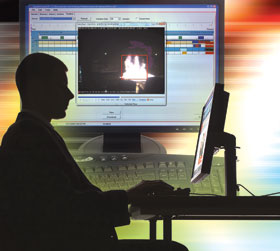 Due to the inherent nature of their design, many of today's modern, large structures are not adequately protected against smoke and fire. Features like large atriums, vast open areas and high ceilings, can make the use of traditional smoke and fire detection methods impractical, ineffective and difficult to maintain and operate. High airflow and smoke stratification can prevent smoke from reaching spot-type smoke detectors, adding to the ineffectiveness of traditional fire detection in open area facilities.
SigniFire by Fike, is a video, flame, smoke and intrusion detection solution. This camera-based SigniFire detection system, visually detects the presence of fire or smoke at its source, independent of airflow in the area. SigniFire represents a critical advantage for early warning fire detection, identifying and reacting to fire situations in their earliest stages, and protecting lives and property.
The advantages of Visual Based Fire Detection (VBFD) over conventional means of detection are numerous, such as early warnings as the camera will pick up the fire or smoke at the source. There is visual verification of the fire which supplies vital situational awareness through live video to remote locations. SigniFire has numerous approvals such as the NFPA (National Fire Protection Association), CE (Conformité Européenne), UL (Underwriter's Laboratories) and FM (Factory Mutual Insurance Company) and is perfectly suited to open areas which are a challenge for conventional methods. "The camera based detection system also provides vital evidence for forensic investigations," says Brendon Cowley, business development director for C3. He goes on to explain, "Once a fire has taken place, you need to find out what caused it. With visual-based fire detection, you can go back and use the recording from the system to find the cause of the fire, even if the camera is destroyed in the blaze." The SigniFire system also has video surveillance capabilities for intrusion detection.
Each SigniFire IP camera can be configured with multiple detection and/ or exclusion zones within the field of view. These zones are set to either detect specific events (fire, smoke, reflective flame and motion) within the zone, or detect events outside the zone. In extensive independent testing, the SigniFire system has been shown to provide a dependable yet faster response than traditional fire detectors in a wide range of scenarios. And in large open spaces, SigniFire provides superior protection with fewer installed devices than are required with traditional fire detection systems. This translates directly into savings in total installed costs.
C3 Shared Services is the sole distributor and installer of SigniFire products in South Africa. C3 is currently completing an installation of over 370 SigniFire cameras at an Eskom power station, making it the largest installation of SigniFire cameras in South Africa. Cowley says, "A 1 metre high fire can usually be detected from a distance of 100 m, depending on the camera lens, which is available in 2,8 mm and 8 mm," he explains.
He goes on to say, "The smoke or flame can be detected in its earliest stages as opposed to smoke or heat detectors that rely on the flame or smoke to reach the detector before it sets off an alarm. The challenge for conventional systems, such as smoke detectors, is that the smoke needs to interface with the device, which can be a major drawback especially in large-volume areas, such as warehouses with high roofs. High air flow also makes it difficult for sensors to detect smoke in some cases."
SigniFire is a total video, flame, smoke and intrusion detection solution – scalable and ideal for new facilities, stand-alone systems and some retro-fit projects.
For further information contact C3 Shared Services, +27 (0)11 312 2041, marketing@c3ss.com
Credit(s)
Further reading:
Fire Beam Xtra covers up to 160 metres
October 2019, Technoswitch , Products, Fire & Safety
The Fire Beam overcomes traditional beam detection challenges where building movement and accessibility made beam detection unreliable and laborious to commission and maintain.
Read more...
---
Emergency voice communication system
October 2019, Technoswitch , Products, Fire & Safety
The Technoswitch Emergency Voice Communication Systems concept offers fire telephone and disabled refuge systems, as well as integrating emergency assist alarm systems in a single solution.
Read more...
---
Fast detection of smoke and flames
October 2019, Bosch Building Technologies , Editor's Choice, CCTV, Surveillance & Remote Monitoring, Fire & Safety
Video-based fire detection AVIOTEC from Bosch has been optimised for tunnels to provide early and reliable detection of smoke and flames in these dark environments.
Read more...
---
Choosing the right fire detection system
August 2019, FDIA (Fire Detection Installers Association) , Fire & Safety
Charles Thiong'o from the FDIA highlights important factors to consider when choosing a fire detection system.
Read more...
---
Local security technology manufacturer
August 2019, Technoswitch , Fire & Safety
Technoswitch, a South-African manufacturer, importer and distributor of fire detection and suppression equipment turned 45 this year.
Read more...
---
Fire detection and suppression for server cabinets
August 2019, Technoswitch , Fire & Safety
The TEC601, designed and manufactured by Technoswitch, is an all-in-one fire and extinguishing rack-mountable control system designed to protect electronic equipment in 19-inch server room cabinets.
Read more...
---
ORYX conventional fire panel range
August 2019, Technoswitch , Fire & Safety
The ORYX range of conventional panels from Technoswitch offers 2, 4 and 8 zone options, including weatherproof versions (with or without DIN rail) specifically suited to industrial applications.
Read more...
---
Next generation BlazeCut T-series
August 2019, Technoswitch , Fire & Safety
Designed to protect small enclosed spaces with greater risk of fire, the BlazeCut T-series system is easy to install.
Read more...
---
Emergency lighting and fire detection combination
August 2019 , Fire & Safety, Products
Hochiki Europe has launched FIREscape+, a system which combines emergency lighting, fire detection and wayfinding technology.
Read more...
---
Introducing Gulf Security Technology
August 2019, UTC Fire & Security SSA , Fire & Safety
Gulf Security Technology manufactures more than 16 million detectors and modules and more than 120 thousand control panels per year, making it one of the largest fire detection manufacturers in the world.
Read more...
---