printer friendly version
Big data comes to security
August 2013
Cyber Security
RSA, The security division of EMC, has introduced the next iteration of RSA Silver Tail web threat detection solution designed to help organisations better visualise website activity in order to identify normal behaviour from that of the potentially malicious. With the ability to quickly separate the activities of friend from foe, security and fraud teams can investigate and mitigate Web session and mobile applications threats in realtime.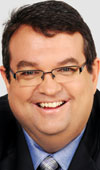 Stephan Le Roux, district manager, RSA Southern Africa. "RSA Silver Tail 4.0 technology combines the intuitive visualisation of big data and the click-by-click real-time insight of streaming analytics, raising the bar for web threat detection. The RSA Silver Tail solution can take a massive amount of web session data and present it in a way that helps teams prioritise and facilitate incident investigations – leading to the identification and resolution of many more threats in much less time and with significantly less resources."
Designed to ensure that organisations have the tools to identify more threats faster and investigate them much more efficiently, the RSA Silver Tail solution adds new one-click incident management capabilities and an intelligent user interface to help organisations gain better visibility into activities on their website across millions of concurrent user Web sessions. Additionally, with streaming analytics and click-by-click threat scoring, RSA Silver Tail 4.0 technology is built to leverage the power of big data to identify threats, malicious details traffic and revealing behaviour trends that could not otherwise be detected by analysing the of web session logs alone. As a result, organisations may be able to experience a reduction in both direct and indirect costs associated with fraud, security and other disruptive uses of websites including account takeover, password guessing, distributed denial-of-service, site scraping and business logic abuses such as exploitation of shopping cart functionality or online rebates.
The new features of the RSA Silver Tail solution include:
* Streaming Analytics – RSA Silver Tail technology is designed to offer click-by-click threat scoring that supports more intelligent, risk-based behavioural threat discovery and results in faster detection and mitigation of web threats. Streaming Analytics is engineered to employ proprietary in-memory analytics technology for real-time detection of the latest generation of complex attacks on websites.
* Incidents Functionality – Designed to both allow for faster and easier threat detection and provide additional context to help teams understand the causes of the threat for a more efficient investigation.
* Intelligent User Interface – Built to adapt to the way security and fraud teams work. The new UI is designed to bring in big data visualisation capabilities that include highly interactive features to help simplify and prioritise threat detection and investigation. Prioritised lists of suspicious IPs, users, webpage and web session data helps allow investigators to quickly identify and investigate threats.
Using a Big Data-driven approach, the RSA Silver Tail solution is designed to gather and analyse massive amounts of real-time data to detect anomalies, IT security threats, fraud, business logic abuse and other malicious activity. By translating clickstream details into web session intelligence, it is engineered to provide organisations with the visibility to help identify the crucial difference between customer activity and criminal activity happening on e-commerce websites, e-government portals and online banking websites.
For more information contact EMC South Africa, +27 (0)11 581 0033, sonelia.dupreez@emc.com, www.emc.com
Further reading:
Cyber futures in 2020
Issue 1 2020 , Cyber Security
MJ Strydom, managing director of cybersecurity specialist company, DRS, discusses what can be expected in 2020.
Read more...
---
Seven security trends for 2020
Issue 1 2020 , Cyber Security
What challenges await the security professional in 2020? Lukas van der Merwe looks at the trends for the year ahead.
Read more...
---
Security is not a single product solution
Issue 1 2020 , Cyber Security
Adopting a phased approach to security allows companies to develop a layered security posture to help control costs as well as the complexity.
Read more...
---
From physical security to cybersecurity
Access & Identity Management Handbook 2020, Genetec , Cyber Security, Security Services & Risk Management
Genetec discusses the security-of-security concept as a means to protect cameras, door controllers and other physical security devices and systems against cybercriminal activity.
Read more...
---
Minding the gaps to protect industrial PLCs from cyber threats
November 2019, AVeS Cyber Security , Cyber Security
PLCs, designed to control machinery and specific processes, were never built with cybersecurity threats in mind and protecting PLCs against these threats requires healthy isolation from the Internet.
Read more...
---
African trust centre launches cyber division
November 2019 , Cyber Security
Advancing cybersecurity to more stringent heights, LAWtrust has launched a new division focusing on cybersecurity services to complement its identity, encryption and digital signature offerings.
Read more...
---
What are the cybersecurity issues in video surveillance?
November 2019, Axis Communications SA , Editor's Choice, CCTV, Surveillance & Remote Monitoring, Cyber Security
he importance of the data captured by surveillance cameras – and what can be done with it – has led to a new breed of cybercriminals, looking for insights to steal and sell.
Read more...
---
Protecting the outer perimeter with cloud services
November 2019 , Cyber Security
Business leaders now have a choice whether they want to continue using their trusted firewall or move to a next-generation firewall delivered by appliances or as cloud services.
Read more...
---
Information security outsourcing service
November 2019, Condyn , Cyber Security
SearchInform launches information security outsourcing service for companies that face the problem of corporate fraud and data leakage.
Read more...
---
Block threats before they target your business
November 2019 , Cyber Security
The antivirus solutions of a decade ago are woefully inadequate weapons in the fight against today's complex threats.
Read more...
---