printer friendly version
Managing mobile security in South Africa
August 2013
Cyber Security
From smartphones to tablets, mobile devices continue to cause ongoing concern for IT teams responsible for information security. Sensitive corporate information can be easily transported, leaked, or lost while the Bring Your Own Device (BYOD) movement has dramatically increased the number of expensive security incidents. Even so, corporate information, including sensitive customer information, is increasingly stored on personal mobile devices and not managed by the corporate IT department.
Check Point Software Technologies recently published its second mobile security report, revealing that the majority of businesses (79%) in the United States, Canada, United Kingdom, Germany, and Japan had a mobile security incident in the past year, with the costs proving substantial. The new report found mobile security incidents tallied up to over six figures for 42% of businesses, including 16% who put the cost at over R5,1 million.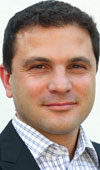 Doros Hadjizenonos, sales manager at Check Point South Africa.
To contextualise these findings for the South African market, Doros Hadjizenonos, sales manager at Check Point South Africa provides insight into trends driving mobile security in South Africa, challenges facing the South African mobile security market, top tips for businesses regarding managing mobile security and predictions for the future of mobile security in the South African market.
1. What are the top three trends driving mobile security in South Africa?
a. The increasing mobility of the work force: The work force is becoming more mobile which means they require information to be available at their fingertips, and as such require a solution to protect this information from getting into the wrong hands. The form factor of these devices makes them more prone to being lost.
b. The rise of mobile device exploits: We are seeing an increase in the number of exploits on mobile devices (especially smartphones) which increases the security risk profile of allowing such devices to connect to the corporate network.
c. Adhering to the Protection of Personal Information Act: The imminent Protection of Personal Information Act will hold companies responsible for loss of personal information. Assuming that these mobile devices have access to personal information about their clients makes it imperative to secure the devices as you would with a laptop or even a desktop.
2. Are the findings of the latest Check Point mobile security report in line with the SA market?
Mostly, yes. I would agree that the number of devices connecting to the corporate network is on the increase – 96% of companies surveyed in the report confirm this. BYOD most definitely creates challenges for security administrators and business owners, where a balance needs to be found between security and convenience. The report found 63% of businesses do not manage corporate information on personal devices, and 93% face challenges adopting BYOD policies.
3. What are the key hurdles or challenges facing the South African mobile security market?
a. The major hurdle that I see is the impact of security exploits on the end user. Security should be a business enabler and not an inhibitor. Users should be able to bring their own device and use it for both personal and business practices, without compromising any functionality.
b. In addition, I believe that users need to be educated on the safe use of mobile devices, creating the need for companies to establish a security awareness programme – ensuring the security message is communicated to all employees.
4. What are your top tips for businesses when it comes to managing mobile security in South Africa?
a. Embark on a mobile security project to ensure that the enterprise data stored on mobile devices is secured. It is vital to choose a solution that minimises the impact on the end user.
b. Ensure there is a security awareness programme to educate users about the risks of mobile devices. This programme should also be extended to cover all devices which connect to the network i.e. tablets, laptops, desktop PCs and notebooks.
5. What are your predications for the future of mobile security in South Africa?
a. I believe that we will continue to see an increase in attacks targeted at mobile devices – smartphones specifically. South Africans have accepted and adopted a mobile device as a primary form of communication and I don't see this trend changing anytime soon. As legislation comes into effect I believe that cor-porates will take mobile security more seriously.
b. The devices that are used in the work place are not always corporate owned devices – making managing BYOD more complicated. Looking ahead, I believe that corporates will place more emphasis on ensuring that corporate data remains secure, but at the same time not prohibiting employees from using their devices for personal use.
As organisations continue to face challenges with mobile threats, the Check Point Mobile Access Software Blade provides a safe and easy solution to connect to corporate applications over the Internet with smartphones, tablets, or PCs. The solution provides enterprise-grade remote access via both Layer-3 VPN and SSL VPN, allowing for simple, safe and secure connectivity to email, calendar, contacts, and corporate applications.
For more information contact Check Point South Africa, +27 (0)11 319 7267, doros@checkpoint.com, www.checkpoint.com
Further reading:
Cyber futures in 2020
Issue 1 2020 , Cyber Security
MJ Strydom, managing director of cybersecurity specialist company, DRS, discusses what can be expected in 2020.
Read more...
---
Seven security trends for 2020
Issue 1 2020 , Cyber Security
What challenges await the security professional in 2020? Lukas van der Merwe looks at the trends for the year ahead.
Read more...
---
Security is not a single product solution
Issue 1 2020 , Cyber Security
Adopting a phased approach to security allows companies to develop a layered security posture to help control costs as well as the complexity.
Read more...
---
From physical security to cybersecurity
Access & Identity Management Handbook 2020, Genetec , Cyber Security, Security Services & Risk Management
Genetec discusses the security-of-security concept as a means to protect cameras, door controllers and other physical security devices and systems against cybercriminal activity.
Read more...
---
Minding the gaps to protect industrial PLCs from cyber threats
November 2019, AVeS Cyber Security , Cyber Security
PLCs, designed to control machinery and specific processes, were never built with cybersecurity threats in mind and protecting PLCs against these threats requires healthy isolation from the Internet.
Read more...
---
African trust centre launches cyber division
November 2019 , Cyber Security
Advancing cybersecurity to more stringent heights, LAWtrust has launched a new division focusing on cybersecurity services to complement its identity, encryption and digital signature offerings.
Read more...
---
What are the cybersecurity issues in video surveillance?
November 2019, Axis Communications SA , Editor's Choice, CCTV, Surveillance & Remote Monitoring, Cyber Security
he importance of the data captured by surveillance cameras – and what can be done with it – has led to a new breed of cybercriminals, looking for insights to steal and sell.
Read more...
---
Protecting the outer perimeter with cloud services
November 2019 , Cyber Security
Business leaders now have a choice whether they want to continue using their trusted firewall or move to a next-generation firewall delivered by appliances or as cloud services.
Read more...
---
Information security outsourcing service
November 2019, Condyn , Cyber Security
SearchInform launches information security outsourcing service for companies that face the problem of corporate fraud and data leakage.
Read more...
---
Block threats before they target your business
November 2019 , Cyber Security
The antivirus solutions of a decade ago are woefully inadequate weapons in the fight against today's complex threats.
Read more...
---