printer friendly version
Mobile 'network in a box'
August 2013
IT infrastructure
Cellular networks have revolutionised the South African communications landscape, providing easy access to telephony, data and a host of other services. However, while cellular connectivity provides excellent coverage for metropolitan areas, access is still sparse in rural communities, limiting rural residents' ability to access the services they need.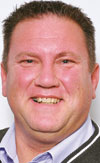 Martin Ferreira, executive head: technology and operations, Jasco Carrier.
Extending cellular networks is a costly exercise in these areas due to lack of infrastructure. Added to this challenge, because cellular telephony is so well subscribed, but has limited spectrum available, services become slow and often unusable in metropolitan areas, particularly in situations such as concerts and sporting events, or even in shopping malls and office buildings, where large numbers of people are all trying to access the network at the same time. Innovative 'mobile network in a box' solutions help to address these challenges, offering an affordable all-in-one cellular network that is quick and easy to deploy and provides all of the features of a public cellular network, including voice, messaging and data.
According to the latest AMPS 2012 survey data, 83% of South African adults have a cellphone and 86% of cellphone users do not have a land line at home, making cellular the primary communications method for the majority of the country's population. There are also a host of innovative applications for cellular users, including the ability to send money using cellphones, and conduct Internet banking, along with social media and more. This opens up the online world for more users than ever before.
However, while access to cellular services provides telephony for many people who could not make use of these options previously, the upsurge in
cellular subscribers also presents problems. With the number of subscribers in South Africa continuing to grow and the limited spectrum for cellular services available, the end result means there is simply not enough capacity to adequately service all of the users. Building new base stations to cater for additional demand is often prohibitively expensive, and deploying these services in rural areas, where infrastructure is lacking, is even more complex and costly.
The challenge is to up the amount of reliable capacity available in an affordable, easy to deploy manner, and mobile 'network in a box' solutions enable providers to do just that. These boxes scale down base station technology, which typically requires enough hardware to fill a 6x3 m container, to the size of a cube roughly 20 cm on each side, containing all of the services needed for a full-blown GSM base station and deploying them in software on a single platform. Because these boxes are so small and compact, and are software driven, they also use a lot less power than traditional base stations, as they do not require massive air conditioners and cooling to keep them operational. These boxes can be placed anywhere within a network where there are coverage and capacity issues, even inside buildings, and extend coverage while providing additional capacity to cater for demand.
These boxes are highly cost effective from a number of aspects, including deployment, maintenance, floor space, power consumption and cooling costs, and are therefore the ideal solution for deployment in Africa. Deployment is a simple matter of erecting an antenna, rolling out the box and connecting to the Internet, either from 3G, fixed line or satellite communications. A mobile 'network in a box' can be deployed at a fraction of the cost of a base station and can provide connectivity to rural communities, and be used for temporary connectivity for events. They can also be used to quickly set up a network in disaster areas, for vital communications.
These solutions are also protected by the embedded security of the cellular protocols, meaning that they can be configured as a private mobile network, and can be integrated into an enterprise's existing PBX system. Private providers can therefore deliver services in areas where major carriers are not established, creating a network in the local region and then establishing a link back to the carrier's infrastructure to interconnect these mobile and Internet services with other providers. This opens up the ability to take services further into rural areas where major carriers may not see a cost-effective and profitable service.
Mobile 'network in a box' can also operate as a standalone mobile service delivering closer user group coverage. The result is that organisations can create their own GSM network within an office building or campus environment, on which a user's standard mobile phone will function. It enables these organisations to make free calls to other devices within the network, and connect to outside providers for calls originating from outside the network.
Mobile connectivity is the future, particularly in emerging economies like the African market where traditional fixed-line infrastructure is lacking. However, oversubscribed mobile services and a lack of access in remote and rural areas is currently limiting the application of and access to mobile telephony and data services. Mobile 'network in a box' solutions enable carriers and providers to deploy new scaled down 'base stations' at a fraction of the cost of traditional GSM infrastructure, enabling fast deployment and easy access to GSM capabilities, ideal for adding capacity or extending networks across the continent.
For more information contact Jasco Security Solutions, +27 (0)11 266 1500, martin.ferreira@jasco.co.za, www.jasco.co.za
Credit(s)
Further reading:
Video surveillance multicast networks made easy
Issue 1 2020, Duxbury Networking , IT infrastructure
Many businesses are struggling to realise the full potential of modern video surveillance technology due to limitations of the underlying network.
Read more...
---
Three data protection predictions for 2020
Issue 1 2020 , IT infrastructure
Byron Horn-Botha from Arcserve Southern Africa relates the company's top three data predictions to be on the alert for in 2020.
Read more...
---
An open foundation for 2020
Issue 1 2020 , IT infrastructure
The migration to open hybrid cloud technologies will be the way to go as we head into the new decade.
Read more...
---
Will 5G be the answer to all prayers?
Issue 1 2020 , IT infrastructure
There is a lot of understandable confusion about the role Wi-Fi will play once 5G arrives, and how they might work together.
Read more...
---
So what is 5G?
Issue 1 2020 , IT infrastructure
With all the noise about 5G, Hi-Tech Security Solutions asked Deon Geyser, head of the Southern Africa sub region at Nokia for some insights.
Read more...
---
Duxbury Networking launches Solar Switch
November 2019 , IT infrastructure, Products
Duxbury Networking has launched its Solar Switch with tailored capabilities for applications in less-accessible areas where electricity is not available or not reliable.
Read more...
---
8-port PoE managed switch
November 2019, Regal Distributors SA , IT infrastructure
The NW101-7 is an 8-port PoE managed gigabit network switch capable of supporting 4K high-definition video transmission.
Read more...
---
4-ports industrial PoE managed switch
November 2019, Regal Distributors SA , IT infrastructure
The NW100-3 is a 4-port industrial full gigabit PoE wall-mount gigabit managed network switch with 1 x 60 W and 3 x 30 W PoE ports capable of supporting 4K high-definition video transmission.
Read more...
---
Mobile shredding plant simplifies secure data destruction
November 2019 , IT infrastructure
Companies no longer need to take unnecessary risks when disposing of their IT assets, they can now destroy digital data before it leaves their premises.
Read more...
---
Lightest notebook with 10th-gen processors
November 2019 , IT infrastructure
Dynabook Europe has announced the Portégé X30L-G, the lightest 13,3-inch business laptop with Intel 10th generation processors.
Read more...
---