printer friendly version
The HUGINN X1 drone
August 2013
CCTV, Surveillance & Remote Monitoring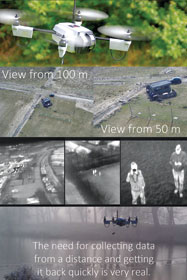 Timeless Technologies is a technology research company in the commercial visual systems industry. Tinus Diedericks, the owner, is well known in being the first commercial thermal camera distributor in South Africa and his experience on security related thermal cameras dates back to 1990 when he realised what this technology could do for the security industry. He followed it up with the video analytics from Video IQ and now Timeless Technologies has released the next technology that will make a major impact within the industry, the quadro-copter called Huginn X1 from Denmark.
Why the drone from Sky-Watch? Diedericks says: "After extensive research on 15 different types of quadro-copter drones worldwide, I found this unit which is small enough, clever enough to fly by itself (fully autonomous), safety features built in with a fully-fledged aviation black box, and easy to operate, full flight with 1 minute deployment. It is very difficult to get a drone which can carry an optical camera and thermal camera in one unit (or either one of the cameras), and it is 100% water resistant, which makes it easy to fly when the unexpected cloud of rain appears. Needless to say, it was only when all the tick boxes on the technical and features side were checked, after training on the product and flying the unit, it was very clear that this is a product that will change the industry."
On the question regarding price, he adds: "this unit with all its features and capabilities is best value for money. Timeless Technologies is well known for the fact that we sell high-value equipment, best-of-breed products and the Huginn X1 complies with this standard."
To date the word 'drone' has left many people with a sense of restlessness and the UAV culture has been battling to reverse the stigma it has inherited that the drone is an invasive bird of prey, send to spy and intrude and only used in illegal terrorist acts.
However, as the need for collecting data from a distance grew and with improved drone technology, the negativity and rejection towards UAV technology has started to subside. In reality, this data collection is no longer related to war or terror acts, but for a variety of daily life changing applications. These include searching for missing persons, searching for rhino poachers, investigating natural disasters like floods, event security, aerial photography, perimeter and border security, investigating unreachable accidents and disaster scenes etc. Adding thermal visual technology to these UAVs make unmanned flights for the above applications possible at night, hereby adding to the list of benefits the drone can bring to human life.
The HUGINN X1 received its name from Ancient Norse Mythology. Apparently, Odin, the king of the gods, used to call on his two ravens named, Huginn (thoughts) and Muninn (memory) to send them flying over the world to observe what was going on in his kingdom. They returned, perched on his shoulders and whispered in his ears about their observations during the flight. This information enabled him to make life-changing decisions about his kingdom.
The HUGINN X1 is designed as a total solution, capable of handling both exterior and interior reconnaissance flights. The sonar makes the HUGINN X1 capable of performing automatic take-offs and landings, this enables the operator to focus on the task at hand. The high precision GPS facilitates, autonomous waypoint navigation and the sonar together with the pressure sensor makes HUGINN X1 able to hold its height.
It is designed to be used with only a minimum of training and by people with little or no technical knowledge. The system is capable of vertical take-off and landing, which enables it to be launched without any launch mechanism and land where there is no landing pad. Its small size allows you to transport the HUGINN X1 as hand luggage on planes or in the back of a car, and with a deployment time of less than one minute; it is a perfect tool for reaching inaccessible or dangerous areas.
When catastrophes or emergency situations occur, e.g. tsunamis, earthquakes or terror attacks, rapid response and accurate real-time information, is crucial in order to save as many lives as possible and provide the necessary help. Emergency agencies often rely on specially trained dogs or expensive helicopters when searching for missing persons. These costs can be reduced with the use of the HUGINN X1. Timeless Technologies is the sole accredited dealer of the HUGINN X1 in South Africa and more information is available at www.timetech.co.za
For more information contact Timeless Technologies, +27 (0)21 914 6144, anel@timetech.co.za, www.timetech.co.za
Further reading:
Reinventing network camera security
Issue 1 2020, Axis Communications SA , CCTV, Surveillance & Remote Monitoring
Now in its seventh generation and celebrating its 20th anniversary, the Axis ARTPEC chip was launched in 1999 designed to optimise network video.
Read more...
---
Cloud-based fleet and driver management
Issue 1 2020, Graphic Image Technologies , CCTV, Surveillance & Remote Monitoring
Graphic Image Technologies (GIT) has announced the availability of a cloud-based dashcam designed to improve on-the-road behaviour and assist in improving fleet management.
Read more...
---
Cathexis specialises in integration
Issue 1 2020, Cathexis Technologies , CCTV, Surveillance & Remote Monitoring
The integration of multiple systems is intrinsic and essential to the goal of creating an effective and efficient operational environment.
Read more...
---
Do wireless networks meet modern surveillance demands?
Issue 1 2020, Duxbury Networking, RADWIN , CCTV, Surveillance & Remote Monitoring
It is predicted that video will account for 15,1 zettabytes (1 zettabyte = 1 trillion gigabytes) of data annually, which is more than any other IoT application.
Read more...
---
Traffic doesn't have to be this way
Issue 1 2020, Dahua Technology South Africa, Axis Communications SA , CCTV, Surveillance & Remote Monitoring
More effective traffic management is something that would save us all a lot of frustration and wasted time, and it's one of the areas where AI and big data can have a significant impact.
Read more...
---
Dahua launches Hunter Series
Issue 1 2020, Dahua Technology South Africa , CCTV, Surveillance & Remote Monitoring
Dahua launches a new dual-PTZ camera that enables flexible and multi-scene panoramic monitoring.
Read more...
---
8 MP fisheye camera
Issue 1 2020, Dallmeier Electronic Southern Africa , CCTV, Surveillance & Remote Monitoring
Dallmeier's new 8 MP fisheye camera combines AI-supported object classification and H.265 in a compact design.
Read more...
---
Using ANPR to enhance security
Issue 1 2020, Duxbury Networking , CCTV, Surveillance & Remote Monitoring
Deep learning and AI-based algorithms enable ANPR cameras and their associated software to detect and recognise number plates with an extremely high level of accuracy.
Read more...
---
AI supercharges surveillance
Issue 1 2020 , CCTV, Surveillance & Remote Monitoring
The ability to analyse live video through AI techniques means that untapped footage from existing, passive cameras can be used to identify patterns, trends and anomalies.
Read more...
---
IDIS launches new cameras with on-board analytics
Issue 1 2020 , CCTV, Surveillance & Remote Monitoring
IDIS has launched a lineup of Edge VA bullet and dome cameras, featuring on-board analytics that will transform the efficiency of security operations.
Read more...
---