printer friendly version
SafeCity Moscow
August 2013
CCTV, Surveillance & Remote Monitoring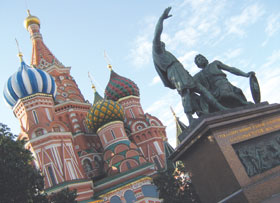 Today's municipal security goes far beyond the monitoring of selected sites. Modern integrated security systems must not only record and stream video, but also analyse it intelligently, monitor all types of sensors, and provide automatic responses to problems.
SafeCity combines hardware, software and operational measures to provide video security, technical safety, and manage utilities and other distributed services. SafeCity is a multifunctional expandable solution built on an integrated modular distributed platform – Axxon Intellect Enterprise – with embedded intelligent data analysis.
By creating a unified digital control and monitoring space for the city, SafeCity is an effective, scalable, future-proof solution for a modern metropolis.
High crime rates, as well as a hostage taking in the Dubrovka Theater Centre, threatened Moscow. Two-thirds of its residents felt unsafe in the face of crime. As a result, the city launched a programme called Safety for Moscow and Muscovites. A city-wide electronic monitoring and response system was a critical part of this programme, with specific requirements:
1. Comprehensiveness. SafeCity had to work with and integrate any brand of equipment.
2. Centralised and remote control. Local and remote administration was required to make implementation standardised and simpler.
3. Scalable. SafeCity had to be infinitely scalable while maintaining fine-grained control.
4. Integrated. It had to integrate sensors, tasks and units of different types.
5. Reliable and stable. Most importantly, SafeCity had to be functional around the clock.
A single proprietary product could not match the needs of a city the size of Moscow. The SafeCity project would provide an integrated, hybrid solution to city-sized security.
Implementation
In March 2002, Planir Holdings Group worked on the first stage in the SafeCity project in the Tverskoy district using Axxon Intellect Enterprise. Meanwhile, several other districts launched similar projects based on alternative platforms, but it was quickly apparent that the other systems were much less powerful and functional. As a result, Axxon Intellect Enterprise was selected as the platform upon which Moscow's citywide security system would be built.
The initial SafeCity plan was to cover Moscow with a distributed video surveillance network. Additional considerations prompted a more comprehensive, multilevel system: SafeCity would protect sites including group dwellings, life support systems, schools, mass circulation areas, airports and railway stations, trains and subways, transportation and motorways, and television towers.
Nowadays the SafeCity implementation includes 175 000 CCTV cameras in Moscow, controlling over 80 000 doorways and mass circulation areas almost all over the city. These sites are now covered by a single distributed scalable system controlled from several centres using the Axxon Intellect Enterprise integrated security platform.
Vandal-resistant cameras monitor public areas while access control prevents unauthorised entry, and flood, fire, and smoke sensors alert emergency personnel to problems. Meanwhile, water, gas, and electricity consumption is monitored to provide accurate billing and planning, and prevent leakage, overloads, and short circuits.
Panic buttons and emergency hotlines provide quick access to the police in areas of mass circulation, while facial recognition enables identification and tracking of criminal suspects at airports and railway stations.
Train and subway safety is ensured through video surveillance, as well as a permanent online link between all drivers and transport police officers. All stations and cars are equipped with fire fighting systems such as automatic fog scanners and ventilation units.
PTZ cameras on motorways assist the police in resolving accident disputes, and surveillance of parking and business centres reduces theft. If a vehicle is stolen, video licence plate recognition at key points in the city enables police to find it.
Results
According to the Main Internal Affairs Directorate of Moscow, the SafeCity implementation has caused a dramatic reduction in burglaries and vandalism – drops of 12,5% and 33% respectively in the first six months of operation alone.
The police headquarters also noted that video surveillance had a critical role to play: "The presence of CCTV cameras makes people more disciplined, and provides an excellent deterrent to crime."
Implementation uncovered other unforeseen benefits. Video surveillance now enables the government to monitor and control the quality of utility service providers' work. Building control systems allow for tight control over personnel activities, leading to more accurate accounting and technical supervision. And the number of actual residents can be calculated from utility resource usage – useful for checking migration law and tax compliance.
SafeCity has been crowned a success by the professional community, as well. At the National Security International contest during the InterPolyTech International Exhibition, Axxon was awarded a medal and a 'Guaranteed Quality and Safety' nomination diploma "for the development of the SafeCity digital integrated security system as the basis of the centralised citywide video monitoring solution in Moscow."
For more information contact Axxon, +27 (0)83 326 6846, info@axxonsoft.com, www.axxonsoft.com
Further reading:
Reinventing network camera security
Issue 1 2020, Axis Communications SA , CCTV, Surveillance & Remote Monitoring
Now in its seventh generation and celebrating its 20th anniversary, the Axis ARTPEC chip was launched in 1999 designed to optimise network video.
Read more...
---
Cloud-based fleet and driver management
Issue 1 2020, Graphic Image Technologies , CCTV, Surveillance & Remote Monitoring
Graphic Image Technologies (GIT) has announced the availability of a cloud-based dashcam designed to improve on-the-road behaviour and assist in improving fleet management.
Read more...
---
Cathexis specialises in integration
Issue 1 2020, Cathexis Technologies , CCTV, Surveillance & Remote Monitoring
The integration of multiple systems is intrinsic and essential to the goal of creating an effective and efficient operational environment.
Read more...
---
Do wireless networks meet modern surveillance demands?
Issue 1 2020, Duxbury Networking, RADWIN , CCTV, Surveillance & Remote Monitoring
It is predicted that video will account for 15,1 zettabytes (1 zettabyte = 1 trillion gigabytes) of data annually, which is more than any other IoT application.
Read more...
---
Traffic doesn't have to be this way
Issue 1 2020, Dahua Technology South Africa, Axis Communications SA , CCTV, Surveillance & Remote Monitoring
More effective traffic management is something that would save us all a lot of frustration and wasted time, and it's one of the areas where AI and big data can have a significant impact.
Read more...
---
Dahua launches Hunter Series
Issue 1 2020, Dahua Technology South Africa , CCTV, Surveillance & Remote Monitoring
Dahua launches a new dual-PTZ camera that enables flexible and multi-scene panoramic monitoring.
Read more...
---
8 MP fisheye camera
Issue 1 2020, Dallmeier Electronic Southern Africa , CCTV, Surveillance & Remote Monitoring
Dallmeier's new 8 MP fisheye camera combines AI-supported object classification and H.265 in a compact design.
Read more...
---
Using ANPR to enhance security
Issue 1 2020, Duxbury Networking , CCTV, Surveillance & Remote Monitoring
Deep learning and AI-based algorithms enable ANPR cameras and their associated software to detect and recognise number plates with an extremely high level of accuracy.
Read more...
---
AI supercharges surveillance
Issue 1 2020 , CCTV, Surveillance & Remote Monitoring
The ability to analyse live video through AI techniques means that untapped footage from existing, passive cameras can be used to identify patterns, trends and anomalies.
Read more...
---
IDIS launches new cameras with on-board analytics
Issue 1 2020 , CCTV, Surveillance & Remote Monitoring
IDIS has launched a lineup of Edge VA bullet and dome cameras, featuring on-board analytics that will transform the efficiency of security operations.
Read more...
---