printer friendly version
The invisible barrier
August 2013
Perimeter Security, Alarms & Intruder Detection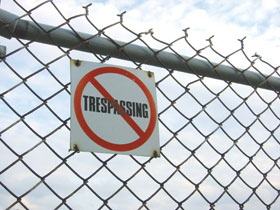 The secret behind successful outdoor intruder detection is the ability to specify and adequately install a system that marries the environment to the customer's needs. Matt De Araujo, head of products at IDS, discussed some of the current trends in outdoor detection, with Hi-Tech Security Solutions.
"The reason that homeowners want an outdoor detection system is that they require early warning that an intruder is on the premises, and they need to deter the intruder from entering the premises. As a result, we have seen a large increase in popularity of outdoor detection systems over the past few years," said De Araujo.
He pointed out that there are four predominant detector technologies that have come to the fore. Firstly, there is the traditional volumetric passive infrared which uses AND logic, whereby signals from two detector heads are required to activate the alarm. Curtain lookdown detectors are installed under the upper section of window frames or under eaves to detect movement below them. Active infrared beams are very accurate for point to point detection. Finally, strip barrier beams, which are also used for point to point detection, create a comprehensive invisible wall solution. Over the past few years, wireless outdoor detectors have become extremely reliable and popular due to the simplicity of the installation. This allows installation companies to do more installations using less resources."
There are a number of challenges to overcome in outdoor detection systems, according to De Araujo. "It is critical to carefully consider and analyse the environment in which the premises are situated. The first step in this process is product selection by a trained salesperson. The key here is to ensure that the salesperson is not recommending a specific product just to make a sale. It is critical that the correct product is specified for the environment under discussion. It will do damage to the reputation of the installer and the industry if a product that is recommended fails to live up to its capabilities.
"The second challenge arises with the installer. Unless an installer has been appropriately trained to not only install and set up the detector, but to also verify the recommendations of the salesperson based on environmental conditions, the system may not perform according to spec. A third issue, which has now been overcome to a great degree, is the stability of the technology used over the past 10 years. We do still see instances of inferior, cheap products on the market that fail to perform adequately and that are often completely inoperative in less than 12 months or soon after their warranty expires," added De Araujo.
Probably the biggest challenge, however, is customer expectation. It is important to consult closely with the customer so that they are made aware of any environmental issues that could affect the performance of their outdoor detection system. The presence of large pets, monkeys and large birds can trigger the detectors. In addition, should a customer request a system that will allow large pets to roam freely around the property, they need to understand that the efficacy of the system will be negatively affected.
"In addition, consumers have become more discerning about the aesthetics and performance of their outdoor detection systems. They require a housing that is durable and robust enough to withstand inclement weather conditions; something that is generally absent with unknown brands. In order to ensure a system that performs well, in terms of detecting intruders and reducing false alarms, the expectations of the customer must be discussed in advance of product selection. Assessment of the ambient environment and the selection of the correct detector will then play the major role in the success of the system," De Araujo concluded.
For more information contact IDS (Inhep Digital Security), +27 (0)31 705 1373, alison.r@idsprotect.com
Credit(s)
Further reading:
GJD expands its Clarius Illuminator range
Perimeter Security, Alarms & Intruder Detection
GJD announced the launch of the new Clarius Medium Hybrid IP IR/WL LED illuminator. The Clarius medium Hybrid IP combines advanced Infrared and White-Light LED technology, in one unit for increased functionality and ease of installation.
Read more...
---
What to expect in the physical security world in 2023
BoomGate Systems Perimeter Security, Alarms & Intruder Detection
The unabated increase in crime and experiences from the 2021 riots that destroyed so much value and negatively impacted so many businesses and lives in South Africa means improved physical security measures are the order of the day in 2023.
Read more...
---
Air monitoring with LifeQuality
Ajax Systems Perimeter Security, Alarms & Intruder Detection Products
Ajax Systems has launched LifeQuality, a smart air quality monitor that provides users with data on carbon dioxide pollution, temperature and humidity levels, and helps automate appliances according to these indicators.
Read more...
---
Texecom launches Impaq S G3 shock sensor
Perimeter Security, Alarms & Intruder Detection Products
With full third-party EN Grade 3 compliance, the Impaq S G3 also features the aesthetics demanded for high-end residential and commercial properties while also being extremely easy to install.
Read more...
---
The technology behind Distributed Acoustic Sensing
XtraVision Perimeter Security, Alarms & Intruder Detection Access Control & Identity Management Products
FOTAS is a fibre optic based Distributed Acoustic Sensor; the solution is a combination of optics, electronics, and computer science, which together make this device as effective as it is.
Read more...
---
Stafix introduces the JVA Cloud Router app
Stafix Perimeter Security, Alarms & Intruder Detection Products
The JVA Cloud Router app allows you to arm and disarm energisers, view your electric fence voltages, open and close relays through any Android or iOS device.
Read more...
---
CIAS chosen for complex perimeters
XtraVision Perimeter Security, Alarms & Intruder Detection
The challenge was to guarantee the ROI (return on investment) based on the technological amortization of at least 10 years of service, right from the design phase.
Read more...
---
Texecom launches the Midnight Black Collection
Technews Publishing Perimeter Security, Alarms & Intruder Detection Products
Working in harmony with darker environments, the Midnight Black Collection has been created for businesses and sites that require or prefer a security solution which offers discreet protection that compliments their surroundings.
Read more...
---
XtraVision Facilitates Integration
XtraVision Perimeter Security, Alarms & Intruder Detection
XtraVision, a global distributor of SAMM FOTAS DAS fibre intrusion detection technology and ARTECO Video Even Management Software, in the South African, African, and South American regions, has recently facilitated the integration between the two manufacturers.
Read more...
---
Olarm product highlights for 2022
Olarm Perimeter Security, Alarms & Intruder Detection Products
Olarm rapidly expanded its ecosystem in 2022 with several new products, the launch of its training academy, and a presence in Gauteng.
Read more...
---