printer friendly version
Residential tap in
August 2013 Access Control & Identity Management, Residential Estate (Industry)
A number of options are available for visitors – the security guard with a sign-in book, a buzzer with keypad at the entrance or a pre-arranged access card, button or remote. However, what about visitors who need to gain access when the resident is off site? Ideally, security guards would have been instructed to deny access to visitors when the resident is off site. Even in instances where the visitor produces a letter ostensibly from the resident permitting access, it could be forged.

MKII intercom system.
Altro Property Management manages a number of residential estates. After searching for an alternative access solution, Altro was pleasantly surprised to encounter the MKII intercom system from Comb Communications.
"We required a system that would allow the security guard to communicate with the resident irrespective of whether they were on site or not. A property that we had added to our portfolio had an existing MKII system in operation. We contacted Comb Communications to discuss the operational parameters and hence a very beneficial relationship began," said Altro's owner Allan Trollip.
"We were intrigued by the advantages the MKII, combined with a Tap-Tap keypad, provides. Traditional hardwired intercom systems are expensive to install and maintain, and lack the flexibility provided by the MKII. We have now installed the MKII combination at 17 of the estates we manage, providing 3000 residents with access to the system."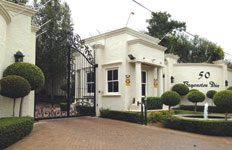 One of the residential estates managed by Altro, using a MKII intercom system.
"The MKII allows us to programme in a number of resident cellphone numbers. When a visitor arrives, the security guard pushes the button associated with the specific unit number required. The system then automatically dials the pre-programmed cell number and the resident can give the visitor access by simply pressing a button on his cellphone or by sending a unique one-time pin number to the visitor to use."
The MKII is the first unit of its kind in the world to contain an embedded SIM chip. This eliminates having to purchase a separate SIM card and the possibility of SIM card theft. Another security feature within the MKII is the built-in anti-tampering capability. This time-based access control system provides individualised unit billing reports, divided into gate opening and phone charges. Reports are provided on both successful and unsuccessful gate openings.
The Tap-Tap keypad is used in conjunction with the MKII to request an entry and exit pin number for visitors, by simply sending an SMS with the word TAP plus the number of visitors (for example four) to the MKII intercom system. The system then sends a 5-digit pin via SMS to the visitor, valid until midnight of the same day. "The MKII system allows us to send out bulk SMSes or e-mails around the clock at very little cost," said Trollip.
Trollip pointed out that the team at Comb Communications was extremely helpful, aiding in Altro's complete familiarisation with the system. "Based on the benefits of the MKII/Tap-Tap as well as the ongoing excellent service provided by Comb Communications, we have standardised on the system wherever possible.
"This is a mutually beneficial relationship as we can now utilise a superior access control system and Comb is able to grow the product through the feedback we provide. We recently approached Comb Communications to provide customised enhancements to the existing system. We would like the system to incorporate information on the owner of the property; details of next of kin; vehicle registration numbers; details of tenants; whether there are pets at the residence; who the estate agent is, etc. The more information available to us, the more effective the system will be," he concluded.
For more information contact Keep Access Control Systems, +27(0)11 805 0175, siska@keepacs.co.za, www.keepacs.co.za
Credit(s)
Further reading:
Facial access control for ministry
Issue 1 2020, ZKTeco , Access Control & Identity Management
The Ministry of Culture in Saudi Arabia has adopted ZKTeco's facial recognition technology and fingerprint biometrics to manage access control into its building.
Read more...
---
New Door Pilot app from dormakaba
Issue 1 2020, dormakaba South Africa , Access Control & Identity Management
With new dormakaba Door Pilot, automated doors can also now be operated on the basis of remote control technologies. The system, comprising the Door Pilot app for smartphones and a Wi-Fi interface for ...
Read more...
---
Identity lifestyle
Issue 1 2020, Suprema , Access Control & Identity Management
Once the technology of the future, biometrics has quietly snuck into our daily lives through smartphones and access controls into our places of work.
Read more...
---
Securing BP's new head office
Issue 1 2020, ISF SFP , Access Control & Identity Management
ISF SFP was awarded the contract to secure the first development phase for Oxford Parks, the new head office for BP South Africa.
Read more...
---
Combining aesthetics and access control
Issue 1 2020, Turnstar Systems , Access Control & Identity Management
Prestigious law firm Bowman Gilfillan recently upgraded its physical security with the addition of four Turnstar Speedgate Express access control lanes.
Read more...
---
Video doorbells from Ring
Issue 1 2020 , Access Control & Identity Management
Ring has a number of video doorbells available in South Africa that run off batteries or power and enable users to answer their doors from anywhere.
Read more...
---
Centurion to unveil new product
Issue 1 2020, Centurion Systems , Access Control & Identity Management
Centurion Systems will be hosting its third Access Automation Expo this year, with dates confirmed for Durban, Johannesburg and Cape Town.
Read more...
---
Looking ahead with mobile access technologies
Access & Identity Management Handbook 2020, Technews Publishing, HID Global, dormakaba South Africa, Salto Systems Africa, Suprema, Gallagher , Access Control & Identity Management, Integrated Solutions
Given the broad use of smartphones around the world and the numerous technologies packed into these devices, it was only a matter of time before the access control industry developed technology that would ...
Read more...
---
Mobile access is more secure than card systems
Access & Identity Management Handbook 2020 , Access Control & Identity Management
The ability to use mobile phones as access credentials is one of the biggest trends in a market that historically has been slow in adopting new technology.
Read more...
---
This is the future. This is what we do.
Access & Identity Management Handbook 2020, ZKTeco , Access Control & Identity Management
ZKTeco has created a unique range of visible light facial recognition products combined with a flexible Android platform.
Read more...
---