printer friendly version
Thirty days of storage
August 2013
CCTV, Surveillance & Remote Monitoring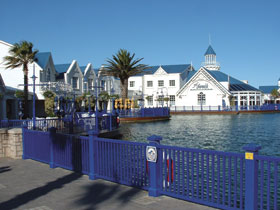 The Nelson Mandela Bay Municipality area is home to over 1,8 million people, covers an area of 2000 km² and includes the towns of Uitenhage and Despatch, together with Port Elizabeth. The IP security system, part of the NMBM Security Master Plan implementation, was supplied and installed by Afrisec and includes a central control room, joint operations centre for disaster management, venue operations centre for events like the FIFA World Cup, traffic operations centre to monitor transport routes and busses, satellite control rooms and integrated security system – CCTV, access control, intruder detection, VOIP, fire detection, lighting systems, perimeter and electric fence etc.
The security system incorporates street surveillance (over 250 cameras) and automatic number plate recognition in the CBD, suburbs and along the beachfront, CCTV in municipal buildings (over 800 cameras) and to which Metro assets are linked as an ongoing process. There are over 5000 security devices (various ONVIF cameras, Morpho biometric readers, HP switches and servers, NVRs etc.) on the network. This also includes other security-sensitive projects (armoury, pay stations, customer care centres, office buildings etc.) followed by maintenance and staff training/skills transfer.
Afrisec has also installed renewable energy CCTV and automatic weather station pole solutions for the NMBM Disaster Management Early Warning CCTV Project which includes a combination of solar and wind turbine power with no Eskom connection as the electrical cable keeps getting stolen. Afrisec has also installed ClearVu electric mesh perimeter fences for certain NMBM sites, a mobile surveillance vehicle and 9 CCTV trailers.
Fibre backbone
The various systems and subsystems are fully integrated across a dedicated NMBM Safety and Security 10 Gbit LAN running on a fibre backbone, with wireless network links for more remote sites and over three hundred HP switches with multicasting enabled. The NMBM Security Master Plan required a dedicated security network separate from the NMBM IT network due to being able to link up with the SAPS Control Room and reduce the threat and risk of cybercrime, cyber espionage, cyber warfare, hacking and criminal syndicates.
The existing security network infrastructure is an integral part of the Central Control Room and integrated security system. The integrity of the security network infrastructure is maintained in order for other security stakeholders i.e. the South African Police Service, Public Prosecutor, eNatis, to be confident that the electronic information i.e. video images that are captured and transferred on the security system (security IP Network) is protected and reliable for evidence purposes in a court of law or criminal case. The integrity of the security information (video and data) that is transferred on the infrastructure is maintained and protected. The transfer of security information over unprotected communication links is restricted.
Networks used for Internet are not secure and communications sent via Internet can be accessed or modified by unauthorised persons and information obtained from the Internet is also a threat i.e. viruses to the security network. The confidentiality and integrity of video and data stored on the current Metro security IP network infrastructure is protected by physical systems like access control and physical network separation (not logical separation, dedicated switches). The existing use of fibre optic cable or wireless mediums maintains a high security standard. Firewalls have been implemented in between un-trusted infrastructure (Internet and third-party networks i.e. IT networks) and security network infrastructure. Only authorised software and hardware is used on the security system.
Over 400 TB of storage
This includes operators based in all the control rooms using IndigoVision Control Centre software to view live video from the cameras and analyse recorded footage from the sixty network video recorders (NVRs) at various locations in the Metro with over 400 TB storage and three Infotrend storage area networks (SAN) which provide 30+ days of 25 fps recordings from over 1000 cameras. The distributed nature of the IP video system allows a control centre workstation to be located at any point on the network, facilitating the use of multiple security control rooms. The distributed architect allows for redundancy of NVRs on the network.
The IP video system is tightly integrated with the other building management and security systems used on the project providing a platform for true integration, so that an event in one system can trigger an action in another. For example, an illegal entry alarm from the access control system can automatically cause the nearest CCTV camera to pan and zoom to view the entry point and display the video on any control centre workstation for immediate operator response.
As the system expands Control Centre's real-time analytics and advanced analytics has been installed on certain cameras. This alerts operators to events as they occur, such as vehicles moving in the wrong direction, congestion or a virtual tripwire being crossed. This dramatically reduces the time to locate critical events, enabling timely response to potential incidents.
Over the last five years the NMBM has invested in an integrated security system and dedicated security network that can now be classified as a megasystem. As additional sites and cameras are added to the security system so the security IP network and storage solution is expanded and the integrity of the information on the network maintained.
For more information contact Afrisec, +27 (0)41 581 7328, gary@afrisecgroup.co.za, www.afrisecgroup.co.za
Credit(s)
Further reading:
The importance of correct specifications
Issue 2 2020, Sensor Security Systems , CCTV, Surveillance & Remote Monitoring
To prevent the incorrect specification of CCTV equipment, Sensor Security has a comprehensive checklist to complete.
Read more...
---
Dahua unveils core products for 2020
Issue 2 2020, Dahua Technology South Africa , CCTV, Surveillance & Remote Monitoring
Dahua Technology unveiled its 2020 core products in Intersec Dubai, enabling and accelerating its AIoT transformation.
Read more...
---
Wireless HD CCTV network
Issue 2 2020 , CCTV, Surveillance & Remote Monitoring
Infinet Wireless' wireless solutions have been deployed in Ipswich town centre to improve safety and ensure hassle free HD surveillance.
Read more...
---
Hikvision launches LED display product line
Issue 2 2020, Hikvision South Africa , CCTV, Surveillance & Remote Monitoring
Hikvision has launched a full range of internally manufactured LED displays, providing high-definition colour imaging.
Read more...
---
End-to-end surveillance upgrade
Issue 2 2020 , CCTV, Surveillance & Remote Monitoring
An upgrade of a video surveillance solution composed of video management software and 425-plus new cameras has transformed security operations for the Central Bank of Jordan.
Read more...
---
Reinventing network camera security
Issue 1 2020, Axis Communications SA , CCTV, Surveillance & Remote Monitoring
Now in its seventh generation and celebrating its 20th anniversary, the Axis ARTPEC chip was launched in 1999 designed to optimise network video.
Read more...
---
Cloud-based fleet and driver management
Issue 1 2020, Graphic Image Technologies , CCTV, Surveillance & Remote Monitoring
Graphic Image Technologies (GIT) has announced the availability of a cloud-based dashcam designed to improve on-the-road behaviour and assist in improving fleet management.
Read more...
---
Cathexis specialises in integration
Issue 1 2020, Cathexis Technologies , CCTV, Surveillance & Remote Monitoring
The integration of multiple systems is intrinsic and essential to the goal of creating an effective and efficient operational environment.
Read more...
---
Do wireless networks meet modern surveillance demands?
Issue 1 2020, Duxbury Networking, RADWIN , CCTV, Surveillance & Remote Monitoring
It is predicted that video will account for 15,1 zettabytes (1 zettabyte = 1 trillion gigabytes) of data annually, which is more than any other IoT application.
Read more...
---
Traffic doesn't have to be this way
Issue 1 2020, Dahua Technology South Africa, Axis Communications SA , CCTV, Surveillance & Remote Monitoring
More effective traffic management is something that would save us all a lot of frustration and wasted time, and it's one of the areas where AI and big data can have a significant impact.
Read more...
---