printer friendly version
It's about TCO and reliability
August 2013
Security Services & Risk Management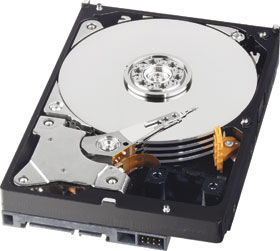 With the advent of digital video surveillance many years ago, surveillance projects quickly moved away from using taped recording to the more convenient and much faster digital options, namely hard drives. The drives could be used in surveillance-specific recorders or in arrays, depending on the requirements of each project. Some smaller projects even used a desktop PC as their storage system, running a free VMS (video management system) to manage their surveillance footage – and many still do.
However, while hard drive technology has advanced dramatically in terms of storage capacity and we've seen reductions in cost per gigabyte (GB), simply selecting off-the-shelf hard drives in the hopes of using them for video storage is not the best option, especially when looking at sizable projects with multiple cameras that require constant activity on the drives.
Hi-Tech Security Solutions spoke to Kalvin Subbadu, sales manager for South Africa for WD (Western Digital), and Craig Lamb, an engineer for WD Europe at IFSEC SA about what makes a good hard drive for surveillance purposes.

Subbadu says your average desktop hard drive is designed for eight to ten hours of operation each day. What many buyers don't realise, however, is that in a surveillance setting you need 24x7 operation. The drives will constantly be recording images and, when required, streaming one or more streams to users.
WD has made audio-visual (AV) drives a focus area and is now promoting its AV-specific drives in South Africa. Lamb says these drives are designed to offer optimal performance and reliability, ensuring they can perform 24x7 and that they deliver video streams without the buffering problems common in desktop drives. They do cost more than desktop drives, but the cost of ownership will actually be lower.
Putting a desktop hard drive in a DVR or NVR will work fine in many instances as long as the streaming requirements are reasonable, but these drives will not deliver the lifespan required in surveillance environments. Subbadu says AV drives will prove more reliable and have a longer lifespan because they are designed for video (and audio) operations.
Local AV drive boost
<While WD, or Western Digital as more people know the company, has had a presence in South Africa for years through its distributors, Sahara, Pinnacle and Drive Control, it is now pushing its AV drives as well as its traditional products to cater for the growing surveillance market in South Africa. It also sees the country as a base to expand its operations in Africa.
Subbadu says WD does not offer full AV solutions, but rather focuses on making the drives and working with partners to develop high-performance storage systems for the surveillance market. He hopes to educate the security market in terms of what makes an AV drive a better investment over the long term, even though the initial purchase price may be higher.
Lamb adds that looking at the total cost of ownership (TCO) over the life of a hard drive makes the purchase price seem almost irrelevant when buying AV drives. If consumers understand the risks and TCO of using desktop drives versus AV drives, the decision will be a no-brainer. The key is understanding that all drives are not the same and getting a fit-for-purpose drive will deliver better performance, reliability and TCO in surveillance environments.
For more information contact Western Digital, +27 (0)83 277 7634, kalvin.subbadu@wdc.com
Further reading:
Ransomware predictions
Issue 1 2020 , Security Services & Risk Management
As we enter a new decade, Simon Jelley, VP of product management at Veritas, explores how ransomware is likely to continue evolving in the year ahead.
Read more...
---
The HR environment in 2020
Issue 1 2020, iFacts , Security Services & Risk Management
As 2020 grabs hold of every one of us with great intent, we need to know what to be aware of when employing people or appointing vendors for our business.
Read more...
---
The instruments for investigation
Issue 1 2020, Technews Publishing , Security Services & Risk Management
Regardless of the reason for investigation, the investigation is only as good as the investigators.
Read more...
---
Nothing holds Eudricht back
Issue 1 2020, Sensor Security Systems , Security Services & Risk Management
In this personality profile, Eudricht Kotze talks of his journey overcoming adversity in the security industry.
Read more...
---
Leaders in risk and security: You have to know it to manage it
Issue 1 2020, Technews Publishing , Security Services & Risk Management
Hi-Tech Security Solutions profiles Nash Lutchman, Senior Vice President and Head of Protection Services at Sibanye-Stillwater.
Read more...
---
Drilling deeper into essential building management systems
Issue 1 2020 , Security Services & Risk Management
As the demand for the automation of security and other systems in buildings and large construction sites around the world grows, we are seeing an increase in the demand for building management systems.
Read more...
---
From physical security to cybersecurity
Access & Identity Management Handbook 2020, Genetec , Cyber Security, Security Services & Risk Management
Genetec discusses the security-of-security concept as a means to protect cameras, door controllers and other physical security devices and systems against cybercriminal activity.
Read more...
---
Biometrics in identity
Access & Identity Management Handbook 2020 , Access Control & Identity Management, Security Services & Risk Management
With multiple identity providers offering to manage digital identities for the general public, the root identity – the single sovereign trusted identity upon which all others are based – must start with government.
Read more...
---
Success lies in planning
November 2019, Vox Telecom , Security Services & Risk Management
A safe and smart city will only be successful if it is planned properly, if there is buy-in from all the stakeholders and if it is managed efficiently.
Read more...
---
Matching governance to context
November 2019, ContinuitySA , Security Services & Risk Management
When building resilience and planning for business continuity, take proportionality to heart, advises Michael Davies, CEO of ContinuitySA.
Read more...
---