printer friendly version
Facilities management essential
August 2013 Security Services & Risk Management, Healthcare (Industry)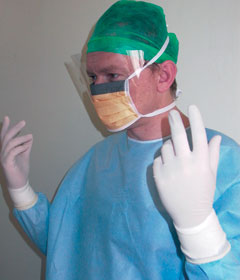 The pharmaceutical sector faces a multitude of challenges when taking into account the management of their facilities. There are a vast number of considerations to take into account with the manufacturing, storage and distribution of pharmaceutical drugs. Sterile environments, specific humidity and dust particle levels are some of these imperative factors that need to be taken into account. This is why validation of, among others, the processes employed to manufacture these products, the environment in which they are stored and the conditions under which they are handled and transported, has become so very important. Building management systems (BMS) and access control solutions are playing an increasingly important role in that validation process.
Consider, for example, how important it is to control the conditions under which drugs are produced, stored and transported. Active ingredients within vaccines and other medicines are sensitive to heat and light, and if they are not carefully handled within specified parameters, their efficacy can be impacted. Similarly, when it comes to management of dangerous pathogens, it's important to control, and be able to validate the laboratory conditions in which they are kept and handled, from origination to disposal.
Intelligent building management systems, with their capability to measure, monitor and control environments based on preconfigured requirements, are the ideal tools to help meet and enforce validation requirements. To achieve certification, however, these systems need to comply with US Food and Drug Administration (FDA) validation requirements.
Tamper-free information
The FDA first introduced validation four decades ago and today pharmaceutical companies cannot export goods to the USA that do not comply with FDA validation requirements. The way to achieve this validation is to make use of processes and systems that measure, capture and manage critical information related to the lifecycle of the product (manufacture, distribution, etc.) in a secure way.
In particular FDA's Electronic Records and Signature requirements (Title 21 CFR Part 11) need to be met. To comply, the computer systems used to collect and analyse data must be validated to meet the FDA requirements for electronic records and signatures – i.e., these electronic signatures (authorisation) must be legally binding and the electronic records must be protected from point of creation to receipt, meaning any tampering with information must be detectable.
Using an FDA certified building management system for validated environments, the validation process can be integrated or configured within the organisation's building automation system. Validation can be further implemented within access control systems, an important consideration in the control of disease and handling of dangerous pathogens.
So how do these FDA-certified BMS for validated environments differ from standard building management systems? In effect, where a standard BMS will measure the temperature in an environment, a BMS for validated environments will measure and guarantee that temperature. It certifies that the temperature sensor is providing a true value, that the controller to which the sensor information is sent is responding as it should, that the information subsequently stored in the database is secure and cannot be tampered with, and that the output report containing the FDA-required information is protected.
Partnering for scalable solutions
Partnering with clients to validate the environment and install the solution is essential. It can be a cumbersome task and it requires some effort, but once it's in place, it provides assurance that required validation processes are followed and the products the organisation is taking into the market are safe and effective, and conform to quality promises.
For two pharmaceutical companies in South Africa – one a leading manufacturer and exporter of drugs in Africa, and the other involved in global distribution of pharmaceutical products – ensuring that the storage and transportation of their pharmaceuticals meet the US Food and Drug Administration's (FDA) Title 21 validation requirements is business critical. To achieve this, they implemented a FDA-certified building management system (BMS) from Johnson Controls.
Implementation of the solution for the pharmaceutical manufacturing concern, which has 17 manufacturing facilities at 12 sites on six continents, took place at an existing warehouse facility in South Africa over a two-month period. The organisation had, at the time, already ensured its processes complied with FDA requirements so it was simply a matter of installing the BMS, ensuring all relevant systems were integrated to it, and configuring it to the necessary standards.
For the pharmaceutical distribution company, the BMS was implemented as part of a newly constructed facility which took approximately 18 months to complete. For both organisations, having validated systems is crucial to being able to do business at a global level, and to ensuring the trust and loyalty of their clients.
In South Africa, the pharmaceuticals sector is very internally focused and compliance to global standards is not compulsory. What that means is that if a batch of sensitive medication is left for four hours in the back of a truck in 45-degree heat, there's no legislation to prevent that medication from entering the market. Validation is a very good system to implement for local consumption. For now, it's the companies that compete at a global scale that set the bar.
For more information contact Johnson Controls, +27 (0)11 921 7141, neil.cameron@jci.com,
Credit(s)
Further reading:
Ransomware predictions
Issue 1 2020 , Security Services & Risk Management
As we enter a new decade, Simon Jelley, VP of product management at Veritas, explores how ransomware is likely to continue evolving in the year ahead.
Read more...
---
The HR environment in 2020
Issue 1 2020, iFacts , Security Services & Risk Management
As 2020 grabs hold of every one of us with great intent, we need to know what to be aware of when employing people or appointing vendors for our business.
Read more...
---
The instruments for investigation
Issue 1 2020, Technews Publishing , Security Services & Risk Management
Regardless of the reason for investigation, the investigation is only as good as the investigators.
Read more...
---
Nothing holds Eudricht back
Issue 1 2020, Sensor Security Systems , Security Services & Risk Management
In this personality profile, Eudricht Kotze talks of his journey overcoming adversity in the security industry.
Read more...
---
Leaders in risk and security: You have to know it to manage it
Issue 1 2020, Technews Publishing , Security Services & Risk Management
Hi-Tech Security Solutions profiles Nash Lutchman, Senior Vice President and Head of Protection Services at Sibanye-Stillwater.
Read more...
---
Drilling deeper into essential building management systems
Issue 1 2020 , Security Services & Risk Management
As the demand for the automation of security and other systems in buildings and large construction sites around the world grows, we are seeing an increase in the demand for building management systems.
Read more...
---
From physical security to cybersecurity
Access & Identity Management Handbook 2020, Genetec , Cyber Security, Security Services & Risk Management
Genetec discusses the security-of-security concept as a means to protect cameras, door controllers and other physical security devices and systems against cybercriminal activity.
Read more...
---
Biometrics in identity
Access & Identity Management Handbook 2020 , Access Control & Identity Management, Security Services & Risk Management
With multiple identity providers offering to manage digital identities for the general public, the root identity – the single sovereign trusted identity upon which all others are based – must start with government.
Read more...
---
Success lies in planning
November 2019, Vox Telecom , Security Services & Risk Management
A safe and smart city will only be successful if it is planned properly, if there is buy-in from all the stakeholders and if it is managed efficiently.
Read more...
---
Matching governance to context
November 2019, ContinuitySA , Security Services & Risk Management
When building resilience and planning for business continuity, take proportionality to heart, advises Michael Davies, CEO of ContinuitySA.
Read more...
---