printer friendly version
Empowered to aspire
August 2013
News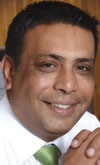 Nash Lutchman, vice president of Protection Services at Sibanye Gold.
Nash Lutchman, vice president of Protection Services at Sibanye Gold, studied criminology at the University of KwaZulu-Natal, then known as the University of Durban-Westville.
"I completed my honours degree in 1985. Later I completed certificate courses in Police Administration at Technikon RSA, as well as Management Services and Consultancy courses at Technikon Pretoria. In addition, I attended development courses in management and leadership in the SA police service where I spent most of my professional career."
Lutchman did not have his current position in mind when starting out in 1986. His first job was as a schoolteacher. "I was appointed to the Windsor Secondary School in Ladysmith, KwaZulu-Natal, where I taught Afrikaans (second language) at senior secondary level."
Having taught for two years and recognising the power of education to create a better society, Lutchman joined the SA Police with the intention of working in its training division as an instructor, primarily at basic training level. "My motivation was to be involved in the machinery that took ordinary citizens from their homes and turned them into the professional policemen and policewomen we put on the streets to take back society from the grip of crime."
However, Lutchman says, "The basic police training environment was too robotic for me, so after completing basic training I joined mainstream policing to protect and to serve. I very soon realised I would be a career policeman and saw myself in the future retiring from the organisation at least at the rank of Colonel, or maybe even a Brigadier. The year would be 2022.
"I immersed myself into the SA Police and contributed significantly in terms of organisational effectiveness. I was already a Colonel by 1996, just eight years after enlisting. Three years later I was promoted to Brigadier."
The career highlights for Lutchman in the Police Service are:
* "During 1994 I led and co-ordinated the project team that finalised the seamless amalgamation of the then KwaZulu Police Force and the SA Police Force into the SA Police Service;
* "During 1996 I worked together with McKinsey and Company on a service delivery improvement project that targeted 100 police stations across the country for improvement interventions. I led the police team in the KwaZulu-Natal province;
* "In 1999 I finalised the structures for the Crime Intelligence Division at national level, which saw crime intelligence move out from under the auspices of the Detective Services, and become an independent division."
Leaving the SA Police in 2004 to join the private sector, Lutchman joined diamond giant De Beers. "I grew through the company and within three years moved from being an on-mine security manager to becoming the head of its security operations in South Africa. My big achievement here was bringing technology, systems and people together to support the delivery of an information-led holistic diamond protection strategy. It was very rewarding to work for De Beers as they created an enabling environment based on continuous business improvement."
He left De Beers in 2008 to join Gold Fields where he served as the vice president and head of Protection Services until 2012.
Lutchman now heads Sibanye Gold Protection Services where he is accountable for developing and delivering an holistic protection strategy to mitigate Sibanye Gold's security and crime risk exposure, while enabling the company's business plans. Some of his tasks include:
* Developing and maintaining a formidable protection capability, where physical and electronic or digital technology solutions are risk-based with due consideration for cost, quality, and efficiencies;
* Developing and maintaining a crime investigations capability, including a fraud and forensic investigations capability, which is court driven, led by crime information, and strategic partnerships with the authorities, especially law enforcement and prosecutions.
* Developing and maintaining a governance framework, including group policies, security codes, technical standards, as well as quality control and quality assurance.
When asked what advice he would have for up-and-coming security professionals on how to kick-start their careers, Lutchman advises: "Start off in the police service and remain there for three to five years. My view is that no other environment better prepares an individual to take up a career and grow within the private security environment.
"In addition, acquiring the ability to work with information, to analyse and to project bigger picture thinking is also important. The abilities to think strategically, develop plans, manage budgets and make decisions have to be acquired and honed.
"Honesty and integrity is not negotiable and the security manager must be flexible, but fair, and not undermine good governance and consistency."
He also does not see a police background as the only way to succeed in the private security world. "My edict at Sibanye is 'we do not hire guards for life'. This means that every employee is afforded an opportunity and is empowered to aspire to, and to reach greater career heights within Sibanye Gold Protection Services."
Further reading:
Online fleet management system
Issue 1 2020 , News
Fleet Domain's online Fleet Management Information System is reducing operating costs and improving safety for South African logistics firms.
Read more...
---
Digital insurance bundle for assets and devices
Issue 1 2020 , News
My CyberCare is a specialist provider of personal, and SMME online cyber insurance, cyber detection and cyber monitoring solutions for both local and global consumption.
Read more...
---
IDEMIA to supply Morocco's national electronic ID cards
Issue 1 2020, IDEMIA , News
IDEMIA will supply Morocco with national electronic ID cards and introduce a secured digital identity online services platform.
Read more...
---
Rockwell Automation to acquire Avnet
Issue 1 2020, Rockwell Automation , News
Rockwell Automation announced it has signed an agreement to acquire privately held Avnet Data Security, an Israeli-based cybersecurity provider with over 20 years' experience providing cybersecurity services.
Read more...
---
Do we really want simplicity?
Issue 1 2020, Technews Publishing , News
Everything today has to be simple, easy and fast. Even access to your bank account has to fit these adjectives and banks spend significant time and money trying to ensure their web and mobile interfaces ...
Read more...
---
Longse Distribution to become LD Africa
Issue 1 2020, LD Africa , News
Brendon Whelan, sales manager for Longse Distribution, announced that the company officially changed its name to LD Africa as of 20 January 2020.
Read more...
---
Three expos in one
Issue 1 2020 , News
Looking ahead to 2020 Vision: combined Securex South Africa, A-OSH EXPO and Facilities Management Expo 2020 promises to be even bigger and better.
Read more...
---
Security events you can't miss in 2020
Issue 1 2020, Technews Publishing , News
Hi-Tech Security Solutions will host a number of focused events in 2020 to highlight the latest in security technology and the operational benefits they deliver.
Read more...
---
David Shapiro to chair ESDA
Issue 1 2020, ESDA (Electronic Security Distributors Association , News
The Electronic Security Distributors' Association (ESDA), established in 1989, has elected David Shapiro as its chairperson for 2020.
Read more...
---
Dimension Data debuts fifth business
Issue 1 2020 , News
Dimension Data has launched its fifth business in the MEA region, Dimension Data Security, aimed at helping organisations in the region address the challenges of today's rapidly evolving threat landscape.
Read more...
---