printer friendly version
Who is visiting who?
July 2013
Access Control & Identity Management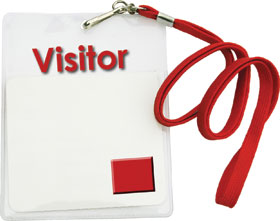 We have all been faced at some point by the visitor book wielding security guard, anxious to know who you are, whom you are meeting with, if you have a firearm or laptop and if so what the serial number is etc.
More concerned about making your appointment on time than the quality of your script on the tear out slip, you promptly rush through the completion of the form leaving the guard to their carbon copy. Would be thieves or wrongdoers are hardly perturbed by such a book and can easily take on the persona of Mickey Mouse or Donald Duck when they sign in fraudulently.
Imagine a mobile device connected to a visitor management system that enables the guard to scan your vehicle licence disk and then your national driver's licence and link the visitor to that specific vehicle. Not only would the system in two swifts scans have all of the information relating to the vehicle like make, model, colour, registration number etc. but also the visitor's identity number, the picture which is also embedded in the barcode. Using a series of user-friendly checkboxes the guard completes the process by capturing information related to laptops, firearms etc. and then by capturing your fingerprint electronically as acceptance that you agree to the terms and conditions of entry, allows you to enter the premises.
Whether you are a security company responsible for a corporate office park, a property manager looking after housing estates or even a dealer principal at an automotive dealerships responsible for infringements of the AARTO act and fines redistribution, Bartrans has developed the Dolphin 7800s enterprise digital assistant [EDA].
The D7800 is able to scan, decode and then decrypt the SA national driver's licences, but can now also decrypt licences from Namibia, with others to follow. Honeywell's Adaptus scanning technology drives the solution meaning that even scanning in direct sunlight is not a challenge for the D7800s.
Future proofing any investment in terms of hardware is also important, so the ability to scan and decode not only the current barcoded version of the driver's licences but also allowing for the proposed new contactless smartcard driver's licence is essential. With its locally designed clip-on you are also able to scan biometric fingerprints as well as contactless smartcards like the newly released national ID card by using the embedded iClass reader from HID.
Running the Windows Embedded Handled 6.5 operating system application are easily developed for the device and a large, high-resolution, outdoor off-axis viewable screen maximises productivity and ensures easy viewing of data in virtually any lighting condition. An Android version is also available if required. Multiple keypad options allow enterprises to choose the layout that best suits the needs of their mobile workforce. Adaptus Imaging Technology 6.0 enables fast scanning of linear and 2D bar codes in various lighting conditions, while an integrated colour camera enables seamless image and video capture.
The Dolphin 7800 also incorporates wireless technology, including a software-definable radio option that allows on-the-fly switching between GSM and CDMA networks, leading to continuous data coverage and lower device provisioning and deployment costs. Additionally, built-in Wi-Fi provides access to critical data using the 802.11n standard, as well as legacy a/b/g protocols.
For more information contact Bartrans, +27 (0)11 552 8245, luke@bartrans.co.za, www.bartrans.co.za
Further reading:
A contact-free hotel experience
Issue 7 2020, Technews Publishing , Access Control & Identity Management
Check-in and go straight to your room without stopping at the reception desk at Hotel Sky in Sandton and Cape Town.
Read more...
---
AI digitises coronavirus management
Issue 7 2020, NEC XON , Access Control & Identity Management
NEC XON is using NeoFace Watch and specialised thermography cameras to measure temperature and identify employees and visitors.
Read more...
---
Combining visual and IR face recognition
Issue 7 2020, Suprema , Access Control & Identity Management
The FaceStation F2 offers face recognition and anti-spoofing performance.
Read more...
---
Anviz unveils FaceDeep5
Issue 7 2020, ANVIZ SA , Access Control & Identity Management
Anviz Global has unveiled its new touchless facial recognition identity management and IoT biometric device.
Read more...
---
Touchless biometric options
Issue 6 2020, Entry Pro , Access Control & Identity Management
When it comes to estate access control management, the foremost topic of conversation at the moment seems to be the importance of touchless biometrics.
Read more...
---
Fast access to Kevro production facilities
Issue 6 2020, Turnstar Systems , Access Control & Identity Management
Employee and visitor access at Kevro's Linbro Park premises in Gauteng is controlled through eight Dynamic Drop Arm Barriers from Turnstar.
Read more...
---
Know your facial recognition temperature scanner
Issue 6 2020, ViRDI Distribution SA , Access Control & Identity Management
Facial recognition with temperature measurement is, for the most part, available in one of two technologies – thermopile and thermography/IRT.
Read more...
---
Suprema integrates with Paxton's Net2 access control
Issue 6 2020, Suprema , Access Control & Identity Management
Suprema has announced it has integrated its devices with Paxton's access control system, Net2.
Read more...
---
Contactless check-in at hotels
Issue 6 2020 , Access Control & Identity Management
Onity has delivered the DirectKey mobile access solution to hotel chains around the globe, which allows for contactless check-in and property access.
Read more...
---
UFace facial recognition now in SA
Issue 6 2020, Trac-Tech , Access Control & Identity Management
Trac-Tech has secured the distribution rights to the UFace range of contactless biometric facial recognition and identity management IoT devices.
Read more...
---