printer friendly version
Accessing the metro
July 2013
Access Control & Identity Management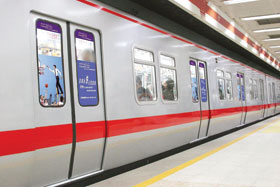 In operation since the end of December 2010, the Fangshan Line of the Beijing Metro is 24,79 km long with 11 stations (nine surface and two underground). The line runs north and east from Suzhuang Dajie in the Fangshan District to Guogongzhuang in the Fengtai District, with an average of 2,3 km between metro stations. A backup control centre is located at the Yan Village line.
As a key component to the success of Beijing's public transport system, strict requirements are imposed on the access control system to safeguard the passengers and staff.
The metro system features lengthy routes, numerous stations and lean management. Line sections and stations are the core management areas in the metro's operating system, most of which are operated remotely. To ensure the metro is running safely, it is necessary to prevent unauthorised access and closely manage access to all stations, electrical substations, parking lots and major facilities at metro line sections.
The new access control system also had to safeguard the equipment and staff at key locations such as fixed plants, offices, equipment areas, the machine room, the automatic fare collection system management office and central station, communication equipment rooms and public areas. To improve the operation, the system was required to enable central monitoring for every passage area and location that housed equipment management facilities.
The access control system needed to cover an extensive network and all cardholder information from different entry points with a wide range of access control rules that have to be transmitted to the central station. The new access control system also needed to be reliable with a versatile architecture. In addition, the metro network comprises complicated installation environments such as underground, narrow door frames, channel gates and glass surfaces.
As a result, the access control products must withstand harsh environments, providing reliable performance and resistance to fire and electromagnetic interference.
HID solutions
With the HID Global VertX V1000 controller and partner software, HID offered a centralised, Web-based access control system to monitor all stations and site equipment in real-time. The system manually controls the access of high-risk zones, creates access rights settings and performs database management.
At the same time, each station control centre can independently operate using an HID V100 reader interface when communication is lost with the host. HID iCLASS R10 readers were also installed at the entry points of the offices, equipment and mechanical rooms, automatic fare collection system management office and central station and other locations. All iCLASS R10 readers were connected to a VertX network controller for central access management and report generation.
The metro line control centre performs all central management functions and it consists of the central server, access authority management station, central station and system software. The control centre network primarily monitors the operation of station equipment; manages access authority such as cardholder access rights and operator administrative levels; and facilitates system functionality and database management.
Every metro station office performs station-level management, database management, report generation and data tracking. An HID VertX V1000 controller was installed to enable the metro station offices to monitor the station's system real-time status, entry records and card access information.
The administrator can also check the event logs and control the access to entry points remotely. Both the control centre and station offices are connected to the central server via TCP/IP for data transmission.
Finally, the metro's network features complicated installations and extreme operating environments in which the small footprint of iCLASS R10 readers for mullion-mounted door installations and the VertX controller featuring an average MTBF of over 1 million hours and water-resistance to damp environments were ideally suited for the project.
The products are also UL94-certified with fire-resistant capability.
Top-to-bottom management
The resulting access control system from HID Global enables Beijing Metro to centrally monitor all stations, fulfilling their needs for a top-to-bottom management approach. The administrator at the central station can also track and manage the door access in all metro stations, offering greater flexibility and faster response to network failures.
The new system also provides multi-layered security and fail over support. Remote computers are deployed at high security level zones where access is manually controlled by the administrator and a V1000 controller is used for station access management, enabling metro station offices to work independently when offline with the central station. A V100 reader interface provides emergency support when communication between V1000 controllers and the V100 reader interface is lost. In case of communication failures, the station office executes all commands and once communications are restored, all buffered transactions are uploaded to the host, enabling real-time monitoring and data transmission.
For more information contact HID Global, +27 (0)82 449 9398, rtruter@hidglobal.com, www.hidglobal.com
Further reading:
The benefits of electronic visitor management
August 2019, Powell Tronics , Access Control & Identity Management, Residential Estate (Industry)
Access control is a critical aspect of estate security as it represents the controls put in place to restrict entry (and possibly exit) along the outer boundary of the location.
Read more...
---
Addressing risks by means of access control layout and design
August 2019 , Access Control & Identity Management, Security Services & Risk Management
In order to develop a suitable, practical and appropriate security system for any organisation, it is essential to first develop a master security and life safety plan strategy.
Read more...
---
Secure hands-free access
August 2019, Suprema , Access Control & Identity Management, Residential Estate (Industry)
Suprema's facial biometric terminals bring no-touch access into secure residential estates, high-rise apartments and luxury homes providing fast, easy and intuitive user authentication with the added benefit of hygiene.
Read more...
---
MorphoAccess Sigma Extreme
August 2019, IDEMIA , Products, Access Control & Identity Management
MorphoAccess Sigma Extreme from IDEMIA is a touchscreen device with multiple recognition device interfaces (NFC chip reader, PIN and BioPIN codes, contactless card readers).
Read more...
---
Outdoor access terminals
August 2019, Suprema , Access Control & Identity Management, Residential Estate (Industry), Products
Rugged, dust- and weather-proof access control solutions that provide exceptional durability in extreme conditions is a strong requirement for many residential estates.
Read more...
---
MorphoWave Compact
August 2019, IDEMIA , Products, Access Control & Identity Management
The MorphoWave Compact captures and matches four fingerprints on either the right or left hand in any direction. It is robust to environmental factors such as extreme light or dust.
Read more...
---
MorphoAccess Sigma Lite
August 2019, IDEMIA , Products, Access Control & Identity Management
IDEMIA's MorphoAccess Sigma Lite and Lite + are fingerprint access control terminals, offering time and attendance in and out function keys.
Read more...
---
Eliminating forced gate opening scenarios
August 2019, ET Nice , Home Security, Access Control & Identity Management
When activated by the gate forced open alarm feature, the transmitter transmits a wireless alarm signal up to 750 metres in any direction.
Read more...
---
IAM has business on high alert
August 2019 , Access Control & Identity Management
Identity and Access Management (IAM) is now a must in commerce and the need to protect digital assets is driving the development of solutions and widespread adoption
Read more...
---
Came acquires Turkish company Özak
August 2019, CAME BPT South Africa , News, Access Control & Identity Management
Came broadens its market horizons and signals growth and consolidation in the Middle East.
Read more...
---