printer friendly version
Dealer efficiency through RFID tagging
July 2013
Asset Management, EAS, RFID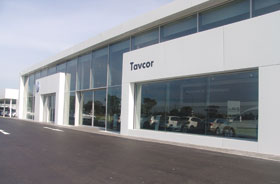 Panasonic Business Systems PE and Powell Tronics have implemented an asset management system that makes use of RFID tags for Tavcor Volkswagen, a motor vehicle dealership based in Port Elizabeth.
Martin Taverner from Tavcor says the focus of the after sales division is on customer satisfaction via efficient service of vehicles and supply of genuine parts. "We recently expanded our premises and found the need to be able to locate and monitor the locations of vehicles that came in for service to ensure they were processed quickly and efficiently, and of course, to ensure we lost nothing to theft."
Of the problems experienced before the installation, Taverner says it was taking service advisers too long to trace vehicles because of the size of the building and the number of vehicles on premises at any one time. The solution would also be used to track the vehicles' keys.
"The system installed would provide the dealership with the ability to track the service or repair progress of a vehicle on premises, as well as locate, track and audit Tavcor Assets," explains Taverner. "We did not have an asset location system in place before and were doing the tracking manually. The benefits of being able to locate vehicles and keys in real-time are extensive."
Finding a solution
Considering the solutions on offer, Tavcor engaged with Panasonic as an installer and Powell Tronics as the solution provider, to customise an asset management system with a vehicle progress tracking module. Powell Tronics was tasked with the customisation and development of an add-on module and was able to deliver within the specific deadlines.
The solution proposed included a vehicle tracking system, a key tracking system, a job progress 'live updates' and reporting system, and an asset tracking and auditing system. It would provide the dealership with live updates on the location of all vehicles and keys on premises every 1,2 seconds and enable service advisers to locate vehicles and accurately estimate completion time for customers. It would also allow the vehicles to be parked, ready for collection and the keys to be located quickly.
Solution implementation
To start the installation process, wireless zones were created throughout the service-related areas. Now, when a vehicle arrives, service advisers tag it and its keys and link the two in the asset management software provided by Powell Tronics. From there it tracks the location and progress of the vehicle throughout the day.
Moreover, it allows the dealer principal, service adviser, quality controller and service manager to track the progress of a vehicle, monitor for potential carry-over and problem vehicles. The service adviser will now be able to print out a movement and works report that is time stamped as an audit trail for each vehicle, and the administration department can track the location and movement and of any asset.
"With the solution in place, a service adviser loads the customer and vehicle details on the system and allocates an Active RFID tag to both vehicle and key. Once this is done the service adviser can view the location and time that a vehicle was in a specific place via the Web interface. This software allows any service adviser to log in via a unique user name and password and the vehicles allocated to a service adviser are displayed on a grid.
"Each area is listed in the grid and if a vehicle has a problem in a specific area, a user can add a note, such as 'awaiting parts'. All vehicles' booking history remains on the system and once booked in will be allocated an available RFID tag, as they are re-usable on a daily basis. Currently the site manages in excess of 60 vehicles per day."
Taverner adds that since the company had no previous solution, "the benefits were tremendous to our business and has been a time saving exercise for the service advisers. In addition, it assists in keeping the history of the vehicles for audit purposes."
Having implemented the solution and achieved all its requirements at the PE pilot site, Tavcor plans to roll-out the solution out to its branches nationally. "We also would like to add our ICT assets for inventory purposes in the future," adds Taverner.
Project statistics
Asset management system
* 300 Active RFID tags
* 23 zone readers including antennas in seven areas
Key service providers
* System Integrator: Panasonic Business Systems PE, Anton Heritage, Tel: +27 (0)41 502 5517, e-mail: anton@panasonicpe.co.za
* Supplier and integration: Powell Tronics, Melissa Jacobs, Tel: +27 (0)21 448 0156, marketing@powelltronics.com
Credit(s)
Further reading:
The benefits of electronic visitor management
August 2019, Powell Tronics , Access Control & Identity Management, Residential Estate (Industry)
Access control is a critical aspect of estate security as it represents the controls put in place to restrict entry (and possibly exit) along the outer boundary of the location.
Read more...
---
An intelligent button
August 2019, Powell Tronics , Home Security, Products
Powell Tronics is releasing a wireless panic button which operates at up to 1300 metres from the hub (control panel). It will hit SA shores in September 2019.
Read more...
---
TAPA EMEA appoints Thorsten Neumann as president and CEO
July 2019, TAPA (Transported Asset Protection Association) , News, Asset Management, EAS, RFID
The Transported Asset Protection Association (TAPA) has appointed Thorsten Neumann as its first full-time president & CEO.
Read more...
---
Managing visitors effectively and responsibly
June 2019, Powell Tronics, IDEMIA , Vox Telecom, Technews Publishing , Access Control & Identity Management
Managing access for visitors has always been something of a balancing act between keeping unwanted people out, and letting authorised people in. Particularly in a business environment, it is also crucial to make guests feel welcome and safe.
Read more...
---
Powell Tronics enhances PT-Guest
June 2019, Powell Tronics , Products, Access Control & Identity Management
Powell Tronics' PT-Guest 2019 model brings a number of enhancements that increase user-friendliness and overall functionality on both the web application and the scanner option.
Read more...
---
Active cargo tracking units growth
June 2019 , Asset Management, EAS, RFID, Logistics (Industry)
The number of active tracking devices deployed for cargo loading units including trailers, intermodal containers, rail freight wagons, air cargo containers, cargo boxes and pallets reached 6.1 million world-wide in 2018.
Read more...
---
Carefully nurtured supplier relationships reap benefits
May 2019, Powell Tronics , Integrated Solutions
Powell Tronics has spent the past decade building a solid foundation of leading-edge technology products sourced from a range of locally and internationally respected market leaders in the security sector.
Read more...
---
Powell Tronics
Securex Preview 2019, Powell Tronics , Products
Powell Tronics will again be showcasing its suite of integrated security technology solutions from a number of its suppliers at Securex. Under the theme of collaboration between Powell Tronics, its suppliers ...
Read more...
---
Local manufacturing from Hissco International
May 2019, Hissco , Editor's Choice, Asset Management, EAS, RFID, News
Hissco International recently announced it has set up a local manufacturing partnership that will supply X-ray equipment to partners around the world.
Read more...
---
Effective intruder detection: more important than ever
May 2019, Powell Tronics , Perimeter Security, Alarms & Intruder Detection, Products
While intruder detection systems abound, not all solutions are created equal. Ensuring that their intruder detection system is with them for the long haul is something that all end-users desire.
Read more...
---