printer friendly version
IP and analogue casino ­surveillance
July 2013 CCTV, Surveillance & Remote Monitoring, Entertainment and Hospitality (Industry)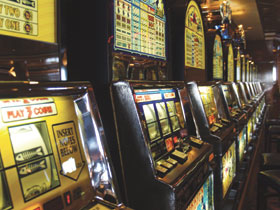 In 2009, when the Grand Casino in Baden in Switzerland upgraded and expanded its video system it chose a Geutebrück high-availability IP solution designed by local system integrators Honegger System Technik. At the time the design broke new ground by incorporating thirty-five 1,3 Megapixel cameras into the 250-camera system and introducing virtual GeViScope platforms to handle the generated data with ease and efficiency as well as high redundancy. The complex upgrade was made without any interruption to operation of the system or business and has since functioned to the full satisfaction of the casino management.
Until 2009 the video monitoring system at the Grand Casino Baden was not able to record all the data it generated. To keep storage costs and access time for external libraries within reason, operators were using high-resolution images for live monitoring but only recording and retaining the 25 fps for 28 days which is legally required by Swiss law. Clearly this compromise solution was far from ideal, especially as better technologies appeared on the market.
For instance, with around three times the resolution of conventional analogue cameras, and hence significantly better picture quality, the attractions of megapixel cameras were clear to the casino's operators. What they required was a new solution which could handle the very large data streams, but a completely reliable one with instant access storage.
Two key technologies
The Geutebrück IP solution the casino chose was designed and installed by Honegger System Technik. It supports many more cameras than before, including megapixel ones and exploits two technologies in particular which enable it to handle and store the complete video history from all cameras including megapixel ones at full available resolution on a 320 Terabyte instant access database.
The first key technology is Geutebrück's own CCTV-optimised video compression process MPEG4CCTV. This is an MPEG-4 compliant process which uses standard MPEG-4 compression tools in unusual ways for the specific purpose of improving performance and image handling for security users.
Consequently, systems using MPEG4CCTV are very fast, delivering top quality video images without any perceptible latency; as well as lean and efficient with low network and storage requirements.
The second is the IT technology of virtualisation which offers the ability to produce virtual devices. With the aid of Microsoft's Hyper-V tool, Geutebrück can generate several virtual GeViScope servers on a single piece of hardware. These virtual servers are then linked into clusters with failover functionality to ensure that if one of them fails another automatically and instantly takes over without any effect on service.
System design
It goes without saying that wherever possible the system design incorporated existing infrastructure. For instance, the dozen or so existing analogue speed domes and the hundred analogue box cameras were linked to the existing Cat5 Ethernet cabling by adding CAM2IP video encoders. These support MPEG4CCTV compression and its efficient video management features.
The data streams from all cameras go to two Intel modular servers, each of which incorporates five high performance computers. Together these run a total of 21 virtual GeViScope video system platforms all operated in cluster formation. These virtual GeViScopes record to the high redundancy RAID Level 6 databases mounted on 21 Promise SAS storage systems which currently use sixteen 1 TB capacity server disks each, but can take more if needed.
The (virtual) GeViScope devices not only meet current needs, but are almost limitlessly scaleable in every direction and offer exceptional flexibility in terms of adaptability and integration with third-party systems.
The Grand Casino Baden operates with the aid of a Geutebrück video solution with 21 GeViScope video system platforms, 35 megapixel IP cameras, 12 speed domes, around 100 VIPCAMs, around 100 analogue resolution IP cameras and 320 Terabytes of storage.
For more information contact Geutebrück, +27 (0)11 867 6585, charles@geutebruck.co.za, www.geutebrueck.com
Further reading:
Efficient storage for security
Issue 7 2020, Dell EMC , CCTV, Surveillance & Remote Monitoring
There is a dramatic increase in the amount of storage and computing power required to support today's safety and security systems.
Read more...
---
Safe restaurant reopening technology
Issue 7 2020, Dahua Technology South Africa , CCTV, Surveillance & Remote Monitoring
Denmark's Arkaden Food Hall makes use of Dahua People Counting and Flow Control solution for safe reopening.
Read more...
---
Forbatt SA invests in South Africa's security industry
Issue 7 2020, Forbatt SA , CCTV, Surveillance & Remote Monitoring
Forbatt SA is set to offer an improved service to the industry by making sure it has the products and solutions the industry needs, as well as a new showroom.
Read more...
---
Analytics with your existing cameras
Issue 7 2020, Secutel Technologies , CCTV, Surveillance & Remote Monitoring
With SecuVue from Secutel Technologies, it is possible for any business to monitor their offices, warehouses or stores remotely, from any part of the world.
Read more...
---
Consolidating control rooms and service delivery within a COVID-19 environment
Issue 6 2020, Leaderware , CCTV, Surveillance & Remote Monitoring
It is essential to have informed, coordinated and professional responses within control rooms at this time of increasing turmoil.
Read more...
---
Technology driving the healthcare industry
Issue 6 2020, Duxbury Networking , CCTV, Surveillance & Remote Monitoring
Seeing cameras as sensors opens up new possibilities, and each one of them responds to typical demands inside a hospital, clinic or nursing home.
Read more...
---
Turn cameras into traffic sensors
Issue 6 2020, Duxbury Networking , CCTV, Surveillance & Remote Monitoring
Safer communities and cities are achieved through a mixture of technology and human resources, working together in a holistic manner.
Read more...
---
Mobotix thermal technology increases security
Issue 6 2020, Duxbury Networking , CCTV, Surveillance & Remote Monitoring
Installations, machinery, equipment and material available on company premises require effective and cost-efficient protection. In addition, operational safety, optimisation of workflows and protection ...
Read more...
---
Getting a visual on Covid-19 screening
Issue 6 2020, Graphic Image Technologies , CCTV, Surveillance & Remote Monitoring
Should organisations be investing in thermal camera technology to simply contain and limit the spread of the virus?
Read more...
---
Flexible temperature screening options for challenging times
Issue 6 2020, Hikvision South Africa , CCTV, Surveillance & Remote Monitoring
A thermal imaging camera is an effective screening device for detecting individuals with elevated skin temperature. This type of monitoring can provide a rapid screening approach in high-traffic areas.
Read more...
---