printer friendly version
Big-picture security solution at Lords View
July 2013
Integrated Solutions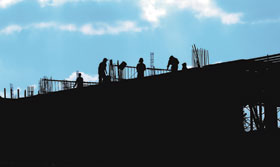 Situated on two million square metres of land adjacent to Midrand, Lords View is an ambitious industrial estate reputed to be the greenest development of its kind in southern Africa. Currently in phase 1 of its 10-stage development, Lords View is ideally situated, with direct access to Allandale Road.
The industrial park is a perfect example of future-oriented environmentally conscious development. Lords View is being built on the site of a sand mine and rehabilitation of the current borrow pits will result in retention dams that will store storm water for further recycling. In addition, methane gas harvested from the nearby Enviroserv landfill site will eliminate the need for Lords View to tap into the national power grid.
The UTM Group turned the normal development approach on its head with its proposed security plan. Group MD, Kelly McLintock explained: "Security at any estate, whether it is industrial, business or residential, is commonly viewed as a grudge purchase. With this in mind, we approached the Lords View Trust and suggested that they allow us to install a complete fibre network throughout the development at absolutely no cost to them, before construction begins. All they were required to do was provide us with the requisite conduits and we would blow the optical fibre through the conduits.
"In addition, we proposed that we would build a comprehensive, modern control room on land allocated by the Trust. We would then fully equip the control room with hi-tech digital equipment, as well as train and deploy operators to man the control room on a 24/7 basis. Again, there would be no cost to the developers," said McLintock.
So what is the catch? "All that we required from Lords View Trust was their support in marketing our services and equipment as part of a total security solutions package to the tenants. This agreement provides us with a five-year contract where UTM has complete exclusivity to design, install and commission any security equipment as required by the tenants," McLintock explained.
The UTM Group will discuss individual security requirements with each tenant to ensure that the optimal package is selected. "We will offer high-end IP surveillance and video management software solutions over a fibre backbone. The centralised control room will monitor day-to-day operations as well as events. Real-time alerts will be available via the edge-based analytics architecture."
McLintock pointed out that outright purchase of equipment will not be required. "We are instituting an affordable rental package which provides the tenants with access to high-end wide area surveillance and superior analytics at a fraction of the cost of the purchase route."
The UTM Group is currently negotiating the implementation of security solutions for the tenants at Lords View. "The proposal has been met with great enthusiasm by both the Lords View Trust as well as the tenants and we foresee this model becoming extremely popular with other developers," McLintock concluded.
Construction work on Lords View Industrial Park will commence shortly and is scheduled for completion in 2016.
For more information contact UTM Group, 0860 626 222, Kelly@utmgroup.co.za
Further reading:
Augmented security with drones
August 2019, Drone Guards , Editor's Choice, Integrated Solutions
Drone Guards is moving into an untapped market of using drones to secure residential estates and other high-value assets such as mines, farms and commercial properties.
Read more...
---
10 things to consider when shopping for a VMS
August 2019, Genetec , CCTV, Surveillance & Remote Monitoring, Integrated Solutions
Today's video management systems (VMS) provide a wide range of tools and capabilities that help make security personnel more efficient by allowing them to focus on what really matters.
Read more...
---
Residential security – caveat emptor
August 2019, Stafix , Integrated Solutions, Security Services & Risk Management
When it comes to improving your property's security, make sure you take all the options into account as you build a layered approach to keeping people safe and assets secured.
Read more...
---
End-to-end security solutions for residential estates
August 2019, Elvey Security Technologies , Integrated Solutions, Residential Estate (Industry), Products
While there are a multitude of security options available for residential estate body corporates, unfortunately the solutions are not always able to integrate seamlessly, resulting in a hotchpotch of disparate systems.
Read more...
---
Integrated residential estate surveillance
August 2019, Forbatt SA , Integrated Solutions, CCTV, Surveillance & Remote Monitoring, Residential Estate (Industry)
Integrated solutions bring the best-of-breed out of each technology to give personnel all the tools they need for access control management and security.
Read more...
---
From fog to foxes
August 2019, Axis Communications SA , Perimeter Security, Alarms & Intruder Detection, CCTV, Surveillance & Remote Monitoring, Integrated Solutions
What makes radar devices so valuable is the fact that they can provide a high range of accurate data while barely relying on external factors, such as weather or light.
Read more...
---
Communications management within your security platform
August 2019, Genetec , Integrated Solutions, Residential Estate (Industry)
In the physical security industry, communications management systems, such as intercom solutions, are becoming an integral part of developing effective and comprehensive security strategies.
Read more...
---
The hidden claws of proof of concept
August 2019 , Editor's Choice, Integrated Solutions
Proof of concept is a proven methodology for testing new technologies, but it isn't perfect, and it can be more of a hindrance than a help.
Read more...
---
A customised solution for backup power
August 2019, Specialised Battery Systems , News, Integrated Solutions
Specialised Battery Systems designed and implemented a bespoke solution for Stallion Security Electronics to deploy at almost any site.
Read more...
---
Local manufacturing – challenges and opportunities
August 2019, Centurion Systems, Technoswitch, ZYTEQ Fire , Integrated Solutions
Local companies manufacture a diverse range of products for the security industry, and although they face challenges, there are opportunities out there too.
Read more...
---