printer friendly version
Big-picture security solution at Lords View
July 2013
Integrated Solutions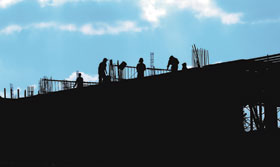 Situated on two million square metres of land adjacent to Midrand, Lords View is an ambitious industrial estate reputed to be the greenest development of its kind in southern Africa. Currently in phase 1 of its 10-stage development, Lords View is ideally situated, with direct access to Allandale Road.
The industrial park is a perfect example of future-oriented environmentally conscious development. Lords View is being built on the site of a sand mine and rehabilitation of the current borrow pits will result in retention dams that will store storm water for further recycling. In addition, methane gas harvested from the nearby Enviroserv landfill site will eliminate the need for Lords View to tap into the national power grid.
The UTM Group turned the normal development approach on its head with its proposed security plan. Group MD, Kelly McLintock explained: "Security at any estate, whether it is industrial, business or residential, is commonly viewed as a grudge purchase. With this in mind, we approached the Lords View Trust and suggested that they allow us to install a complete fibre network throughout the development at absolutely no cost to them, before construction begins. All they were required to do was provide us with the requisite conduits and we would blow the optical fibre through the conduits.
"In addition, we proposed that we would build a comprehensive, modern control room on land allocated by the Trust. We would then fully equip the control room with hi-tech digital equipment, as well as train and deploy operators to man the control room on a 24/7 basis. Again, there would be no cost to the developers," said McLintock.
So what is the catch? "All that we required from Lords View Trust was their support in marketing our services and equipment as part of a total security solutions package to the tenants. This agreement provides us with a five-year contract where UTM has complete exclusivity to design, install and commission any security equipment as required by the tenants," McLintock explained.
The UTM Group will discuss individual security requirements with each tenant to ensure that the optimal package is selected. "We will offer high-end IP surveillance and video management software solutions over a fibre backbone. The centralised control room will monitor day-to-day operations as well as events. Real-time alerts will be available via the edge-based analytics architecture."
McLintock pointed out that outright purchase of equipment will not be required. "We are instituting an affordable rental package which provides the tenants with access to high-end wide area surveillance and superior analytics at a fraction of the cost of the purchase route."
The UTM Group is currently negotiating the implementation of security solutions for the tenants at Lords View. "The proposal has been met with great enthusiasm by both the Lords View Trust as well as the tenants and we foresee this model becoming extremely popular with other developers," McLintock concluded.
Construction work on Lords View Industrial Park will commence shortly and is scheduled for completion in 2016.
For more information contact UTM Group, 0860 626 222, Kelly@utmgroup.co.za
Further reading:
Keep your distance with PeopleCounter and DistanceGuard
Issue 6 2020 , Integrated Solutions
Using 2D and 3D LiDAR sensors from SICK, people can easily uphold the recommended minimum distance in public and pre-defined spaces.
Read more...
---
Critical control management
Issue 5 2020 , Integrated Solutions
The critical control management process is an excellent practical approach to ensure effective controls over potentially catastrophic events.
Read more...
---
Adjusting to a new reality
Issue 5 2020, Technews Publishing , Integrated Solutions
COVID-19 to accelerate adoption of technology-enabled smart city resilience approaches: robotics, digital twins, and autonomous freight.
Read more...
---
Remote oversight imperative for smart buildings
Issue 5 2020 , Integrated Solutions
Duran Viera, CEO of Amecor, says one of South Africa's biggest drivers for smart building development is security.
Read more...
---
Shaping today's smart cities
Issue 5 2020, ZKTeco , Integrated Solutions
As our physical and digital worlds become intertwined, the absorption of new technologies in smart cities is inevitable.
Read more...
---
The evolution of security in residential estates
Residential Estate Security Handbook 2020 , Editor's Choice, Integrated Solutions, Security Services & Risk Management
Two large estates discuss their security processes and the ever-expanding scope of responsibilities they need to fulfil.
Read more...
---
Home-grown, cloud-based safety and security solutions
Residential Estate Security Handbook 2020 , IT infrastructure, Integrated Solutions
BeSecure has taken security and communications technologies and turned them into what is best described as care and safety solutions for the estate community in South Africa.
Read more...
---
Integrated security management system
Residential Estate Security Handbook 2020, Protoclea Advanced Image Engineering , Products, CCTV, Surveillance & Remote Monitoring, Integrated Solutions
Phorcas is a security information system developed by Protoclea designed to integrate multiple sub-systems into a powerful crime fighting solution.
Read more...
---
Critical control management is essential for quality surveillance
Issue 6 2020 , Integrated Solutions
The demand for effective surveillance remains a priority for security and line management involved with the day to day protection of assets.
Read more...
---
Your partner in contemporary business continuity
Issue 3 2020 , Integrated Solutions
Horizon Risk Management aims to provide optimum contemporary, but affordable, business continuity techniques for business in South Africa and abroad through stable, durable and incorruptible practices.
Read more...
---