printer friendly version
Mall surveillance in Lesotho
July 2013
CCTV, Surveillance & Remote Monitoring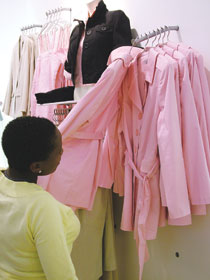 When Phase 2 of Lesotho's first regional mall – The Pioneer Mall – was underway, the developers decided to implement a comprehensive surveillance system. Malan Loock, MD of security project management consultancy, Xpectrade249, was responsible for sourcing surveillance cameras that would be able to monitor the interior of the mall, the interior of the extension to the anchor Pick 'n Pay store, and the exterior and parking lot of the building.
"The first phase of the mall was completed three years ago and the second phase involved a doubling of the size of the existing mall. We were very impressed with the products and service Hitek Security Distributors offered us. In addition to the high quality of their cameras and recorders, the three-year guarantee, service backup and swap-out policy were an added bonus. In a nutshell their cost-performance ratio was excellent," says Loock.
Loock explains that the developers required improved levels of surveillance and security. "The control room needed to be able to quickly and comprehensively view the entire mall. The surveillance equipment in Phase 1 of the mall was used as a reference point and improved on in Phase 2. In addition, there was a requirement for increased surveillance within the parking areas. This data would not only monitor events but would also provide an indication of the customer volumes."
Xpectrade faced a number of challenges on the project. "We were given an extremely tight deadline of three months. In order to achieve this timeframe we were forced to put in many hours of overtime. This was exacerbated by the inherent lack of consideration by the architects for the installation of a retrofitted security system. The installation team found themselves crawling through extremely small ceiling voids to install wiring. In addition, the incorporation of Phase 1 into Phase 2 was difficult due to the architecture of the original building," says Loock.
Loock points out that the cabling was immense. "We decided on a wired installation since the terrain does not favour a wireless option. Other constraints of using wireless in this instance were the problems we had experienced in the past with uptime of the system and the physical distance between the mall and ourselves.
"On the upside, Hitek Security Distributors were amazing in terms of their turnaround time on the technology. They supplied us with the 64 cameras and four DVRs in record time, ensuring that we were able to uphold our contractual obligations. We held initial onsite discussions to ascertain the best fit for purpose solutions and decided on a combination of DI-365CSVF dome cameras, DI-360UL36W white dome cameras, Z-36E 36x optical PTZ cameras and SA-16400HD DVRs," he adds.
Loock says that by holding regular meetings, the Xpectrade249 was able to remain ahead of the game and counteract any small issues before they became problems. "One thing that I would like to stress, specifically for architects and property developers, is the critical importance of accommodating the inclusion of security systems in the early design stages. Ideally, walkways in the ceiling voids should be provided for both installation and maintenance purposes. The optimised position of the cameras should also be accounted for in the original design.
"We are aware that this is not always possible due to budgetary constraints but if security consultants met with developers and architects in the planning stages, costs could be very clearly contained. In fact, costs are actually reduced when pre-planning includes the security component," he continues.
"Despite the frustrations we faced, the client is extremely happy with the installation, which went live at the start of December 2012. We have had very positive feedback from Pick 'n Pay which is considering replacing the cameras in Phase 1 of their store, with Provision ISR cameras. They are also very pleased with the advantages provided by the inclusion of cameras at all the paypoints for cashflow management," Loock concludes.
For more information contact HiTek Security Distributors, +27 (0)21 946 3344, sales@hiteksecurity.net, www.hiteksecurity.net
Credit(s)
Further reading:
Efficient storage for security
Issue 7 2020, Dell EMC , CCTV, Surveillance & Remote Monitoring
There is a dramatic increase in the amount of storage and computing power required to support today's safety and security systems.
Read more...
---
Safe restaurant reopening technology
Issue 7 2020, Dahua Technology South Africa , CCTV, Surveillance & Remote Monitoring
Denmark's Arkaden Food Hall makes use of Dahua People Counting and Flow Control solution for safe reopening.
Read more...
---
Forbatt SA invests in South Africa's security industry
Issue 7 2020, Forbatt SA , CCTV, Surveillance & Remote Monitoring
Forbatt SA is set to offer an improved service to the industry by making sure it has the products and solutions the industry needs, as well as a new showroom.
Read more...
---
Analytics with your existing cameras
Issue 7 2020, Secutel Technologies , CCTV, Surveillance & Remote Monitoring
With SecuVue from Secutel Technologies, it is possible for any business to monitor their offices, warehouses or stores remotely, from any part of the world.
Read more...
---
Consolidating control rooms and service delivery within a COVID-19 environment
Issue 6 2020, Leaderware , CCTV, Surveillance & Remote Monitoring
It is essential to have informed, coordinated and professional responses within control rooms at this time of increasing turmoil.
Read more...
---
Technology driving the healthcare industry
Issue 6 2020, Duxbury Networking , CCTV, Surveillance & Remote Monitoring
Seeing cameras as sensors opens up new possibilities, and each one of them responds to typical demands inside a hospital, clinic or nursing home.
Read more...
---
Turn cameras into traffic sensors
Issue 6 2020, Duxbury Networking , CCTV, Surveillance & Remote Monitoring
Safer communities and cities are achieved through a mixture of technology and human resources, working together in a holistic manner.
Read more...
---
Mobotix thermal technology increases security
Issue 6 2020, Duxbury Networking , CCTV, Surveillance & Remote Monitoring
Installations, machinery, equipment and material available on company premises require effective and cost-efficient protection. In addition, operational safety, optimisation of workflows and protection ...
Read more...
---
Getting a visual on Covid-19 screening
Issue 6 2020, Graphic Image Technologies , CCTV, Surveillance & Remote Monitoring
Should organisations be investing in thermal camera technology to simply contain and limit the spread of the virus?
Read more...
---
Flexible temperature screening options for challenging times
Issue 6 2020, Hikvision South Africa , CCTV, Surveillance & Remote Monitoring
A thermal imaging camera is an effective screening device for detecting individuals with elevated skin temperature. This type of monitoring can provide a rapid screening approach in high-traffic areas.
Read more...
---