printer friendly version
Wanted: the world's best firefighting team
July 2013
News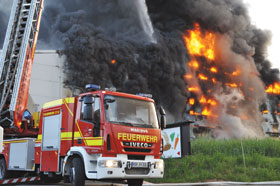 They are in action 365 days a year, on call 24 hours a day and always prepared to push themselves to the limit. Firefighters provide indispensable services worldwide, bravely confronting flames, rescuing accident victims and saving lives – sometimes risking their own health.
Now there is a competition to reward the dedication of firefighters all over the world: following its successful launch in Germany in 2012, Iveco Magirus is now looking for the best international firefighting team. The winners can look forward to a once-in-a-lifetime trip to New York. The prize includes flights, accommodations and an exciting, action-packed programme for a team of 10.
The winning team will be welcomed by their FDNY counterparts and given an exclusive behind-the-scenes tour of the largest city fire service in the world. The firefighters will be able to watch their colleagues at work, visit the training academy 'The Rock' along with some of the Big Apple's finest fire stations, complete with siren demonstrations and a chance to talk shop. The agenda also includes a tour of the world's most advanced fireboat 'Marine 1' and the highlights of New York City.
The competition is open to all fire services – whether voluntary, professional or company based – from 193 countries around the world. Teams can enter until 8 September 2013 at www.world-of-firefighters.com, providing details of an extraordinary feat since 30 September 2012. This could be a particularly risky or technically challenging operation, an unusually complex strategy or a noteworthy social contribution. A brief account should be submitted, summarising the course of events and tactics deployed. Photographs to illustrate the intervention should be included. Teams will be judged on the planning and execution of the missions and the performance of the firefighting team, irrespective of the equipment used. Finalists chosen by international jury.
Further reading:
New hires at iPulse
Issue 7 2020, iPulse Systems , News
iPulse has welcomed two new employees into its ranks. Shai Weil has been appointed as operations director, while Corneli Botha is the new customer sales liaison.
Read more...
---
HID Global acquires Access-IS
Issue 7 2020, HID Global , News
HID Global acquires provider of miniaturised reader devices that combine key technologies for mission-critical markets.
Read more...
---
Securing digital transformation
Issue 7 2020 , News
Schneider Electric partners with Fortinet to strengthen ability to secure operations across the business lifecycle and unlock the advantages of a secure IIoT.
Read more...
---
Suprema integrates with Paxton's Net2 access control
Issue 7 2020, Suprema , News
Suprema has announced it has integrated its devices with Paxton's access control system, Net2.
Read more...
---
Free cybersecurity courses
Issue 7 2020 , News
Check Point Software partners with Harvard and MIT-founded edX to deliver free online courses to help close the cybersecurity skills gap.
Read more...
---
Fidelity partners with Auto & General Insurance
Issue 7 2020, Fidelity Security Group , News
Fidelity Services Group in partnership with Auto & General Insurance has launched Fidelity InSure, a comprehensive vehicle, home, and building insurance offering.
Read more...
---
More apps for open camera OS
Issue 7 2020 , News
The App Challenge will result in 21 new apps running on the Security & Safety Things' camera OS, based on the Android Open Source Project.
Read more...
---
Milestone Systems announces Thomas Jensen as new CEO
Issue 7 2020, Milestone Systems , News
Milestone Systems announced that its board of directors has appointed Thomas Jensen as chief executive officer. Jensen will assume the role on October 1, 2020.
Read more...
---
Suprema announces its first virtual event
Issue 7 2020, Suprema , News
Suprema will be hosting its first virtual event, Suprema Connect 2020, which is scheduled to take place over one month from September 15.
Read more...
---
From the editor's desk: Waiting for PoPI
Issue 7 2020, Technews Publishing , News
A while ago we heard of yet another cyber breach, this time from Experian.
Read more...
---