printer friendly version
Pinnacle Africa technology showcase roadshow
July 2013
News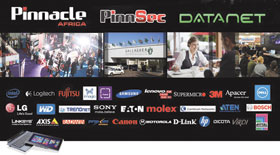 Pinnacle Africa is currently hosting a number of Technology Showcases across the southern African region. Vendors of products distributed by the company bring their best and latest products to showcase at the events which attract hundreds of Pinnacle Africa clients.
Everything from laptop and desktop computers to server racking and advanced security solutions is on display and clients have a unique opportunity to interact with product managers and representatives from vendor companies on a one-on-one basis.
The road show has already gone to Namibia and Durban with both events being an enormous success. The Namibian showcase, held at the Windhoek Country Club, saw 16 vendors showcase their wares; 250-300 independent resellers made their way through the exhibition.
The Durban event doubled up on vendors, with 32 in attendance making the event a technology extravaganza which will be replicated at all future South African events. Over 400 dealers moved through the Durban Country Club meeting the product owners and vendors and sampling all the new technology.
Pinnacle Africa still has 11 more showcases in the comprehensive road show so there is no excuse for missing out. Cape Town is next on 11 July and Port Elizabeth on 19 July.
For more information contact Tamsyn Robarts, +27 (0)21 550 0107.
Further reading:
TAPA: The role of an effective treasury function in business risk management
June 2019, Technews Publishing , News
Neil Le Roux, the Founder of Diligent Advisors will speak at the TAPA SA (Transported Asset Protection Association) annual conference on 26 July 2019.
Read more...
---
iLegal 2019: Enhancing and empowering your control rooms
July 2019, Technews Publishing , News, Conferences & Events
iLegal 2019 will be held on 12 September 2019 at The Rosebank Crowne Plaza in Johannesburg. iLegal is the surveillance industry's premier one-day conference hosted jointly by Hi-Tech Security Solutions and Dr Craig Donald.
Read more...
---
Residential Estate Security Conference 2019: Managing for efficiency
July 2019, Technews Publishing , News, Conferences & Events
The Residential Estate Security Conference 2019 will be held on 20 August 2019, once again at the Indaba Hotel in Fourways, Johannesburg.
Read more...
---
Spending to save
August 2019, Technews Publishing , News
As residential estates and complexes grow like weeds across South Africa, often promoting themselves as more secure than a stand-alone house, many are finding that close proximity to a neighbour or a ...
Read more...
---
From the editor's desk: The difference between potential and skills
August 2019, Technews Publishing , News
This issue of Hi-Tech Security Solutions includes our annual Local Manufacturing feature and it's great to know that local security manufacturers are still going strong, even if the general manufacturing ...
Read more...
---
A customised solution for backup power
August 2019, Specialised Battery Systems , News, Integrated Solutions
Specialised Battery Systems designed and implemented a bespoke solution for Stallion Security Electronics to deploy at almost any site.
Read more...
---
Patient critical – healthcare's cybersecurity pulse
August 2019, Wolfpack Information Risk , News, Cyber Security, Healthcare (Industry)
The healthcare industry has become one of the leading cybersecurity attack vectors worldwide for several reasons.
Read more...
---
iLegal 2019: Keeping security one step ahead
July 2019, Technews Publishing , News
The iLegal 2019 conference will focus on Augmented Surveillance, including the physical and logical technologies, people and processes required to enhance security and business decisions.
Read more...
---
A one-size-fits-all approach won't secure the IoT
August 2019 , News, Cyber Security
Securing the Internet of Things (IoT) is something which cannot be done with a one-size-fits-all approach, and every kind of connected object must be assessed individually.
Read more...
---
Came acquires Turkish company Özak
August 2019, CAME BPT South Africa , News, Access Control & Identity Management
Came broadens its market horizons and signals growth and consolidation in the Middle East.
Read more...
---