printer friendly version
LAW Holdings acquires shares in AIS
July 2013
News
LAW Holdings recently confirmed its purchase of a controlling stake in Assimilated Information Systems. (AIS). As such the LAW Group of companies, which combined provide secure Web-based workflow solutions to a wide-range of industries, now incorporates AIS following its purchase of a controlling stake in the technology systems company.
The group was established in 2000, has a national footprint and incorporates LAW Compliance, LAW Credit, LAW Data, LAW Namibia, LAW Property and LAW Trust. This sizeable venture has a client base of over 2000 law firms, as well as large retail groups, banks, metropolitan municipalities, estate agent chains, credit providers, financial institutions, listed companies and government departments.
AIS is a proudly South African company established in 2006, with the purpose of developing, marketing, supplying and consulting on software and information technology. The company comprises a close-knit group of specialists with a wide range of expertise in several business disciplines including: document generation and automation, access control, asset tracking and biometrics, as well as specialised software development for Microsoft platforms including application development and system integration.
Ernest Kleynhans, managing director of AIS, describes the LAW Group as a "well established leader in the Information Technology space, resonating strongly with AIS's vision".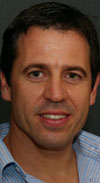 Luis Casaleiro, CEO of LAW Holdings.
Executive leadership within the LAW Group say AIS represents a close fit with the company and is aligned to its direction and growth strategy going forward. They believe the incorporation of AIS adds significant value to the group and strengthens its ability to sustain its position of growth within a competitive marketplace.
Luis Casaleiro, CEO of LAW Holdings, says, "We are pleased with the incorporation of AIS. This is a powerful, established business that has years of experience supplying and supporting technology in sectors that we continue to engage. This acquisition will add value to the group and will, ultimately, result in value-add to the end user."
For more information contact LAW Holdings, +27 (0)11 731 8238, robyn@lawholdings.co.za, www.lawholdings.co.za
Further reading:
New hires at iPulse
Issue 7 2020, iPulse Systems , News
iPulse has welcomed two new employees into its ranks. Shai Weil has been appointed as operations director, while Corneli Botha is the new customer sales liaison.
Read more...
---
HID Global acquires Access-IS
Issue 7 2020, HID Global , News
HID Global acquires provider of miniaturised reader devices that combine key technologies for mission-critical markets.
Read more...
---
Securing digital transformation
Issue 7 2020 , News
Schneider Electric partners with Fortinet to strengthen ability to secure operations across the business lifecycle and unlock the advantages of a secure IIoT.
Read more...
---
Suprema integrates with Paxton's Net2 access control
Issue 7 2020, Suprema , News
Suprema has announced it has integrated its devices with Paxton's access control system, Net2.
Read more...
---
Free cybersecurity courses
Issue 7 2020 , News
Check Point Software partners with Harvard and MIT-founded edX to deliver free online courses to help close the cybersecurity skills gap.
Read more...
---
Fidelity partners with Auto & General Insurance
Issue 7 2020, Fidelity Security Group , News
Fidelity Services Group in partnership with Auto & General Insurance has launched Fidelity InSure, a comprehensive vehicle, home, and building insurance offering.
Read more...
---
More apps for open camera OS
Issue 7 2020 , News
The App Challenge will result in 21 new apps running on the Security & Safety Things' camera OS, based on the Android Open Source Project.
Read more...
---
Milestone Systems announces Thomas Jensen as new CEO
Issue 7 2020, Milestone Systems , News
Milestone Systems announced that its board of directors has appointed Thomas Jensen as chief executive officer. Jensen will assume the role on October 1, 2020.
Read more...
---
Suprema announces its first virtual event
Issue 7 2020, Suprema , News
Suprema will be hosting its first virtual event, Suprema Connect 2020, which is scheduled to take place over one month from September 15.
Read more...
---
From the editor's desk: Waiting for PoPI
Issue 7 2020, Technews Publishing , News
A while ago we heard of yet another cyber breach, this time from Experian.
Read more...
---