printer friendly version
Life safety systems
June 2013
Security Services & Risk Management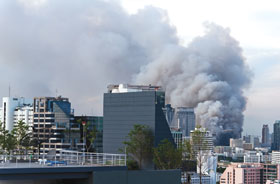 Ensuring that all the life safety systems in a building are in full working order is critical. This applies in particular to places where people sleep away from home such as hotels and hospitals. A different problem is shopping centres and airports, with large concentrations of people who are not familiar with escape routes.
Jason Whitson, sales director of Pinnacle Security Systems (PinnSec), comments, "The Consumer Protection Act effectively holds all parties legally responsible for ensuring that life safety systems are fully operational. Only at our peril can we choose to ignore this. The Act allows for a gaol sentence.
"The last thing a business needs is legal action brought against it if there are injuries or fatalities caused by fire. Damage to a brand through fire is bad enough, having a CEO go to gaol would be of significant further damage. One's only defence in court is to prove that due diligence has been taken to ensure that all fire safety systems are fully maintained. Building management systems will perform the monitoring of all these systems, but usually at great expense, especially if they have to be fitted after the building is completed."
The recent introduction of building monitoring systems is an innovative solution using existing GPRS & Web technology to perform many of the tasks of a building management system at a fraction of the cost.
How does it work?
Generally a GPRS field monitoring terminal (FMT) is installed adjacent to the equipment being monitored. Up to eight different fault conditions can be monitored on a single FMT. The FMT will communicate with the server via GPRS, notifying designated individuals by e-mail or SMS of any equipment failure. The systems are designed to relay information only when a problem occurs, quietly monitoring the equipment in the background and not interrupting staff with unnecessary information.
The management system on the server will ensure that the fault is automatically logged through the entire repair process including for escalating the notification up through management when action fails to take place. Whitson continues, "So often the fire detection system component of a building's integrated life safety system is not fully operational. The industry norm seems to be that around 80% of fire detection systems are not fully functional between routine services.
"Building monitoring systems are extremely useful for monitoring fire detection panels against general faults, devices which have been disabled, low batteries and fire alarms. Monitoring of any critical equipment in a building can be undertaken. By using a building monitoring system, management and staff are made aware of problems as soon as they occur."
The cost for the standard service is between R500 and R700 per month plus some hardware costs – a small price to pay to protect the lives of customers, contractors and staff along with millions of Rands of assets. Whitson concludes, "It is a small price to pay to sleep easy. Cost effectively and remotely monitoring your equipment, while simultaneously recording faults in real-time will go a long way to proving diligence if a case ever reaches court."
For more information contact Jason Whitson, Pinnacle Security, +29 (0)21 550 0915, +27 (0)82 468 2491.
Further reading:
Convergence of cyber and physical security
Integrated Solutions Security Services & Risk Management
The overlap between cybersecurity and physical security will necessitate the integration of cyber and physical security in order to enable the sharing of events to the same security operations centre.
Read more...
---
Reduce electrical risks in commercial and industrial buildings
Security Services & Risk Management
Eaton's new whitepaper aims to help professionals reduce electrical risks in commercial and industrial buildings and prevent faults that can endanger workers, damage property and disrupt business continuity.
Read more...
---
Sustainability School opens for enrolment
Education (Industry) News Security Services & Risk Management
Three-part programme, first developed for Schneider Electric employees, is now available for free for companies worldwide. Attendees learn how to future-proof their businesses and accelerate their decarbonisation journeys.
Read more...
---
Success in business process best practices
Technews Publishing Kleyn Change Management Editor's Choice Integrated Solutions Security Services & Risk Management
This month we commandeer time with the woman who is spearheading our national conversation on Women in Security, Lesley-Anne Kleyn, to get to know the lady herself a little better.
Read more...
---
Security awareness training
Training & Education Security Services & Risk Management
It is critically important to have a security awareness solution that uses the limited time available to train effectively, and one that provides targeted education that is relevant to users.
Read more...
---
Technology to thwart solar panel thieves
Asset Management, EAS, RFID Security Services & Risk Management Products
A highly efficient industrial network is coming to the rescue of the solar industry, as solar panels, inverters and batteries are being targeted by thieves and threaten to destabilise the industry.
Read more...
---
Banking the unbanked comes with security risks
Financial (Industry) Security Services & Risk Management
As grim as it was, the pandemic of recent years and its resultant global economic crisis were a prime catalyst for record number of first-time bank users, the previously unbanked.
Read more...
---
Security is like infinity
Alwinco Security Services & Risk Management
Security needs constant attention, dedication and input. The scary thing is that most people think that security is something that you buy, install, and then forget about.
Read more...
---
Vulnerabilities in industrial cellular routers' cloud management platforms
Industrial (Industry) Cyber Security Security Services & Risk Management
Research from OTORIO, a provider of operational technology cyber and digital risk management solutions, unveils cyber risks in M2M protocols and asset registration that expose hundreds of thousands of devices and OT networks to attack
Read more...
---
SAFPS to launch a platform to combat fraud
Editor's Choice News Security Services & Risk Management
In response to the growing need for a proactive approach to fraud prevention, the SAFPS is developing a product called Yima, which will be a one-stop-shop for South Africans to report scams, secure their identity, and scan any website for vulnerabilities.
Read more...
---