printer friendly version
TETRA digital radio with a five-megapixel camera
June 2013
IT infrastructure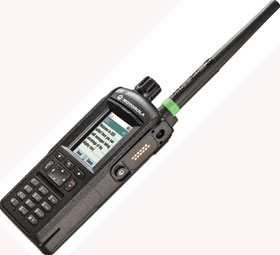 Public safety and law enforcement officials need to reduce crime and create safer communities in a cost-effective manner and are investigating how technology can assist this process. Key benefits and cost savings are likely to be most visible in the area of evidence gathering capabilities to improve prosecution success rates. With limited resources, evidence often is not captured or degrades before dedicated evidence-gathering officers can be deployed. Giving frontline officers the capability to capture evidential images at the scene of a crime or incident has been shown to reduce the time spent in court and increase conviction rates.
With this in mind, Motorola Solutions launched a mission-critical imaging solution for frontline officers. This is a combination of the new MTP6750 Terrestrial Trunked Radio (TETRA) handheld radio featuring an integrated five-megapixel camera and the Photograph and Intelligence Communications System (PICS) image management solution. Through PICS, images captured on the MTP6750 can be managed, authenticated and shared within a public safety organisation's existing workflows, enabling verification of captured images at any point and reducing the chance of evidence being deemed unusable in a prosecution.
Safer, smarter, faster
* This is the first TETRA radio to integrate a five-megapixel digital camera into the same easy-to-use radio form factor for which Motorola's TETRA handsets are known. Integrating image capture and processing capabilities into the radio platform ensures that common workflow processes are enforced and images come under the security protocols of the agency.
* A large QVGA colour display allows officers to view images with a single glance.
* Built on the newly launched MTP6000 Radio Series platform, the new TETRA handheld enables a wide range of data connectivity options, including integrated Bluetooth, Multi-Slot Packet Data and support for TETRA Enhanced Data Services (TEDS). This enables frontline personnel to share text messages and images reliably, securely and quickly.
* The integrated WAP browser with WAP Push capability allows the user to access information sources such as databases and view images on the large screen and for images to be pushed directly to the user, rapidly sharing valuable intelligence.
* The MTP6750 offers an integrated Direct-Mode Repeater. Working range can be further extended by up to 14% through the radio's Class 3L (1.8W) transmit power capability and best-in-class receiver sensitivity.
* The image software is intuitive. Users can be confident that common workflow processes are enforced and images come under the security protocols of the agency.
* Always in the hands of front line officers, the new TETRA handheld with integrated camera functionality offers them the ability to take images without the need for additional devices.
* PICS covers three key areas – Integrated Terminal Management (iTM), Indelible Digital Marking and Application Programming Interface (API).
* Indelible Digital Marking is designed to verify that images have not been tampered with before being used in law courts. Image captures include metadata such as time and date, location, user ID and more.
For more information contact Motorola Solutions, +27 (0)11 800 7917, vikela.rankin@motorolasolutions.com, www.motorolasolutions.com/xu-en/home
Further reading:
Supporting local manufacturing
Industrial (Industry) IT infrastructure
Smart Security asked Esenthren Govender, Solutions Executive at Technodyn for insight into how the company supports local manufacturing organisations to optimise their business.
Read more...
---
The last mile of load shedding
IT infrastructure
With a Stage 16 draft in place, and stage eight load shedding almost put into practice (although some say it's already here unofficially), it's important that individuals and organisations get ready for what might happen if the lights go out.
Read more...
---
Data storage has a power consumption problem
IT infrastructure
We store data with electricity, placing data onto magnetic mediums or altering electric charges inside flash memory, but all that reading and writing requires electricity, which is becoming more expensive as supply crumbles.
Read more...
---
Veeam introduces new competency programme for partners
IT infrastructure News
Veeam Competency Programme for Veeam Value-Added Resellers and Veeam Cloud & Service Provider partners offers enhanced solution-oriented training and go-to-market capability development that increase credibility and visibility in the local marketplace.
Read more...
---
End the scourge of solar panel theft
Guardian Eye IT infrastructure Security Services & Risk Management
Modern solar installations are designed so they can be put together very quickly, but this means they can also be dismantled very quickly, and so there has been a massive spike in the theft of solar panels from roofs.
Read more...
---
Smart buildings require smarter networks
Commercial (Industry) IT infrastructure
The smart building is not a new concept, but it's more than just four walls built sustainably, but a network that interconnects people, processes, data, and things. Lots and lots of things.
Read more...
---
How international cloud trends impact Africa
Technews Publishing IT infrastructure
Enterprises are realising that hyperscale cloud is better suited to development and not everyday business, while the bills have also grown significantly as their cloud needs have become more complicated and sprawled.
Read more...
---
VMware unveils new security capabilities
Cyber Security IT infrastructure Products
At the RSA Conference 2023, VMware unveiled enhanced features for its suite of security solutions to address the increasing sophistication and scale of cyberattacks and to deliver strong lateral security across multi-cloud environments.
Read more...
---
Beyond the blackout
IT infrastructure Security Services & Risk Management
Julian Liebenberg, Chief of Cloud Platform Solutions at BCX discusses why cloud solutions are the future for large enterprises when dealing with the economic and productivity consequences of load shedding.
Read more...
---
AIOps-driven cloud management
IT infrastructure Products
Next generation of HPE Aruba Networking Central paves the way for the era of AI-powered network management; 'Agile NaaS' strategy simplifies delivery of critical network services via HPE GreenLake.
Read more...
---