printer friendly version
High performance network video recorders
June 2013
CCTV, Surveillance & Remote Monitoring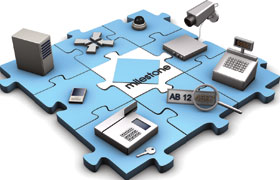 LenovoEMC (previously Iomega) announced a new line of high performance network video recorders (NVRs) with expanded video surveillance capabilities. The new Lenovo EMC NVRs are aimed at businesses with an existing network storage-based video surveillance network as well as those participating in the ongoing industry upgrade from analogue-based surveillance systems.
The new Lenovo EMC NVRs are the first in the industry to feature Milestone Arcus, the newest video management software (VMS) from Milestone.
"Customers that need dependable, affordable video surveillance will benefit from the integration of the new Milestone Arcus VMS platform with Lenovo EMC network storage," said Eric Arcese, president and general manager, LenovoEMC. "The result is a dedicated digital video recorder appliance with superior reliability, image quality, ease-of-installation and affordability, as well as the versatility to handle an organisation's network storage needs."
The new Lenovo EMC NVR product family includes three models: the double-drive Lenovo EMC px2-300d NVR with Milestone Arcus, which includes 4 TB of storage and four camera licences; and two versions of the new four-drive Lenovo EMC px4-300d NVR with Milestone Arcus, one with 4 TB and eight camera licences and one with 8 TB and 16 camera licences. Each model also comes with a one-year software update plan, enabling users to receive the latest feature updates and releases from Milestone.
Milestone Arcus
Milestone Arcus is an embedded video surveillance platform for low-complexity, affordable security installations. A VMS solution that runs on Linux, Mac OSX and Windows related operating systems, Milestone Arcus offers a streamlined, video management tool that is simple and easy-to-install for users of LenovoEMC's new line of NVRs.
Providing 'power-on' simple installation that auto-detects cameras on the network and speeds their configuration in the system, Milestone Arcus is perfect for customers who want to move from analogue cameras to IP network technology. Milestone Arcus features an intuitive Web client interface for viewing live or recorded video, searching and exporting evidence.
Key features of new Lenovo EMC network video recorders:
* Automated setup – No Configuration, be up and running in minutes.
* Fully featured NAS on top of video management appliance.
Supports analogue cameras through the addition of a 16-channel PCIe card accessory, enabling those who have analogue installations to easily use their current infrastructure as they migrate to IP.
* Wide IP Camera model support at launch and beyond as Milestone adds more brands of cameras to its compatibility list.
* Strong video recording features:
- Motion detection.
- Live view and playback.
- Export of evidence.
- Mobile application live view (iOS & Android).
- Alert notifications.
See more at www.iomega.com or www.lenovoemc.com
Further reading:
AI technology to empower vertical markets
Dahua Technology South Africa Mining (Industry) CCTV, Surveillance & Remote Monitoring Products
Dahua WizMind is a full portfolio of solutions comprising project-oriented products that use deep learning algorithms to provide more business value to its global customers and deliver reliable and comprehensive AI solutions for vertical markets.
Read more...
---
Elvey partners with HALO
Elvey Security Technologies News CCTV, Surveillance & Remote Monitoring
Elvey Group has partnered with HALO Europe to provide Africa's first body-worn solution with zero upfront costs. This includes an IP68-certified body camera and a 4G-connected device.
Read more...
---
Regal announces new partnership
Regal Distributors SA CCTV, Surveillance & Remote Monitoring
Having a bird's eye view of your surveillance data, with the capability to drill down to the details obtained via connected security solutions, is a game changer for security operators, companies and even officers on the ground.
Read more...
---
Invisible connection and tangible protection via cloud
Dahua Technology South Africa Perimeter Security, Alarms & Intruder Detection CCTV, Surveillance & Remote Monitoring Products
Dahua Technology has launched its AirShield security solution that uses advanced, stable and reliable RF communication technology and cloud services, integrating alarm hubs, various detectors and accessories, with several software apps.
Read more...
---
Hikvision expands solar-powered solutions
CCTV, Surveillance & Remote Monitoring Products
Hikvision is offering a portfolio of solar solutions, the 4G solar-powered camera kit, a wireless bridge, and mobile solar security tower solutions to assist in keeping remote and isolated areas safe in a simple, practical, and cost-effective way.
Read more...
---
Affordable entry-level cameras from Dallmeier
Dallmeier Electronic Southern Africa CCTV, Surveillance & Remote Monitoring Products
Dallmeier has introduced the 'E' version of the DOMERA camera family, offering high image quality with 2 MP and 5 MP resolution, and providing detailed images even in low light conditions.
Read more...
---
The importance of the operator's frame of reference
Leaderware Editor's Choice CCTV, Surveillance & Remote Monitoring Security Services & Risk Management Mining (Industry)
The better the operator's frame of reference and situational awareness, and the more informed they are in dealing with CCTV surveillance in the mining industry, the more successful they are likely to be in surveillance.
Read more...
---
Enhancing surveillance on mines
Avigilon Technews Publishing Axis Communications SA Forbatt SA Hikvision South Africa Bosch Building Technologies Editor's Choice CCTV, Surveillance & Remote Monitoring Integrated Solutions Mining (Industry)
Smart Security approached a number of surveillance vendors to find out what the latest in surveillance technology is that can make a difference to security operations in mines, as well as general operations.
Read more...
---
Surveillance to improve worker safety
Axis Communications SA Mining (Industry) CCTV, Surveillance & Remote Monitoring Integrated Solutions
With substantial deposits of mineral resources, mining is critical for South Africa's economic growth and prosperity; however, mining can be dangerous, especially for the people working on the ground and in the shafts.
Read more...
---
Radar-video fusion camera
Axis Communications SA CCTV, Surveillance & Remote Monitoring Mining (Industry) Products
The AXIS Q1656-DLE Radar-Video Fusion Camera device brings video and radar analytics together in AXIS Object Analytics to deliver detection and visualisation.
Read more...
---