printer friendly version
My Connect 2 Go
June 2013
Perimeter Security, Alarms & Intruder Detection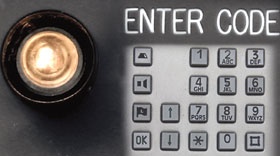 Ever-improving functionality and control, the hallmarks of communication technology today, are not limited to smartphones and tablets but can be found in cutting-edge security products such as the new EnvisaLink 3.
This powerful TCP-IP based bus-level interface, designed for DSC's PowerSeries panel range, heralds in a new era of alarm monitoring, says Ingo Mutinelli, national sales manager for Elvey Security Technologies. "The personalisation of the alarm system is now a reality, with it poised to become a vital part of everyday life," he maintains. "Just as we would be lost without e-mails, which have become an integral part of our lives, so security technology is moving out of the realm of the grudge purchase as it becomes increasingly valued as the homeowner's silent friend, their invisible police officer and their personal news reporter."
The reason for this mindset evolution, says Mutinelli, is the heightened connection between alarm panel and end user. "Rampant crime throughout South Africa is driving consumer demand for more control over their personal security. The EnvisaLink 3 module uses the latest in communication technology to provide people with unparalleled versatility, both in terms of safety and lifestyle."
User benefits
According to Mutinelli, the EnvisaLink 3 will allow DSC alarm installers to provide their customers with a host of benefits.
"With the addition of the EnvisaLink 3 module to their DSC alarm system, end users will be able to view the status of, and control, their alarm panels using a standard web browser or smartphone," he explains. "They can receive an unlimited number of e-mail or SMS text message alerts concerning arming and disarming events as well as alarms and trouble conditions. In addition, they can specify the recipients of alerts and status confirmations."
In a practical situation, parents of young children who have sensors mounted on their pool gate for instance, will receive a notification once that gate has been breached. To avert disaster the homeowners can immediately call the nanny to ascertain if the child is alone or is currently being supervised.
Installer benefits
DSC alarm panel installers also stand to benefit from this dynamic new product, he continues. "They can increase their income streams in a variety of ways."
While you cannot charge a fee for use of the Connect2Go portal, you do have the option of giving the end user the module for free in exchange for signing a 24 month contract, or adding the module to their existing monitoring agreement and monthly payment. Once you have purchased the unit from Elvey it is yours to sell on as you wish and you incur no monthly fee for allowing your customers access to the Connect2Go portal.
Easy to install the EnvisaLink TCP-IP based bus-level interface has a built-in basic Web server, all that is necessary is an Internet connection, he says. The EnvisaLink 3 connects to the DSC PowerSeries alarm system's keypad bus and the network switch/router, thereby enabling remote monitoring and control via an Internet browser or Internet-enabled devices such as an iPhone, Blackberry or Android mobile phone.
Other features include 128-bit encryption to ensure that transmissions to both the Web portal and the central monitoring station are completely secure. "According to Mutinelli, installers tasked with securing outbuildings will be please to know that the Envisalink module supports multiple partitions and allows for full control over Local Arm/Disarm/Zone Bypass/PGM Control instructions on all partitions.
"The EnvisaLink 3, in conjunction with the myconnect2go Web portal, is the way to transform an alarm system from a simple watchdog into a powerful friend, able to communicate with you on a platform that people use every day," says Mutinelli.
Security installers can up-sell to their current cliental by allowing them the option of self monitoring. This becomes possible when the EnvisaLink is used in conjunction with a DVR or camera which has already been configured for access via the Internet using a built-in Web interface, that is compatible with the Web browser on the viewing device ie, smartphone or tablet, end-users are able to view alarm troubles in real-time, concludes Mutinelli.
For more information contact Elvey Security Technologies, +27 (0)11 401 6700, priyesh.jagjivan@elvey.co.za, www.elvey.co.za
Credit(s)
Further reading:
Olarm launches the Olarm LINK
Olarm Perimeter Security, Alarms & Intruder Detection News Products
Building on the success of smart-enabling, monitoring and controlling alarm panels and electric fences, Olarm has a new solution for customers to integrate gates, garage doors, pumps and other electrical products with the Olarm APP and Olarm PRO communicator.
Read more...
---
Ultimate smart monitoring and reliability
Olarm Perimeter Security, Alarms & Intruder Detection News Products
Olarm is gearing up to unveil its latest product, the Olarm MAX, set to be available in late 2023, which will redefine smart monitoring by offering unparalleled connectivity options and functionality.
Read more...
---
New distributed acoustic sensors in EMEA
Perimeter Security, Alarms & Intruder Detection Products
OPTEX introduces new EchoPoint Distributed Acoustic Sensors (DAS) for advanced point location intrusion detection, using intelligent detection algorithms to provide point detection of +/- 6 m in a range of up to 100 km.
Read more...
---
Matt De Araujo joins Ajax Systems
Ajax Systems News Perimeter Security, Alarms & Intruder Detection
Matt De Araujo has joined Ajax Systems as Head of Sales in sub-Saharan Africa with a goal to strengthen the local team and exceed expectations.
Read more...
---
Elvey partners with HALO
Elvey Security Technologies News CCTV, Surveillance & Remote Monitoring
Elvey Group has partnered with HALO Europe to provide Africa's first body-worn solution with zero upfront costs. This includes an IP68-certified body camera and a 4G-connected device.
Read more...
---
RDC expands its production capabilities
Radio Data Communications Perimeter Security, Alarms & Intruder Detection Products
Local electronics manufacturer, RDC, recently acquired a new SMT (surface mount technology) machine to boost its manufacturing output and meet the needs of its global customer base.
Read more...
---
Invisible connection and tangible protection via cloud
Dahua Technology South Africa Perimeter Security, Alarms & Intruder Detection CCTV, Surveillance & Remote Monitoring Products
Dahua Technology has launched its AirShield security solution that uses advanced, stable and reliable RF communication technology and cloud services, integrating alarm hubs, various detectors and accessories, with several software apps.
Read more...
---
Protecting perimeters and open spaces
XtraVision Perimeter Security, Alarms & Intruder Detection
XtraVision provides some insight into the use of drone technology with the SAMM Fotas fibre detection systems to secure perimeters and other remote assets and locations.
Read more...
---
Perimeter intrusion detection
Dark Horse Distribution Perimeter Security, Alarms & Intruder Detection Mining (Industry) Products
Dark Horse Distribution offers Senstar's, above and below ground perimeter protection solutions, incorporating advanced algorithms to reduce false alarms while providing early warning of intrusion attempts.
Read more...
---
Gallagher achieves SOC2 Type 2 certification
Gallagher Access Control & Identity Management Perimeter Security, Alarms & Intruder Detection Products
Gallagher announced it has achieved System and Organization Controls (SOC2 Type 2) certification for the cloud-hosted services of its flagship security solution, Command Centre.
Read more...
---