printer friendly version
New security information ­management platform
June 2013
News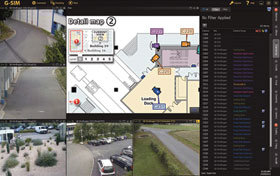 G-Sim is a new solution for flexibly managing, filtering and processing the extensive security information generated by networked video security solutions of medium to high complexity. Besides its seamless integration with the Geutebrü'ck system world, the G-Sim's important features include central user management, easy administration and operation using site plan-based control elements as well as the central reporting of all relevant operating and system events.
Its system architecture is freely scalable and designed for easy interaction between different users both within the network and with remote access. This enables the management processes to be efficiently distributed across a variety of workstations.
A technical solution for qualifying, sorting and processing the data according to the user's needs is therefore vital. One which gives the operator access to the information he needs, quickly, intuitively and reliably. This is the role of the information management system.
Over and above the information management system built into all Geutebrück devices, the new G-Sim provides a solution to fulfil all the requirements of users of networked video security systems in the medium to very extensive category.
In G-Sim, live and recorded image display, site plan-based control, flexible alarm management, delegating and reporting tools for efficient operation, complete documentation of all systems and operator actions, sophisticated redundancy provisions are all configurable for each application and each user. The flexible user administration function and thorough audit trail provide a complete guarantee for data protection. They also ensure the evidential quality of images and footage.
Owing to the large number of different third-party interfaces integrated into Geutebrück systems, security information can also be processed and managed seamlessly by subcontractors. This system therefore provides complete and comprehensive support for your own security concept.
For more information contact Geutebrück, +27(0)11 867 6585, Charles@geutebruck.co.za, www.geutebrueck.com
Further reading:
Olarm launches the Olarm LINK
Olarm Perimeter Security, Alarms & Intruder Detection News Products
Building on the success of smart-enabling, monitoring and controlling alarm panels and electric fences, Olarm has a new solution for customers to integrate gates, garage doors, pumps and other electrical products with the Olarm APP and Olarm PRO communicator.
Read more...
---
Ultimate smart monitoring and reliability
Olarm Perimeter Security, Alarms & Intruder Detection News Products
Olarm is gearing up to unveil its latest product, the Olarm MAX, set to be available in late 2023, which will redefine smart monitoring by offering unparalleled connectivity options and functionality.
Read more...
---
Insights from the 2023 Cloud Security Report
News Cyber Security
Increased costs, compliance requirements, hybrid and multi-cloud complexities, reduced visibility, and a lack of skilled practitioners cause organisations to slow or adjust their cloud adoption strategies.
Read more...
---
New algorithm for OT cybersecurity risk management
Industrial (Industry) Cyber Security News Commercial (Industry)
OTORIO's new risk management model and attack graph analysis algorithm technology, calculates OT cybersecurity threats and provides risk mitigation actions, prioritised according to actual exposure and potential impact on operations.
Read more...
---
Robots: a security opportunity or a threat?
Editor's Choice News Conferences & Events
Professor Martin Gill, Director of Perpetuity Research & Consultancy International and the School of Criminal Justice at the University of South Africa (UNISA), will be holding a Global Thought Leadership Security webinar on 22 June 2023 to discuss the contentious issue of robots operating in the security industry.
Read more...
---
UNISA sponsors Securex seminars
Editor's Choice News Conferences & Events
As part of UNISA's 150-year birthday celebrations, UNISA has sponsored the Securex Theatre Seminar Programme, which will include a number of prominent industry specialists, academics and security practitioners focusing on a number of themes.
Read more...
---
Facilities Management Seminar Theatre
Securex South Africa News
The free-to-attend Facilities Management Seminar Theatre, powered by Broll, delivers information on the latest market trends, thereby keeping attendees up to date on solutions and technology centred on increasing facility system optimisation.
Read more...
---
The latest security trends at Securex South Africa 2023
Securex South Africa News Conferences & Events Training & Education
Security technology evolves at a blistering pace, so it's important to keep up to date with changing trends in order to ensure maximised safety of human and personal assets. The Securex Seminar Theatre, powered by UNISA, is the place to be.
Read more...
---
Sustainability School opens for enrolment
Education (Industry) News Security Services & Risk Management
Three-part programme, first developed for Schneider Electric employees, is now available for free for companies worldwide. Attendees learn how to future-proof their businesses and accelerate their decarbonisation journeys.
Read more...
---
From the editor's desk: Get Smart
Technews Publishing News
Welcome to the fourth issue of Hi-Tech Security Solutions for 2023, which is also the first issue of Smart Security Solutions. As noted in previous issues, Hi-Tech Security Solutions has been rebranded to Smart Security Solutions.
Read more...
---