printer friendly version
Milestone Partner Open Platform Days
June 2013
News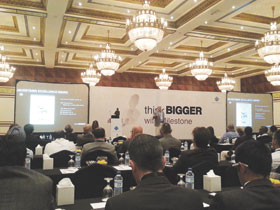 Milestone Systems is known for its long-term commitment to the concept of an open platform video management application that allows third parties to plug in their own software to the core Milestone management system to extend its applicability across almost every IP video installation in various industries. The open approach has proved successful for Milestone over the years and the company, headquartered in Denmark, has spread its wings the world over as thousands of people have adopted its management platform.
South Africa is no exception and there are a number of Milestone partners in the country as well as developers focused on adding to the platform. To keep its Middle East and African partners up to speed on what will be happening in the Milestone ecosystem over the next year or so, the company recently held its Milestone Partner Open Platform (MPOP) Days Middle East & Africa 2013 in Abu Dhabi in the UAE.
Hi-Tech Security Solutions was invited to attend the event which saw a host of system integration and software partners in attendance to hear what Milestone had to say, as well as attend the display area where many partners demonstrated how their products take advantage of the Milestone platform and extend it to the benefit of customers.
A few of the partners with products to display were Axis Communications, Arecont Vision, IBM, Pivot 3, Allied Telesys, Bosch, Sony, Ganetec and Razberi Solutions (with its ServerSwitch, which combines the functions of a network video recorder and Ethernet SmartSwitch in to one appliance running Milestone's Arcus software), among many others.
There were a host of speakers over the three-day event, both form Milestone as well as external parties. Some of the Milestone speakers, who emphasised the company's commitment to its channel partners, were Eric Fullerton, chief sales and marketing officer; Peter Biltsted, director, Middle East and Africa; Christian Bohn, VP corporate marketing and alliances; and Juliette Gustavsson, head of corporate marketing.
External speakers included many partners, among them Christian Schnedler from IBM Global Technology Services, Scott Schafer from Arecont Vision and Tom Galvin from Razberi Technologies. Other speakers included Oliver Philoppou, an analyst at IMS Research who had some good news for partners with respect to the prospects for the next year in the video surveillance market. The Middle East is a fast growing market for video surveillance and with all the development happening in the region, this growth does not seem to be in danger of slowing anytime soon. Africa will not be as positive, but the prospects for growth are still good.
South Africa also had good representation on the podium with Deon Sloane, senior security manager at the V&A Waterfront in Cape Town delivering an excellent presentation on how the V&A has and is using Milestone to assist in its move to an Axis IP camera base, with over 1000 IP cameras already on the system.
But that was not the only praise for South Africa at MPOP. At the final banquet, Milestone handed out partner awards to companies that had made an impact in the MEA region and five South African companies walked away with trophies. The companies were Camsecure, IPVS, ITS Group, Axis Communications and the V&A Waterfront, which won the award for project of the year along with its integrator ITS Group.
Due to time constraints we were not able to write a full report of the event before our deadline, however, in the next issue we will go into a few of the highlights of the presentations to provide a better understanding of Milestone's plans for the year, some already in progress and others about to launch. We will also have some comment from its South African partners.
Further reading:
Olarm launches the Olarm LINK
Olarm Perimeter Security, Alarms & Intruder Detection News Products
Building on the success of smart-enabling, monitoring and controlling alarm panels and electric fences, Olarm has a new solution for customers to integrate gates, garage doors, pumps and other electrical products with the Olarm APP and Olarm PRO communicator.
Read more...
---
Ultimate smart monitoring and reliability
Olarm Perimeter Security, Alarms & Intruder Detection News Products
Olarm is gearing up to unveil its latest product, the Olarm MAX, set to be available in late 2023, which will redefine smart monitoring by offering unparalleled connectivity options and functionality.
Read more...
---
Insights from the 2023 Cloud Security Report
News Cyber Security
Increased costs, compliance requirements, hybrid and multi-cloud complexities, reduced visibility, and a lack of skilled practitioners cause organisations to slow or adjust their cloud adoption strategies.
Read more...
---
New algorithm for OT cybersecurity risk management
Industrial (Industry) Cyber Security News Commercial (Industry)
OTORIO's new risk management model and attack graph analysis algorithm technology, calculates OT cybersecurity threats and provides risk mitigation actions, prioritised according to actual exposure and potential impact on operations.
Read more...
---
Robots: a security opportunity or a threat?
Editor's Choice News Conferences & Events
Professor Martin Gill, Director of Perpetuity Research & Consultancy International and the School of Criminal Justice at the University of South Africa (UNISA), will be holding a Global Thought Leadership Security webinar on 22 June 2023 to discuss the contentious issue of robots operating in the security industry.
Read more...
---
UNISA sponsors Securex seminars
Editor's Choice News Conferences & Events
As part of UNISA's 150-year birthday celebrations, UNISA has sponsored the Securex Theatre Seminar Programme, which will include a number of prominent industry specialists, academics and security practitioners focusing on a number of themes.
Read more...
---
Facilities Management Seminar Theatre
Securex South Africa News
The free-to-attend Facilities Management Seminar Theatre, powered by Broll, delivers information on the latest market trends, thereby keeping attendees up to date on solutions and technology centred on increasing facility system optimisation.
Read more...
---
The latest security trends at Securex South Africa 2023
Securex South Africa News Conferences & Events Training & Education
Security technology evolves at a blistering pace, so it's important to keep up to date with changing trends in order to ensure maximised safety of human and personal assets. The Securex Seminar Theatre, powered by UNISA, is the place to be.
Read more...
---
Sustainability School opens for enrolment
Education (Industry) News Security Services & Risk Management
Three-part programme, first developed for Schneider Electric employees, is now available for free for companies worldwide. Attendees learn how to future-proof their businesses and accelerate their decarbonisation journeys.
Read more...
---
From the editor's desk: Get Smart
Technews Publishing News
Welcome to the fourth issue of Hi-Tech Security Solutions for 2023, which is also the first issue of Smart Security Solutions. As noted in previous issues, Hi-Tech Security Solutions has been rebranded to Smart Security Solutions.
Read more...
---