printer friendly version
Tavcom training from Elvey
June 2013
Security Services & Risk Management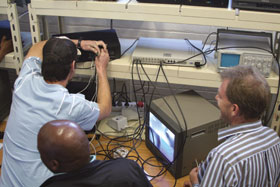 The retention of staff and the creation of good workplace morale are among the most important goals of enlightened leaders in any company anywhere today. The big question, however, is how to go about making these goals into reality.
In the opinion of Larry Sloley, training officer at Elvey Security Technologies, there is nothing to beat the coaching offered by UK security systems training heavyweight Tavcom Training, which moved into sub-Saharan Africa in partnership with Elvey Security Technologies eight years ago.
"Tavcom believes in the creation of technical programmes where everyone wins. Designed to address the training needs of the entire security industry from installers, integrators, system designers and specifiers to sales and marketing people, utility plants and banks, Tavcom in South Africa has expanded its initial course base from two to eight of the over 40 Tavcom courses available in the UK." (These include intruder alarms, access control, CCTV foundation, installation, planning, repair/maintenance, and last but not least CCTV over IP (Internet Protocol).
Each training course offers delegates the option of obtaining a BTEC qualification which is independently certified by the United Kingdom's highly regarded Edexcel Foundation. On completion of all eight courses, students may then opt to register for their BTEC Diploma (for an additional fee). "Tavcom offers students an internationally recognised security certification, making it possible for them to compete successfully in the global industry or enter the overseas job market," he says. "Testimony to the success of the Elvey/Tavcom partnership is the number of industry personnel who have attended the training, more than 400 of whom are now qualified to pursue their BTEC Diplomas."
Neil Gillespie, training officer for Elvey Security Technologies says installers have a moral, as well as professional, duty to keep up with technology. "They cannot simply shrug off responsibility for a breach that could have and should have been avoided.
"Installers need to be able to answer questions about the various alarm systems on the market today, the pros and cons of hardwire and wireless, the expandability of the various products, outdoor detection, passive infrared detectors with built-in cameras, and the communication abilities of the various alarm panels and modules. They also need to be able to advise on how to integrate CCTV into their alarm panels.
"Without training," he says, "an installer, technician or sales consultant will not be able to answer advanced questions. Worse, he might not even know that the technology exists. With training, however, he will be able to answer product-related questions knowledgeably and confidently, which will inevitably benefit the company as a result of improved moral and commitment. Nothing succeeds like success, as the old adage goes, and the success of a company lies in no small measure in a happy, loyal staff complement."
For more information contact Elvey Security Technologies, +27 (0)11 401 6700, priyesh.jagjivan@elvey.co.za, www.elvey.co.za
Credit(s)
Further reading:
Convergence of cyber and physical security
Integrated Solutions Security Services & Risk Management
The overlap between cybersecurity and physical security will necessitate the integration of cyber and physical security in order to enable the sharing of events to the same security operations centre.
Read more...
---
Reduce electrical risks in commercial and industrial buildings
Security Services & Risk Management
Eaton's new whitepaper aims to help professionals reduce electrical risks in commercial and industrial buildings and prevent faults that can endanger workers, damage property and disrupt business continuity.
Read more...
---
Sustainability School opens for enrolment
Education (Industry) News Security Services & Risk Management
Three-part programme, first developed for Schneider Electric employees, is now available for free for companies worldwide. Attendees learn how to future-proof their businesses and accelerate their decarbonisation journeys.
Read more...
---
Elvey partners with HALO
Elvey Security Technologies News CCTV, Surveillance & Remote Monitoring
Elvey Group has partnered with HALO Europe to provide Africa's first body-worn solution with zero upfront costs. This includes an IP68-certified body camera and a 4G-connected device.
Read more...
---
Success in business process best practices
Technews Publishing Kleyn Change Management Editor's Choice Integrated Solutions Security Services & Risk Management
This month we commandeer time with the woman who is spearheading our national conversation on Women in Security, Lesley-Anne Kleyn, to get to know the lady herself a little better.
Read more...
---
Security awareness training
Training & Education Security Services & Risk Management
It is critically important to have a security awareness solution that uses the limited time available to train effectively, and one that provides targeted education that is relevant to users.
Read more...
---
Technology to thwart solar panel thieves
Asset Management, EAS, RFID Security Services & Risk Management Products
A highly efficient industrial network is coming to the rescue of the solar industry, as solar panels, inverters and batteries are being targeted by thieves and threaten to destabilise the industry.
Read more...
---
Banking the unbanked comes with security risks
Financial (Industry) Security Services & Risk Management
As grim as it was, the pandemic of recent years and its resultant global economic crisis were a prime catalyst for record number of first-time bank users, the previously unbanked.
Read more...
---
Security is like infinity
Alwinco Security Services & Risk Management
Security needs constant attention, dedication and input. The scary thing is that most people think that security is something that you buy, install, and then forget about.
Read more...
---
Vulnerabilities in industrial cellular routers' cloud management platforms
Industrial (Industry) Cyber Security Security Services & Risk Management
Research from OTORIO, a provider of operational technology cyber and digital risk management solutions, unveils cyber risks in M2M protocols and asset registration that expose hundreds of thousands of devices and OT networks to attack
Read more...
---