printer friendly version
Axis Learning Centre
June 2013
Security Services & Risk Management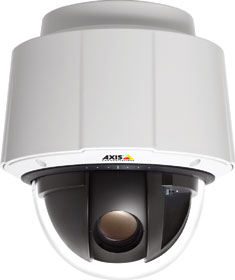 Axis has a successful Learning Centre through which it provides classroom training, seminars, online courses, webinars, tutorials and guides, as well as an Axis Certification Programme. There are over 50 professional trainers all over the world, providing in-depth technical training and hands-on interaction. As one of the most trustworthy brands in the video surveillance industry, Axis provides a host of training courses such as Video Encoder Technologies, Network Video Fundamentals and Designing Network Video Solutions.
Courses take place each month. Four training sessions are set to be held in South Africa throughout the month of June in Johannesburg and Cape Town. The calendar for events can be found on http://www.axis.com/academy/za/. Axis Communications' Academy gives you the opportunity to attend online courses anywhere in the world at any time and help you to stay updated on Axis' product portfolio, services and solutions. This training is for Axis Partners only and interested parties can register in the Axis Channel Partner Programme or the Axis A&E Programme.
The Axis Certification Programme was designed to help individuals and companies prove their skills in network video surveillance. This is open to anyone wanting to show their expertise in network video surveillance and has been developed specifically for system designers and professionals in technical sales roles. Benefits of this programme include recognition by architects and consultants specifying Axis Certified Professionals in large projects.
For more information contact Sasha Bonheim, Axis, +27 (0)11 548 6780, sasha.bonheim@axis.com
Credit(s)
Further reading:
Convergence of cyber and physical security
Integrated Solutions Security Services & Risk Management
The overlap between cybersecurity and physical security will necessitate the integration of cyber and physical security in order to enable the sharing of events to the same security operations centre.
Read more...
---
Reduce electrical risks in commercial and industrial buildings
Security Services & Risk Management
Eaton's new whitepaper aims to help professionals reduce electrical risks in commercial and industrial buildings and prevent faults that can endanger workers, damage property and disrupt business continuity.
Read more...
---
Sustainability School opens for enrolment
Education (Industry) News Security Services & Risk Management
Three-part programme, first developed for Schneider Electric employees, is now available for free for companies worldwide. Attendees learn how to future-proof their businesses and accelerate their decarbonisation journeys.
Read more...
---
Success in business process best practices
Technews Publishing Kleyn Change Management Editor's Choice Integrated Solutions Security Services & Risk Management
This month we commandeer time with the woman who is spearheading our national conversation on Women in Security, Lesley-Anne Kleyn, to get to know the lady herself a little better.
Read more...
---
Security awareness training
Training & Education Security Services & Risk Management
It is critically important to have a security awareness solution that uses the limited time available to train effectively, and one that provides targeted education that is relevant to users.
Read more...
---
Technology to thwart solar panel thieves
Asset Management, EAS, RFID Security Services & Risk Management Products
A highly efficient industrial network is coming to the rescue of the solar industry, as solar panels, inverters and batteries are being targeted by thieves and threaten to destabilise the industry.
Read more...
---
Banking the unbanked comes with security risks
Financial (Industry) Security Services & Risk Management
As grim as it was, the pandemic of recent years and its resultant global economic crisis were a prime catalyst for record number of first-time bank users, the previously unbanked.
Read more...
---
Security is like infinity
Alwinco Security Services & Risk Management
Security needs constant attention, dedication and input. The scary thing is that most people think that security is something that you buy, install, and then forget about.
Read more...
---
Vulnerabilities in industrial cellular routers' cloud management platforms
Industrial (Industry) Cyber Security Security Services & Risk Management
Research from OTORIO, a provider of operational technology cyber and digital risk management solutions, unveils cyber risks in M2M protocols and asset registration that expose hundreds of thousands of devices and OT networks to attack
Read more...
---
SAFPS to launch a platform to combat fraud
Editor's Choice News Security Services & Risk Management
In response to the growing need for a proactive approach to fraud prevention, the SAFPS is developing a product called Yima, which will be a one-stop-shop for South Africans to report scams, secure their identity, and scan any website for vulnerabilities.
Read more...
---