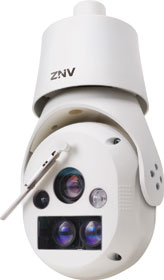 Shenzhen ZNV Technology Co.
June 2013, News
Shenzhen ZNV Technology Co. (ZNV) is a global surveillance supplier and former surveillance product line of ZTE Corporation. It started telecom network operation services in 1995 and became a standalone company in 2005. It is headquartered in Shenzhen and has R&D centres in both Shenzhen and Nanjing. Its marketing and services cover 31 provinces and cities, and over 60 nations and regions, offering professional and immediate services for global clients.
ZNV will showcase an HD infrared dome camera at IFSEC. Looking like a robot, this camera provides sync zooming and smart light regulation. The illuminating angle and power of its infrared lamp is automatically regulated according to lens focal length and natural illumination, so over-exposed or under-exposed surveillance images would be avoided at night. ZNV will be at Stand I09 in Hall 2.