printer friendly version
IFSEC South Africa 2013
June 2013
News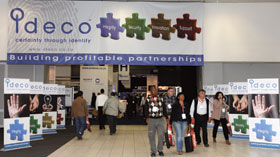 After two decades and having entrenched its reputation as Africa's largest commercial security, homeland security and fire event, IFSEC South Africa 2013 looks set to exceed both visitor and exhibitor expectations when it opens for this annual three-day event at Gallagher Convention Centre in June.
Running from 18-20 June 2013, IFSEC South Africa is the quintessential event for local and global security professionals and senior decision-makers looking to source the latest security innovations from a wide range of world-class exhibitors in an information rich environment filled with networking opportunities.
"We are delighted with the continuous growth of IFSEC South Africa," says Charlene Hefer, event director, UBM Montgomery. "Our team has worked hard to offer a world-class show that not only draws a growing number of visitors but ensures that all of our exhibitors experience maximum return on their marketing investment."
With more than 6000 visitors expected to attend this year's event, IFSEC South Africa 2013 will present a multitude of networking opportunities. The show will have more than 200 exhibitors in attendance, including leading industry names such as Elvey Security Technologies, Hikvision, Muvoni, NEC and Bruker.
Hefer adds that the IFSEC South Africa team has worked diligently to form strong relationships with the leading local security associations, select the most appropriate media partners to help promote and market the show, as well as include a host of new features that will add significant value to the event.
IFSEC South Africa's educational component includes an Interactive Seminar that runs throughout the show alongside the exhibition. It features top local and international speakers addressing topics such as the local security landscape and how to source the most appropriate solutions for even the most challenging security applications.
Launching the Firex Pavilion
Having recognised the steady growth of the Fire Detection and Fire Prevention market, UBM Montgomery is pleased to launch the Firex Pavilion at IFSEC South Africa 2013. To ensure that this new component of the show adds great value to both visitors and exhibitors, the show organisers have partnered with leading industry associations, including the Fire Protection Association of Southern Africa (FPASA).
The Homeland Safety and Security Africa Conference and Exhibition Zone, will once again provide a platform for national security stakeholders who want to learn more about the most progressive technology for cyber security, national resilience, counter-terrorism, airport and border security, surveillance services, mining security and policing issues.
The show, Hefer goes on to say, is ideal for those buyers looking to source the latest products in a wide range of categories, including access control, biometrics CCTV, CIT, guarding, integrated security and IP and network security, as well as retail risk and money handling solutions. "We ensure that every aspect of the industry is covered," she says. "A visitor can cover months of market research in just one visit – providing the best solutions for protecting people, property and premises."
IFSEC South Africa has also partnered with Redi Laser to present an electronic laser simulator shooting competition. This is open to all our exhibitors and visitors and the sharpest shooter will walk away with the R10 000 prize.
"IFSEC South Africa has established a reputation as Africa's leading security and fire event," says Hefer. "With a brand new host of features, we expect even greater trade interest this June," she concluded.
Visit: www.ifsecsa.com
Further reading:
Olarm launches the Olarm LINK
Olarm Perimeter Security, Alarms & Intruder Detection News Products
Building on the success of smart-enabling, monitoring and controlling alarm panels and electric fences, Olarm has a new solution for customers to integrate gates, garage doors, pumps and other electrical products with the Olarm APP and Olarm PRO communicator.
Read more...
---
Ultimate smart monitoring and reliability
Olarm Perimeter Security, Alarms & Intruder Detection News Products
Olarm is gearing up to unveil its latest product, the Olarm MAX, set to be available in late 2023, which will redefine smart monitoring by offering unparalleled connectivity options and functionality.
Read more...
---
Insights from the 2023 Cloud Security Report
News Cyber Security
Increased costs, compliance requirements, hybrid and multi-cloud complexities, reduced visibility, and a lack of skilled practitioners cause organisations to slow or adjust their cloud adoption strategies.
Read more...
---
New algorithm for OT cybersecurity risk management
Industrial (Industry) Cyber Security News Commercial (Industry)
OTORIO's new risk management model and attack graph analysis algorithm technology, calculates OT cybersecurity threats and provides risk mitigation actions, prioritised according to actual exposure and potential impact on operations.
Read more...
---
Robots: a security opportunity or a threat?
Editor's Choice News Conferences & Events
Professor Martin Gill, Director of Perpetuity Research & Consultancy International and the School of Criminal Justice at the University of South Africa (UNISA), will be holding a Global Thought Leadership Security webinar on 22 June 2023 to discuss the contentious issue of robots operating in the security industry.
Read more...
---
UNISA sponsors Securex seminars
Editor's Choice News Conferences & Events
As part of UNISA's 150-year birthday celebrations, UNISA has sponsored the Securex Theatre Seminar Programme, which will include a number of prominent industry specialists, academics and security practitioners focusing on a number of themes.
Read more...
---
Facilities Management Seminar Theatre
Securex South Africa News
The free-to-attend Facilities Management Seminar Theatre, powered by Broll, delivers information on the latest market trends, thereby keeping attendees up to date on solutions and technology centred on increasing facility system optimisation.
Read more...
---
The latest security trends at Securex South Africa 2023
Securex South Africa News Conferences & Events Training & Education
Security technology evolves at a blistering pace, so it's important to keep up to date with changing trends in order to ensure maximised safety of human and personal assets. The Securex Seminar Theatre, powered by UNISA, is the place to be.
Read more...
---
Sustainability School opens for enrolment
Education (Industry) News Security Services & Risk Management
Three-part programme, first developed for Schneider Electric employees, is now available for free for companies worldwide. Attendees learn how to future-proof their businesses and accelerate their decarbonisation journeys.
Read more...
---
From the editor's desk: Get Smart
Technews Publishing News
Welcome to the fourth issue of Hi-Tech Security Solutions for 2023, which is also the first issue of Smart Security Solutions. As noted in previous issues, Hi-Tech Security Solutions has been rebranded to Smart Security Solutions.
Read more...
---