printer friendly version
Integrated security and operational efficiencies
June 2013 Integrated Solutions, Mining (Industry)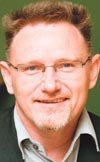 Neil Cameron, GM, Johnson Controls System & Service Africa.
Controlling the theft of highly precious commodities and other valuable assets is one of the major challenges facing mining organisations on a daily basis. Gold, platinum, diamonds, computer equipment and vehicles serve as tempting targets for both internal thieves and organised crime syndicates. Dealing with these threats requires a complete, integrated security solution that addresses all areas. Not only will this deliver enhanced security, but also will add value in other operational areas within the organisation.
Raw materials brought out of the ground are highly valuable and offer an inviting target for both opportunistic employees and external criminals. While there are no clear figures of the total losses, this problem is very common within the mining industry. The stolen materials, which are sold on a thriving black market, affect a mine's profitability and risk profile. And as commodity prices increase, the attraction to criminals will only grow.
An integrated security solution, using a standards-based open platform to bring together the various components of mine security, is crucial in dealing with this threat and minimising any damage. Mines typically employ many security products, including access control, video surveillance, X-ray machines and more. A single platform that uses open standards and is specifically designed for the mining environment can interface with a variety of different products and solutions.
The platform allows alarm signals to be customised with relevant information sent to the appropriate people during an event. For example, if an intrusion is detected, an alarm can be sent to the mine manager and the technical and security staffs with specific instructions for each function to ensure that the correct action is taken and escalation procedures are followed. Stop-and-search functionality can be integrated and enhanced based on the risk profiles of individual workers. Having access to workers' backgrounds, employment history and security checks will improve the likelihood of stopping and searching the right people.
Access control can also be linked to video surveillance to ensure that workers do not gain access to unauthorised areas. If an employee has improperly entered a restricted area, corrective action can be taken immediately. Integrating multiple systems ensures that information from motion detectors, recorded video, intrusion alarms and other systems also can be collected for forensic review of events and to help make changes to enhance security where needed.
An integrated system can also address health and safety issues. Each access control card can be customised to allow entrance only to those areas where an individual employee is authorised and trained to be – helping to protect worker safety. Video and access systems can help ensure that maximum capacity for areas is not exceeded. By linking employee health profiles into the access database, an integrated security system can help ensure that workers are not X-rayed beyond safe limits.
Multiple systems can add to the complexity of mine security. Having different strategies for dealing with each system increases risk and reduces effectiveness. But using an integrated platform provides mines with a single, cohesive and well thought-out security strategy and single point of control for the entire facility, customised according to the risk profile of that specific environment. This improves overall security, while decreasing risk and assisting with assurance of health and safety compliance.
Integrated security solutions also offer substantial savings potential for mines. Mining organisations can yield higher profits by preventing and deterring theft and loss of assets. Those higher profits, along with a decreased risk profile, can improve share value. Improved security also helps to protect the miners from exploitation by organised criminals. Lowering the success rate of theft attempts makes it more difficult for syndicates to blackmail or otherwise use the miners to commit crimes against their employers. And the benefits of integrated security solutions go beyond preventing theft by offering operational tools for improved training, meeting regulatory and compliance issues, required certifications and more.
Mining is a highly competitive industry. Keys to profitability are volume and productivity. By enhancing security, health and safety and other operational issues through an integrated security platform, mine operators can take a critical, proactive step toward improving overall performance.
For more information contact Johnson Controls, +27 (0)11 921 7141, neil.cameron@jci.com, www.johnsoncontrols.com
Credit(s)
Further reading:
Convergence of cyber and physical security
Integrated Solutions Security Services & Risk Management
The overlap between cybersecurity and physical security will necessitate the integration of cyber and physical security in order to enable the sharing of events to the same security operations centre.
Read more...
---
Maximum fire protection for the most dangerous places
Securiton Fire & Safety Mining (Industry) Products
Africa's heavy mining and resource processing industries are some of the continent's leading economic lights. They also present some of its toughest fire safety challenges on the planet.
Read more...
---
Success in business process best practices
Technews Publishing Kleyn Change Management Editor's Choice Integrated Solutions Security Services & Risk Management
This month we commandeer time with the woman who is spearheading our national conversation on Women in Security, Lesley-Anne Kleyn, to get to know the lady herself a little better.
Read more...
---
Unlock seamless security with integrated products
Secutel Technologies Integrated Solutions Products
By combining SecuVue and Secutraq, Secutel has created a system that enables users to configure analytics, facial recognition, pose detection, and XFS among other security triggers modern service providers require.
Read more...
---
Integrated guarding services
XtraVision Integrated Solutions Access Control & Identity Management Industrial (Industry)
XtraVision offers a few tips on how to go about planning and setting up an integrated approach to sustainable and successful security services, from the initial risk assessment to the technology and people required.
Read more...
---
Paxton secures multi-tenant office in Cape Town
Paxton Integrated Solutions Access Control & Identity Management Products
Cecilia Square in Paarl, Cape Town is an office building from where several businesses operate. The multi-tenant site has recently undergone a full refurbishment, including a complete upgrade of its security system for access control.
Read more...
---
Bi-directional integration of Gallagher and Qognify
Gallagher Integrated Solutions Products
In a world of converging technology ecosystems, siloed solutions are no longer viable; this applies in particular to physical security, where only combined information enables a comprehensive assessment of a situation and a timely response.
Read more...
---
Qognify integrates with Johnson Controls Security Products
Integrated Solutions News Products
The integration of Qognify VMS and Kantech EntraPass enables users to better understand situations based on the synchronisation of event and video data, allowing a faster and more targeted response to event-based scenarios.
Read more...
---
The importance of the operator's frame of reference
Leaderware Editor's Choice CCTV, Surveillance & Remote Monitoring Security Services & Risk Management Mining (Industry)
The better the operator's frame of reference and situational awareness, and the more informed they are in dealing with CCTV surveillance in the mining industry, the more successful they are likely to be in surveillance.
Read more...
---
The art of drive and focus
Technews Publishing Editor's Choice Mining (Industry)
Riette Smeda did not find security, security found her. In doing so, she found an environment where grit and determination make all the difference in a country where crime pays.
Read more...
---