printer friendly version
Powell Tronics hosts open day
June 2013
News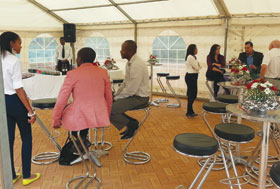 Powell Tronics is a household name in the security distribution business and has offices in Cape Town, Johannesburg, Durban and Port Elizabeth. The company is home to a number of well-known brands from the local Impro Technologies and ET Systems, to Morpho biometric readers and most recently Golmar, manufacturer of IP-based intercoms.
The company held an open day at its Johannesburg office in April, where partners, customers and end users were able to speak to Powell Tronics employees and see and interact with a range of products on display. Starting off with the local displays, Powell Tronics had its range of door locking and closing products on display, among others, while local manufacturer Impro also had its latest access technologies on display.
Impro is proving that multiple access methods in a single device is a popular option and is selling its products within and outside of South Africa's borders. One device the company had on display, the BMTA (Biometric Multi-Discipline Time and Attendance terminal), offers a selection of card, PIN and biometric authentication on the same device as well as an LCD screen to convey short messages to the users. As with most manufacturers, Impro is also focused on integration, specifically of its products with other hardware and software.
The Morpho product range is also a good performer for Powell Tronics, according to MD John Powell, who says the business has been performing well since Morpho appointed additional resellers.
The latest brand in the Powell Tronics stable is Golmar. Powell was on hand to demonstrate a range of IP intercom options that connect directly to a corporate network without the need for a gateway. The systems on offer from Powell Tronics can manage small installations up to large estates with up to 9000 users (or apartments).
Golmar intercoms can be integrated to existing access control systems and, depending on the product selected, can transmit voice, video or both, and can also allow users to record the access events for future reference.
While Powell Tronics is better known for the brands it distributes, Powell says a large part of its business is assisting installers in larger projects and developing the software required for integrating its products to third-party systems. The company has a dedicated development team experienced in developing reliable applications for customers. The company also offers training on its product range to its customers and can also offer resellers training on specific applications they will need to know when operating on a particular project.
For more information contact Powell Tronics, +27 (0)11 234 6990, sales@powelltronics.co.za, www.p-tron.com
Further reading:
Olarm launches the Olarm LINK
Olarm Perimeter Security, Alarms & Intruder Detection News Products
Building on the success of smart-enabling, monitoring and controlling alarm panels and electric fences, Olarm has a new solution for customers to integrate gates, garage doors, pumps and other electrical products with the Olarm APP and Olarm PRO communicator.
Read more...
---
Ultimate smart monitoring and reliability
Olarm Perimeter Security, Alarms & Intruder Detection News Products
Olarm is gearing up to unveil its latest product, the Olarm MAX, set to be available in late 2023, which will redefine smart monitoring by offering unparalleled connectivity options and functionality.
Read more...
---
Insights from the 2023 Cloud Security Report
News Cyber Security
Increased costs, compliance requirements, hybrid and multi-cloud complexities, reduced visibility, and a lack of skilled practitioners cause organisations to slow or adjust their cloud adoption strategies.
Read more...
---
New algorithm for OT cybersecurity risk management
Industrial (Industry) Cyber Security News Commercial (Industry)
OTORIO's new risk management model and attack graph analysis algorithm technology, calculates OT cybersecurity threats and provides risk mitigation actions, prioritised according to actual exposure and potential impact on operations.
Read more...
---
Robots: a security opportunity or a threat?
Editor's Choice News Conferences & Events
Professor Martin Gill, Director of Perpetuity Research & Consultancy International and the School of Criminal Justice at the University of South Africa (UNISA), will be holding a Global Thought Leadership Security webinar on 22 June 2023 to discuss the contentious issue of robots operating in the security industry.
Read more...
---
UNISA sponsors Securex seminars
Editor's Choice News Conferences & Events
As part of UNISA's 150-year birthday celebrations, UNISA has sponsored the Securex Theatre Seminar Programme, which will include a number of prominent industry specialists, academics and security practitioners focusing on a number of themes.
Read more...
---
Facilities Management Seminar Theatre
Securex South Africa News
The free-to-attend Facilities Management Seminar Theatre, powered by Broll, delivers information on the latest market trends, thereby keeping attendees up to date on solutions and technology centred on increasing facility system optimisation.
Read more...
---
The latest security trends at Securex South Africa 2023
Securex South Africa News Conferences & Events Training & Education
Security technology evolves at a blistering pace, so it's important to keep up to date with changing trends in order to ensure maximised safety of human and personal assets. The Securex Seminar Theatre, powered by UNISA, is the place to be.
Read more...
---
Sustainability School opens for enrolment
Education (Industry) News Security Services & Risk Management
Three-part programme, first developed for Schneider Electric employees, is now available for free for companies worldwide. Attendees learn how to future-proof their businesses and accelerate their decarbonisation journeys.
Read more...
---
From the editor's desk: Get Smart
Technews Publishing News
Welcome to the fourth issue of Hi-Tech Security Solutions for 2023, which is also the first issue of Smart Security Solutions. As noted in previous issues, Hi-Tech Security Solutions has been rebranded to Smart Security Solutions.
Read more...
---