printer friendly version
TOA N-8000 IP intercom system
May 2013
IT infrastructure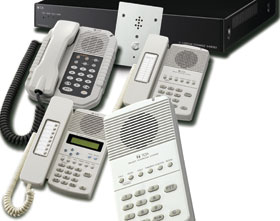 The TOA IP intercom system consists of IP to IP (standalone) stations and two and four-wire controlled 16-port exchange based systems, all of which can be integrated with each other to provide multiple options depending on the geographic layout and user requirements.
The newly expanded TOA N-8000 Series IP Network Intercom offers flexible communications for up to 3072 stations on existing corporate local and wide-area data networks. The new IP intercom products occupy minimal network bandwidth (130 Kbps maximum) for station-to-station calls and can be controlled and monitored through software or Web browser. Programmable system functions include 192 paging zones, time-based call forwarding and scan monitoring.
The backbone of the new system is the compact N-8000EX Exchange which supports 16 stations and occupies only one rack space. Features include a 10/100BaseT port for connection to standard network hardware and two paging audio outputs. Larger systems can be easily configured with up to 192 exchanges and 3 072 stations. The N-8000MI Multi-Interface Unit features telephone interface, BGM input, paging outputs, control signalling plus functions as an interface to legacy TOA EXES intercom systems. Three new station exchanges have now been introduced, further expanding the system's capabilities. In addition, the N-8400RS Exchange uses a new line of 4-wire substations. These allow easy retrofit and upgrade of existing 2 and 4-wire systems.
Two-wire stations include the N-8000MS Multifunctional Master Station, equipped with a 32-character alphanumeric LCD display, handset and speed dial functions; the N-8010MS Standard Master Station with keypad and handset; the N-8020MS Industrial Master Station, built to withstand severe environmental conditions; and the N-8011MS Hands-Free Master Station offering hands-free simultaneous two-way (duplex) communication via an ambient noise sensing function. For custom station applications, TOA offers the N-8031SB Hands-free Master Station Board Unit and the N-8050SB Hands-free Substation Board Unit.
The N-8510MS IP Master Station provides the same functionality as the 2-wire N-8010MS. The N-8600MS IP Multifunctional Master Station with LCD display and the N-8650DS weather-resistant IP Door Station are now available too.
A new line-up of optional IP interfaces allows expanded system operations. These include: the N-8000AL Analogue Phone Interface, which allows any standard analogue phone to be used as a master station. The N-8000AF Audio Interface provides audio signal connections to paging amps, playback sources, recording devices and schedule clocks. It also incorporates a built-in bell scheduler and tone library for classroom change signals.
Up to 16 different schedules of 64 events each may be programmed. The N-8000CO Outside Line Interface provides access to an outside telephone line for dial-in calling, paging and control, as well as outbound forwarding of calls made to master stations. Lastly, the N-8000DI Direct Interface provides contact 'Ins and Outs' for control of paging amps, door/gate access, CCTV camera call-up and LED status panels. It may be accessed by standard controls or dialling commands from any master station on the network.
The system is a server-free system. As a result, the rest of the system will continue to function if any unit is disabled. No licence is required.
For more information contact TOA Electronics Southern Africa, +27 (0)11 608 1477, [email protected], www.toa.co.za
Further reading:
Cyber resilience is more than cybersecurity
Technews Publishing Cyber Security Integrated Solutions IT infrastructure
Hi-Tech Security Solutions held a round-table discussion focusing on cyber resilience and found that while the resilience discipline includes cybersecurity, it also goes much further.
Read more...
---
Reliable, low-maintenance video appliances
Technews Publishing Editor's Choice CCTV, Surveillance & Remote Monitoring News IT infrastructure Products
Symetrix, part of the Agera Group, has added the AES range of video recording servers, storage appliances and workstations to its portfolio.
Read more...
---
Infinidat a leader in ransomware protection
IT infrastructure Products
InfiniSafe brings together the key foundational requirements essential for delivering comprehensive cyber-recovery capabilities with immutable snapshots, logical air-gapped protection, a fenced forensic network, and near-instantaneous recovery of backups of any repository size.
Read more...
---
What's the difference between SASE, SD-WAN and SSE?
IT infrastructure
When it comes to the wide area network (WAN), the letter 'S' plays a pivotal role – from SASE to SD-WAN to SSE – but there can be some confusion with so many WAN 'S' acronyms.
Read more...
---
Cold chain integrity in real time
Technews Publishing Editor's Choice Asset Management, EAS, RFID IT infrastructure Transport (Industry) Logistics (Industry)
DeltaTrak offers real-time farm-to-fork IoT monitoring of the cold chain to ensure every step of the journey is recorded and verifiable via the cloud.
Read more...
---
BCX and Alibaba Cloud confirm partnership
News IT infrastructure
BCX and Alibaba Cloud have formed a partnership to bring cloud technologies to businesses in South Africa to drive local digitalisation.
Read more...
---
IoV – the cutting edge of vehicle automation
Integrated Solutions IT infrastructure Transport (Industry) Logistics (Industry)
Today's cars have become bona fide connected machines and not merely an extension of our mobile devices such as smartphones.
Read more...
---
Advanced technologies to curb corruption
News Cyber Security IT infrastructure
The use of advanced technology to curb fraud, corruption and cyber-related crimes received a massive boost as the Council for Scientific and Industrial Research (CSIR) and Special Investigation Unit (SIU) agreed to work together.
Read more...
---
DMaaS is the solution to hybrid cloud complexity woes
IT infrastructure
After an initial scramble to move everything to the cloud, companies are increasingly moving to a hybrid cloud environment, with a mix of private and public cloud infrastructure and services, coupled with on-premises storage.
Read more...
---
The current and future state of smart OT security
Technews Publishing Industrial (Industry) Cyber Security IT infrastructure
Nearly 60% of survey respondents also revealed that their organisation suffered at least one OT breach during the past 12 months, with 10% experiencing four or more.
Read more...
---