printer friendly version
IP alarm panel communication
May 2013
Perimeter Security, Alarms & Intruder Detection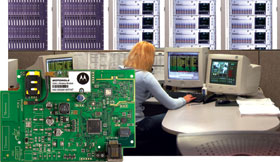 That is according to Ingo Mutinelli, national sales manager for Elvey Security Technologies, who says broadband technology is being increasingly used by high-end alarm manufacturers and installers heeding the public's need to improve their personal security levels. He believes cellphone technology's use in fields such as alarm monitoring is likely to gain momentum this year on the back of significant movement in the Internet and telecoms space.
Benefits
The GSM/GPRS Alarm Communicators come with a host of benefits, not only for end-users but also installers. The GPRS channel of the GSM network offers full data reporting and remote management, which save on installation time and costs. What is more, the saving of costs associated with sending signals over telephone lines will pay for the alarm communicator, which has minimal data transmission costs attached to it. And its 128-bit AES signal encryption ensures the highest level of data security of any alarm communicator on the market."
The DSC GS2060 GSM/GPRS Wireless Alarm Communicator offers alarm reporting paths which can be combined through the Public Switched Telephone Network (PSTN) as well as the GSM/GPRS channels. What is more, it is able to use the GPRS data channel as a back-up to ensure high speed, reliable and secure alarm communications. With this feature, any concerns about phone line disruption can be permanently put to rest."
DSC's Internet and GSM/GPRS Dual-Path Alarm Communicator uses existing Internet connections and the GPRS data channel of the GSM network to ensure high speed and reliable alarm communications. When connected to the compatible alarm panel, installers can combine alarm reporting paths through PSTN, Internet and GSM/GPRS channels, thereby eliminating the need for dedicated phone lines and the accompanying risk of line interruption.
The GSM/GPRS backup feature dispels fears about Internet service or equipment disruptions owing to the fact that the communicator alarm signal can be sent to either the primary receiver, or to both the primary and backup receivers at the central monitoring station, thereby providing a fully redundant solution.
Panel compatibility
Those with concerns about their existing panels being incompatible with Sur-Gard System III base stations can make use of the T-Link Universal IP Alarm Communicator, says Mutinelli. "This is a valuable addition to the T-Link family of Internet/network alarm communicators since it is able to use existing IP networks. Simple and cost-effective to install, it will communicate with any control panel (including third-party manufacturers) that uses Contact ID format."
The result is a fully supervised security solution that provides flexibility and an always-on, two-way line of communication, further enhanced by the TL300 communication stream, which requires only a limited amount of network bandwidth. This ensures that the integrity of the data being transferred never becomes compromised. In the interests of security, the module uses industry-leading, 128-bit AES encryption, polling and hardware substitution protection.
The communicator connects directly to the telephone output of a control panel, creating a TCP/IP connection that sends predefined Contact ID codes to the central monitoring station. To ensure dependable and timely event notification, reporting is sent to two different receiver IP addresses. This back-up feature ensures that communication will continue should one of the IP addresses go down. Mutinelli says the module can also be programmed to communicate events to two different e-mail addresses, which can be associated with a personal computer, pager, enabled mobile phone or personal digital assistant (PDA).
Monitoring stations
Monitoring stations using the DSC base station enjoy many benefits. The best investment is a system that can be expanded as the company grows, and preferably one that uses individual line cards. Phone and network line cards can be used to create one integrated monitoring solution. This type of system not only reduces start-up costs but makes for easy expansion since the number of line cards can be increased as the business grows.
"IP technology is current and improving every day," concludes Mutinelli. "More households are having ADSL lines installed, leaving the way clear for installers to offer IP alarm communication to end users wanting to significantly increase their levels of security. Accordingly, we urge security companies that offer monitoring services to embrace the future today, in the interests of their clients' safety and their businesses' growth."
For more information contact Elvey Security Technologies, +27 (0)11 401 6700, [email protected], www.elvey.co.za
Credit(s)
Further reading:
Olarm launches PRO 4G communicator
Olarm News Perimeter Security, Alarms & Intruder Detection Products
Olarm has announced an additional 4G/LTE version of its Olarm PRO smart communicator. It is aimed at areas suffering from poor connectivity by providing support for 4G, 2G and Wi-Fi networks.
Read more...
---
Jaco van Wyk joins Olarm in Johannesburg
Olarm News Perimeter Security, Alarms & Intruder Detection
Jaco van Wyk has joined Olarm as its partner manager in Gauteng; he has strong technical security and client service experience in the South African market.
Read more...
---
GJD launches new range of white-light floodlights
Perimeter Security, Alarms & Intruder Detection Products
GJD has announced the launch of its new range of floodlights, combining high-quality LED technology with a modern and aesthetically pleasing design suitable for all outdoor lighting applications.
Read more...
---
Fotech and C3SS launch technology partnership
C3 Shared Services News Perimeter Security, Alarms & Intruder Detection
Fotech has signed a non-exclusive MOU with C3SS, a South Africa-based perimeter and infrastructure security company, to target specific African markets.
Read more...
---
FlipX: new indoor detectors
Perimeter Security, Alarms & Intruder Detection Products
Installers and end-users in EMEA can now take advantage of FlipX, a new range of flexible indoor sensors from OPTEX that feature a bespoke pyroelectric sensor for increased performance.
Read more...
---
JVA Perimeter Patrol 6 monitoring software
Stafix Perimeter Security, Alarms & Intruder Detection
Stafix Electric Fence and Security Centres now provides the latest JVA Perimeter Patrol 6 package for standalone and piggyback electric security fence solutions.
Read more...
---
360° perimeter intruder detection
Technews Publishing Perimeter Security, Alarms & Intruder Detection Residential Estate (Industry) Products
Radar is becoming a more common solution for estates with large open areas and long perimeters to protect, as intruders can be automatically detected and tracked.
Read more...
---
Gallagher launches Tech Talk
Gallagher News Access Control & Identity Management Perimeter Security, Alarms & Intruder Detection
Gallagher has announced the launch of its new Security in Focus podcast series called Tech Talk, hosted by chief technology officer Steve Bell.
Read more...
---
Preventing theft wirelessly
Elvey Security Technologies Perimeter Security, Alarms & Intruder Detection
One hundred MotionCam Outdoor cameras, four HUB2 Plus units and the Desktop Pro 3.0 from Ajax protect a large outdoor environment from theft and vandalism.
Read more...
---
Ajax solves security communication range issues
Elvey Security Technologies Perimeter Security, Alarms & Intruder Detection
A large casino situated in Polokwane required an upgrade of its security system to cater to the needs of the multi-storey building, including reliable wireless communications.
Read more...
---