printer friendly version
National Gambling Board gets complete security solution
May 2013
CCTV, Surveillance & Remote Monitoring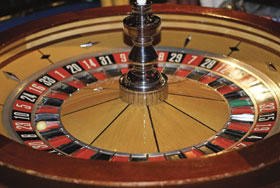 The National Gambling Board (NGB), as the agency of the Department of Trade and Industry (DTI) that is responsible for the oversight of matters relating to casinos, gambling, betting and wagering in South Africa, is subject to severe security requirements. In order to achieve compliance with the DTI's standards and requirements, the regulator approached the SBD Group to install a turnkey security solution in the NGB's new offices.
SBD, an existing partner of the NGB, was provided with the specifications around what was needed, and proposed a complete solution that included access control, a full biometric system, and a full audio-visual installation in the regulator's main boardroom which included video conferencing. The foundation of this comprehensive system lies in the video cameras, and SBD turned to its distributor of choice, Miro, for the cameras as well as the switches and software required to run the installation.
"We proposed the Vivotek range of cameras to the client because of the quality of the product," says SBD's Adrian Kriel. "We installed the full range of cameras, from the fish eyes to the domes and everything in between, as well as the switches and Vast software to run the system."
The Vivotek range of cameras offers excellent picture clarity, delivering extremely clear and detailed images, making them ideal for an environment like the NGB offices. Ideal for locations and situations requiring accurate identification, the Vivotek cameras support tamper detection, which detects data loss from camera tampering in real-time. When the camera is blocked, redirected, or spray-painted, security staff will be alerted immediately in accordance with the camera settings.
In order to adapt to constantly changing lighting conditions, the outdoor cameras feature a removable IR-cut filter as well as IR illuminators effective up to 15 metres for superior image quality around the clock. For protection against harsh outdoor environments, the cameras are encased in IP66-rated housings and weatherproof casings to withstand rain and dust.
"We opted to use Miro, and the Vivotek range, for three simple reasons: the clarity of the cameras, the sustainability of the solution and good service," says Kriel. "In addition to the excellent service we are used to receiving, Miro's assistance on this project was exceptional because we were given a very short turnaround time. Izelle Vermeulen was phenomenal. We had a week to get all of the products in, and somehow she managed to make it happen."
Vermeulen explains that Miro's focus on customer service, as well as her longstanding relationship with SBD, made delivery on the tight deadline non-negotiable. The entire project lasted two months, with very few installation issues. Where there were a few teething problems with the software, Kriel says that Miro helped resolve the issues within days. "The software provides a powerful hierarchical system for an unlimited amount of stations and cameras with full functionality for diverse applications. In a complex installation like this, it is essential that everything functions perfectly."
For more information contact Miro Distribution, 086 123 MIRO, [email protected], www.miro.co.za
Credit(s)
Further reading:
Antarctic surveillance
Dahua Technology South Africa CCTV, Surveillance & Remote Monitoring
Dahua Technology donated 15 security cameras to different scientific bases in the Argentine region of Antarctica; the cameras were especially developed to handle the harsh climate and extreme weather conditions in the area.
Read more...
---
Deep learning engine set to supercharge end-to-end solutions
CCTV, Surveillance & Remote Monitoring
IDIS, manufacturer of South Korean-made video technology, will be displaying an exciting line-up of end-to-end video solutions that include the latest advances in AI-powered video analytics for businesses of any size, at this year's Intersec.
Read more...
---
Realistic image quality even in dark environments
Dahua Technology South Africa CCTV, Surveillance & Remote Monitoring
The 4K video surveillance market size is expected to grow at 9 percent CAGR (compound annual growth rate), which is primarily driven by the increasing demand for public safety and security services.
Read more...
---
Cloud-based forensic video searching
CCTV, Surveillance & Remote Monitoring
Arcules introduces Forensic Video Search to empower rapid event identification within its video cloud service, providing a critical tool to help businesses identify specific objects or events in seconds.
Read more...
---
Minimising fire risks in automotive logistics
Hikvision South Africa CCTV, Surveillance & Remote Monitoring Products Logistics (Industry)
Automotive logistics company uses thermal imaging solution from Hikvision to ensure its stores of lithium batteries for electric vehicles never overheat and cause a fire.
Read more...
---
Axis launches P3265-LVE dome camera
Axis Communications SA Products CCTV, Surveillance & Remote Monitoring
Based on ARTPEC-8 — the latest Axis system-on-chip (SoC) — Axis' latest dome high-performance camera includes a deep learning processing unit (DLPU), and cybersecurity features.
Read more...
---
Smart car parking solution eases traffic flow
Dahua Technology South Africa CCTV, Surveillance & Remote Monitoring Integrated Solutions Products
Ethiopia's first smart parking lot, designed to improve traffic flow and management efficiency, has been built and installed using Dahua Technology's smart parking solutions.
Read more...
---
VMS 7.2 supports the investigation process and adds cloud capabilities
CCTV, Surveillance & Remote Monitoring Integrated Solutions Products
Qognify has launched the second release of its VMS, including extended support for body-worn video, additional functionalities to support investigations, and a new web client architecture. VMS 7.2 addresses the increasing use of body-worn video (BWV) across many sectors.
Read more...
---
The future of AIoT
Hikvision South Africa News CCTV, Surveillance & Remote Monitoring
Hikvision hosted its 2022 Shaping Intelligence Summit in Bali, Indonesia, on 29-30 November, where the company, its customers, and technology and solution partners, looked into the future of AIoT and explored paths to shared success.
Read more...
---
A comprehensive video solution for retail
LD Africa Retail (Industry) CCTV, Surveillance & Remote Monitoring Products
Retail Intellect is a comprehensive, flexible solution for retailers that matches technologies to ensure point-of-sale safety and security with video analytics.
Read more...
---