printer friendly version
Video surveillance for the banks
May 2013
CCTV, Surveillance & Remote Monitoring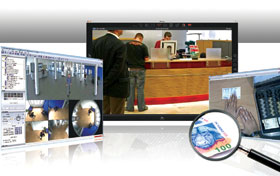 Banks must meet their customers' requirements for security in a special way on many levels. Whether it is with their savings, taking advantage of over-the counter services at a branch office, withdrawing money from the teller machines, making deposits via the cash recycling system, online banking etc. For a long-lasting, trusting cooperation with a bank, customers demand the highest possible level of security. In order to fulfil these demands, banks rely on sophisticated hardware and software solutions that can be easily and efficiently expanded.
In Germany the regulations for the banking sector have specified requirements for video surveillance systems to prevent robberies and to protect the bank staff. The main provisions of this regulation are as follows:
* The quality of the images must enable the perpetrators and the different stages of a robbery to be identified.
* The recording must encompass a period beginning 15 minutes before and continuing for 15 minutes after an alarm.
* The recording speed must be one image per second before an alarm and two images per second after an alarm.
When it comes to future-proof video surveillance systems in banks, it is not a matter of analogue or digital; it is a question of high resolution or not. It is a fact, high-resolution video produces more data and requires a powerful storage concept. These days, video data is normally pre-processed and stored centrally on a PC with video management software or on a DVR. Video and audio streams from all installed cameras are directed to this central device. This system is comparable to a highway at rush hour: the more cameras there are, the quicker there will be a data overflow on the PC or DVR. This means that despite HD cameras, the data is generally not stored in high-resolution format.
Mobotix solves the storage bottleneck problem in the following way: high-resolution video images, including sound, are stored decentralised in or at the camera on flash memory media (normal 16 GB MicroSD/SD or CF cards, USB mass storage).
The Mobotix banking camera model combines the accident prevention certification required for bank applications with the highest possible data security and high image quality. For the cameras used in ATMs, Mobotix offers a special integration set that is installed directly in the cash machines and documents the cash output. The high image resolution means that fewer cameras are needed, and the internal flash recording eliminates the need for additional recording devices. Thanks to its 3,1 megapixel image sensor, a Mobotix camera achieves several times higher image detail than a CCTV camera, allowing it to recognise serial numbers of bank notes and credit cards details. Mobotix HD video can even capture the serial number of a bill from a distance of two metres.
High-resolution images deliver more detail. Thus, fewer cameras are needed overall. For example, one camera can be used to monitor two teller areas at the same time. A typical branch situation: in addition to the bank cashier, the entrance and teller areas also need to be monitored. It used to be necessary to install several cameras for this. Now, however, you can deploy a single Mobotix camera with wide-angle and tele-lenses to monitor multiple cash desks simultaneously. Cameras from Mobotix have a microphone and loudspeaker. This enables you to protect your bank and prevent robberies with audio recording as well as video.
Advantages for banks
* Fewer cameras and cables are needed.
* No procurement costs for software.
* No ongoing licence expenses.
* Minimal investment and operating costs.
* A complete system.
* Maintenance-free, robust and durable technology.
For more information contact Cliff Nel, IAC, +27 (0)12 657 3600, [email protected]
Credit(s)
Further reading:
Turkish university installs IDIS surveillance
CCTV, Surveillance & Remote Monitoring Products
IDIS video streamlines complex surveillance systems for learning institution, upgrading a 350-camera system with 24/7 control room monitoring to transform security for Social Sciences University of Ankara (ASBU).
Read more...
---
Brighter, greener, and smarter
Dahua Technology South Africa Products CCTV, Surveillance & Remote Monitoring
Dahua Technology released its new Dahua CH II Series Indoor Fine Pixel Pitch LED display, providing visual clarity and promoting energy efficiency and sustainability.
Read more...
---
Smart water management
Axis Communications SA CCTV, Surveillance & Remote Monitoring Integrated Solutions
South Africa is currently facing a water crisis, with scarcity and inefficient water management posing significant challenges to sustainable, consistent access to water. Smart technology and powerful partnerships may offer a proactive solution to SA's water crisis.
Read more...
---
Helping retailers optimise monitoring and security
Guardian Eye Retail (Industry) CCTV, Surveillance & Remote Monitoring
From a smart retail perspective, it is crucial to understand that monitoring stock and other assets through camera surveillance and a variety of Internet of Things (IoT) sensors stretches further than the stores themselves.
Read more...
---
Empowering Istanbul's public transportation
Dahua Technology South Africa CCTV, Surveillance & Remote Monitoring Integrated Solutions
Dahua's intelligent transportation solution, using technologies like DSM and AI-based passenger flow counting, has facilitated an intelligent system upgrade for nearly 6 400 minibuses and electric buses in Istanbul.
Read more...
---
Smart manufacturing redefined
Hikvision South Africa CCTV, Surveillance & Remote Monitoring Industrial (Industry)
AI and intuitive visualisation technology allows managers to monitor manufacturing sites, production, and operational processes, and to respond in real time in the event of an issue – helping to drive efficiency and productivity.
Read more...
---
AI is getting smarter, and critical infrastructure is set to benefit
Axis Communications SA CCTV, Surveillance & Remote Monitoring
With technology advancing at an astonishing pace, AI has emerged as a defining trend in today's business arena. Enterprises across all sectors are prioritising this technology, embracing its transformative potential to drive change and growth.
Read more...
---
Collaboration delivers integrated and holistic security
Guardian Eye CCTV, Surveillance & Remote Monitoring News Integrated Solutions
Guardian Eye and Lytehouse have partnered to integrate their speciality solutions and provide a holistic security offering that overcomes the fragmentation of security systems and services.
Read more...
---
Manage security systems remotely
Hikvision South Africa CCTV, Surveillance & Remote Monitoring IT infrastructure Products
Hikvision launched a new generation of smart managed switches that, in conjunction with the Hik-Partner Pro mobile app, enable installers to remotely deploy and configure security systems with comprehensive operation and maintenance capabilities.
Read more...
---
Synology enhances functions for advanced surveillance integration
Technews Publishing CCTV, Surveillance & Remote Monitoring IT infrastructure Products
With the capability to function as both an API client and server, Surveillance Station offers a versatile platform for integration, whether it's embedding video streams into other platforms or overlaying external data onto recorded video.
Read more...
---