printer friendly version
Security and retail ­operations in one
May 2013 CCTV, Surveillance & Remote Monitoring, Retail (Industry)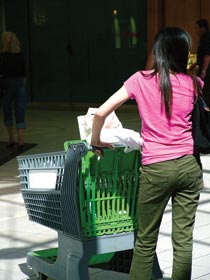 Retail Operations Management (ROM) is the latest approach in CCTV solutions by using POS interfacing. ROM uses video analytics for shrinkage control and operational management and was developed by Mike Green, development engineer at Frank Street.
ROM is a way to improve retail operations by integrating software and high megapixel IP CCTV cameras into a business management programme for effective management of sales, cashier performance, predicting customer flow patterns, queue management and retail security monitoring. ROM is an effective business management tool with many features including:
Surveillance: ROM is a standalone/network based software package that enables the operator to use CCTV cameras for the dual purpose of security and operational management. This is done by using video analytics to monitor store functions through the retail operation.
Effective management: ROM provides an effective management tool which enables the retailer to plan and monitor cashier staff, customer service and store layout for maximum effectiveness. Using Cashier Performance Monitoring (CPM), Queue Management (QM) and Customer Flow Monitoring (CFM) modules, the user can view cashier performance, queue length statistics and customer flow patterns on a live control dashboard for an overview of the stores performance. 
Easy to Use: With an easy to use GUI, the retailer can have full control over store management.
ROM is a client/server-based application that: connects to the NUUO or PELCO DVR system and performs background analytics on the configured cameras for queue management and customer flow patterns. The ROM server also links to the retailers POS environment for cashier performances, monitoring and analysis.
The ROM client is the store manager's interface that provides a live dashboard view of cashier performance, queue lengths and customer flow throughout the store. It also provides a report and forecasting manager to examine and report on store performance.
The ROM modules are available as three separate modules which can be included or excluded from the system depending on the retailer's specific requirements.
CPM (Cashier Performance Monitoring) module: The CPM monitors the cashiers scan rate and the time between transactions. This, combined with the frequency that the cashier requires supervisor assistance is used to measure the cashier performance index.
CFM (Customer Flow Monitoring) module: Measures customer flow through the operation. Information can be used to plan placement of specials or place floor personnel to a required department. CFM can also be used as a tool to aid with stock placement.
QM (Queue Management) module: Used for measuring queue lengths and customer progress through the queue. The queue is monitored by overhead CCTV cameras which analyse the queue looking and tracking customer movement.
These provide the operations manager with a method of retrieving, printing, sharing and archiving extensive reports from the data gathered by the three main modules. With a few clicks of a mouse the operations manager can have extensive reports and forecasts at his fingertips.
For more information contact Frank Street, +27 (0)11 496 2300, [email protected], www.frankstreet.co.za
Credit(s)
Further reading:
Avoiding human error at ports
LD Africa Transport (Industry) CCTV, Surveillance & Remote Monitoring Products Logistics (Industry)
LD Africa introduced a local port to the AxxonSoft Port Security System ,a solution that helps overcome the element of human error and eliminate paperwork.
Read more...
---
Compact, lightweight bullet cameras with support for analytics
Axis Communications SA Products CCTV, Surveillance & Remote Monitoring
Axis Communications announced two new outdoor-ready bullet-style cameras featuring deep-learning processing units for analytics based on deep learning on the edge.
Read more...
---
Numerous challenges for transport and logistics
Transport (Industry) CCTV, Surveillance & Remote Monitoring Security Services & Risk Management Logistics (Industry)
Operators are making significant investments in automation and digitalisation in order to address security concerns, improve loss prevention as well as efficiency, and reduce unit order costs.
Read more...
---
A key to urban transport challenges
Axis Communications SA Transport (Industry) CCTV, Surveillance & Remote Monitoring Integrated Solutions Logistics (Industry)
There are many enabling technologies that can impact transportation in South Africa, but a good place to start is by considering the applications for smart physical technology with the ability to collect and respond to data.
Read more...
---
Hikvision aims for solutions
Technews Publishing Hikvision South Africa Editor's Choice CCTV, Surveillance & Remote Monitoring News Integrated Solutions Conferences & Events
Hikvision recently held a roadshow titled Industry X, where the company highlighted its latest products and solutions, supported by partners and distributors.
Read more...
---
Reliable, low-maintenance video appliances
Technews Publishing Editor's Choice CCTV, Surveillance & Remote Monitoring News IT infrastructure Products
Symetrix, part of the Agera Group, has added the AES range of video recording servers, storage appliances and workstations to its portfolio.
Read more...
---
A new full-colour era
Dahua Technology South Africa CCTV, Surveillance & Remote Monitoring
Traditionally, there have been two options for using surveillance cameras in the dark: flooding the scene with visible light, or alternatively using infrared (IR) illumination.
Read more...
---
AIoT delivers dynamic digital platforms
Hikvision South Africa CCTV, Surveillance & Remote Monitoring
Many stadiums or venues are seeking new, smart solutions that can help venue operators to stay on top of real-time situations dynamically on digitally driven platforms, and to achieve more efficient and sustainable venue management.
Read more...
---
Upgraded security and AI monitoring at upmarket estate
Watcher Surveillance Solutions Editor's Choice CCTV, Surveillance & Remote Monitoring Integrated Solutions Residential Estate (Industry)
Estate upgrades and enhances its security through a partnership between surveillance specialist Watcher and the incumbent guarding company.
Read more...
---
Security solutions that go the distance
Avigilon Logistics (Industry) CCTV, Surveillance & Remote Monitoring Asset Management, EAS, RFID Transport (Industry)
Avigilon self-learning video analytics help detect potentially critical events and issue an alert within the ACC dashboard, allowing officers to then verify event alarms.
Read more...
---