printer friendly version
Smart retail security solutions
May 2013
Access Control & Identity Management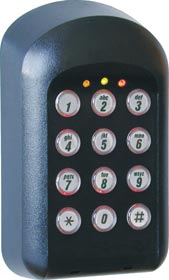 A recent article in a community newspaper highlighted the plight of small business owners in the area faced with an increase in business robbery during the first few months of the year. The article quoted a local police officer who explained that January and February normally see an increase in this sort of crime.
In fact, I remember from my time working as a site technician at a premier Johannesburg shopping centre that these holiday months (which also include November and December) were affectionately referred to as 'armed robbery season'.
While it is true that business robbery invariably spikes during the beginning and end of the year, the unfortunate reality is that this is a continuous threat against which must be safeguarded throughout the year. This is especially true for shopping centres and other retail establishments that have onsite parking offices that handle the immense amounts of cash generated by paid parking systems. Without adequate security – and without intelligent technology – criminals find it all too easy to force their way in and not only make off with the day's profit, but also put the lives of employees and patrons in danger.
The problem is twofold. Firstly, the retailer needs to find a way of keeping criminals out and, secondly, there needs to be an effective alert mechanism should lawbreakers be in the process of breaching the perimeter or have already done so. The problem, historically, has been that security equipment was extremely bulky and obtrusive and without much effort cluttered up control rooms.
Now, with the wireless slant that security technology has taken, it is possible to create an infrastructure that is highly effective, comprehensive and free from the constraints that until recently plagued the industry.
Control rooms, parking offices and other high fidelity areas can now be secured wirelessly thanks to access control devices like CENTURION's SmartGuardAir wireless keypad. Up to 1000 authorised users can all be allocated their own unique codes comprising one to 10 digits, while the upper echelons can rest easy knowing that there are no wires that can be cut, shorted or gnawed through by rodents. The SmartGuardAir can communicate wirelessly with up to 15 compatible devices, so an entrance gate, an alarm panel, a spotlight and myriad other devices can all be activated using a single unit.
Parking offices are often left vulnerable when the staff members inside the room have to open the gate for cash in transit companies (and I know of at least one instance – obviously an inside job – where robbers gained access to the office by posing as an employee of the parking management company, complete with uniform). The SmartGuardAir offers a limited uses feature, whereby a number can be allocated to an individual and set to only be valid for a limited number of activations.
This is ideal for addressing the problem posited above. The unit also offers a built-in panic feature whereby, upon pressing two of the keys simultaneously, a designated 'panic channel' is activated which can in turn be relayed to a third-party system.
Centurion also recently added the MyGSM range to its access control repertoire, giving retailers a way to monitor and control sites remotely using their phones. With this innovative GSM-based system, site surveillance no longer stops at the control room but becomes something that is dynamic, shrugging off the static qualities that once confined it.
And long gone are the days of security products only donning a single hat – that of security product.
For example, with eight inputs and eight outputs, the Centurion MyGSM 8O8I can be used for multiple applications in a retail setting: from energising electric fences to monitoring the ambient temperature in a server room to switching refrigeration units on and off, this device can accomplish virtually any monitoring/controlling task via a missed call, text message or even a Please Call Me. Add to this the fact that all programming and administration can be done via a user-friendly Web portal and the MyGSM 8O8I virtually constitutes a mini-control room on its own.
Credit(s)
Further reading:
Revamping Liberty Life's reception area
Turnstar Systems Access Control & Identity Management Commercial (Industry)
Turnstar supplied and installed four Speedgate Express lanes, each 550 mm wide, as well as two Pulse Special Needs Gates for wheelchair access to Liberty Life.
Read more...
---
Hybrid licence plate recognition
ZKTeco Products Access Control & Identity Management Transport (Industry) Logistics (Industry)
The ZKTeco LPRS2000 is a hybrid-recognition vehicle management terminal that combines the latest high-performance UHF reader.
Read more...
---
Suprema joins FiRa Consortium
Suprema News Access Control & Identity Management
Suprema recently became a member of the FiRa Consortium, a consultative body that establishes standards for ultra-wideband (UWB) technology, the next generation of wireless communication.
Read more...
---
Physical security at distribution centre
Turnstar Systems Transport (Industry) Access Control & Identity Management Products Logistics (Industry)
Turnstar's Velocity Raptors create a high-security physical barrier at Massmart's new 75 000 m2 distribution centre in Riversands, Johannesburg .
Read more...
---
Integrated smart parking management
ZKTeco Access Control & Identity Management Transport (Industry) Products Logistics (Industry)
ZKTeco smart parking management provides a solution for both small parking lots and busy multi-story car parks, providing maximum efficiency, transparency and security.
Read more...
---
UHF RFID standalone terminal
ZKTeco Products Access Control & Identity Management Transport (Industry) Logistics (Industry)
The U2000 increases access control functions and supports TCP/IP communication, Wiegand in/out, two relays, third-party electric locks, door sensors and exit buttons.
Read more...
---
PALMKI palm vein recognition technology
Access Control & Identity Management Products
Tactile Technologies has announced the launch of Palmki, a palm vein recognition solution developed and marketed by PerfectID, a Belgian company.
Read more...
---
ATG Digital launches solution for emergencies
Access Control & Identity Management Asset Management, EAS, RFID
ATG Digital has launched a Roll Call feature on its app to assist SHEQ managers and safety officers who cite attendance records in an emergency as one of their biggest challenges.
Read more...
---
UHF and Bluetooth multi-technology reader
Evolving Management Solutions Products Access Control & Identity Management
The SPECTRE nano offers hands-free identification of the vehicle and/or the driver, as well as interoperable and multi-protocol secure identification.
Read more...
---
Identity proofing allows easy virtual ID checks
Access Control & Identity Management Security Services & Risk Management
The identity verification market is expected to grow from $8 billion in 2021 to reach $17,7 billion in 2026 with a CAGR of 17,1%, and identity proofing in particular is gaining popularity.
Read more...
---