printer friendly version
Central Bank of Nigeria secured by CEM Systems
May 2013 Access Control & Identity Management, Financial (Industry)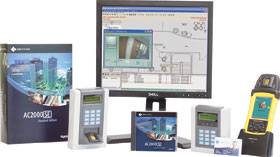 CEM Systems, from Tyco Security Products, announced that the Central Bank of Nigeria has selected the AC2000 SE (Standard Edition) access control and security management to secure many of its premises across Nigeria. The systems have been provided by CEM Approved Reseller Pentagon Distribution and will be installed by Geoffield and other local Nigerian integrators.
The Central Bank of Nigeria (CBN) is charged by the Federal Republic of Nigeria with the overall control and administration of the monetary and financial sector policies of the Federal Government.
"CEM AC2000 SE was chosen because it is a powerful and fully integrated security management system, offering powerful access control, alarm processing, photo badging, power management and integration to third-party systems," said Edward Van Trotsenburg, export manager, Pentagon. "CEM are also able to provide fully integrated biometric solutions with the S610f fingerprint reader and the S3030f portable fingerprint reader. This means that CBN can efficiently increase security levels at required areas."
"The Central Bank of Nigeria required an access control solution that provides the highest level of security and that is scalable to meet the needs of their different offices throughout the country now and in the future. AC2000 was the ideal solution to help CBN meet all their requirements," said Philip Verner, regional sales director, EMEA, CEM Systems. "The Central Bank of Nigera is one of many recent finance industry wins for CEM Systems and represents a growing trend for CEM in the sector and the African market."
AC2000 SE provides an advanced level of integration using industry standard interfaces to link to third-party systems. CBN required the AC2000 system to integrate with Bosch video interface in order to control video and access via one solution. AC2000 application Alarm Event Display (AED) responds to all alarm situations in real-time providing a dynamic on-screen interface to external CCTV systems with facilities for CCTV switching, remote door broadcasting and audio output in response to alarm events.
AC2000 VIPPS (Visual Imaging & Pass Production System) allows CBN administrators to produce professional quality permanent and temporary ID passes for staff and visitors. CBN also uses CEM's AC2000 WEB Visitors application. This application has all the power of the original AC2000 visitors feature but with the added benefit of being accessible via the Web. This means that users can log in remotely via a Web page to manage visitors without the need for client access control software on their PC.
To meet the requirement for minimal downtime on site, CEM's AC2000 Failover was selected to create a secondary server that can take over from the main server in the event of system failure. The switch between the two servers is automatic and results in zero data loss, with notification of the event being sent to system users and administrators immediately.
In addition to the numerous software options chosen by the Central Bank of Nigeria, a variety of CEM hardware solutions are used on site. CBN is installing CEM's S610e intelligent card reader, which gives full off-line validation and decision making at the point of entry, even when host communication is not available. The S610e also features a keypad and backlit LCD which provides meaningful messages to cardholders for example Wrong Time Zone, Lost/Stolen Card and Access Granted.
Given CBN's focus on providing the utmost security Pentagon together with Geoffield and the other installation partners are deploying CEM's S610f biometric fingerprint readers in areas that required additional security. The CEM S610f is a fully integrated biometric and access control reader that is used to control access to restricted areas, which is managed and monitored by security staff using the AC2000 SE.
Additional hardware also included the S3030 Portable reader that can be used for ID card validation at temporary entrances which have no power, and can be used as a mobile device for random checks within pre-defined zones. The display of cardholder details on the reader such as Name, Date of Birth and Job Title and also cardholder photograph, allows for visual verification of cardholders.
Further reading:
Paxton opens first experience centre in South Africa
Paxton News Access Control & Identity Management
The new Paxton Experience Centre in Johannesburg is now open and welcoming security installers and end users who want to see Paxton's products in action.
Read more...
---
Securing a luxurious residential estate
Turnstar Systems Residential Estate (Industry) Access Control & Identity Management
Turnstar Systems recently partnered with Balwin Munyaka Residential Estate to secure the entrance to its Crystal Lagoon, ensuring only authorised residents and guests can access the site.
Read more...
---
Visitor management via QR code
ATG Digital Access Control & Identity Management Products
ATG Digital has launched its QR Code Reader to enhance access control's security and efficiency. The new QR Code Reader enables seamless, contactless access control, creating an efficient user journey.
Read more...
---
District secures activity centre
Paxton Access Control & Identity Management Products
Paxton's Net2 access control solution is a user-friendly and flexible networked access control system, which made installing and managing access control security at an activity centre straightforward.
Read more...
---
FutureBank and IDVerse partner to fight cybercrime
Cyber Security Financial (Industry)
Generative AI is breeding different fraud types, and cybercrime is predicted to become the biggest economy in the world in the next 18 months. FutureBank and IDVerse have joined forces to keep their customers safe.
Read more...
---
GardaWorld partners with Gallagher
Gallagher Access Control & Identity Management
Access control via facial recognition was at the top of GardaWorld's wish list, and Gallagher's integration with IDEMIA's VisionPass played a crucial role in delivering a seamless experience.
Read more...
---
ZK-IWB Series
ZKTeco Products Access Control & Identity Management
Experience the ultimate virtual meeting solution with ZKTeco's ZK-IWB system. Featuring a built-in 13-megapixel UHD camera and 6-microphone array, the solution ensures clear audio and video experiences with an 8 metre pickup distance.
Read more...
---
Security for critical industries
ZKTeco Government and Parastatal (Industry) Access Control & Identity Management
The traditional reliance on human observation and physical presence for security is being complemented and, in many cases, replaced by biometric technology to enhance risk management and ensure comprehensive protection.
Read more...
---
Access to nuclear plants
Suprema Access Control & Identity Management
Korea Hydro & Nuclear Power was in need of a fully redundant access control system that should provide enhanced performance while still being able to interoperate with existing equipment.
Read more...
---
Secure your site during outages
Paxton Access Control & Identity Management
The PaxLock Pro range is our collection of wireless, battery powered smart door handles. They are efficiently designed to consume minimal energy to operate, and the batteries generally last around two years.
Read more...
---