printer friendly version
Central Bank of Nigeria secured by CEM Systems
May 2013 Access Control & Identity Management, Financial (Industry)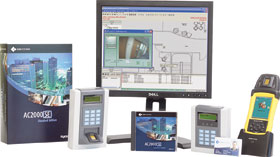 CEM Systems, from Tyco Security Products, announced that the Central Bank of Nigeria has selected the AC2000 SE (Standard Edition) access control and security management to secure many of its premises across Nigeria. The systems have been provided by CEM Approved Reseller Pentagon Distribution and will be installed by Geoffield and other local Nigerian integrators.
The Central Bank of Nigeria (CBN) is charged by the Federal Republic of Nigeria with the overall control and administration of the monetary and financial sector policies of the Federal Government.
"CEM AC2000 SE was chosen because it is a powerful and fully integrated security management system, offering powerful access control, alarm processing, photo badging, power management and integration to third-party systems," said Edward Van Trotsenburg, export manager, Pentagon. "CEM are also able to provide fully integrated biometric solutions with the S610f fingerprint reader and the S3030f portable fingerprint reader. This means that CBN can efficiently increase security levels at required areas."
"The Central Bank of Nigeria required an access control solution that provides the highest level of security and that is scalable to meet the needs of their different offices throughout the country now and in the future. AC2000 was the ideal solution to help CBN meet all their requirements," said Philip Verner, regional sales director, EMEA, CEM Systems. "The Central Bank of Nigera is one of many recent finance industry wins for CEM Systems and represents a growing trend for CEM in the sector and the African market."
AC2000 SE provides an advanced level of integration using industry standard interfaces to link to third-party systems. CBN required the AC2000 system to integrate with Bosch video interface in order to control video and access via one solution. AC2000 application Alarm Event Display (AED) responds to all alarm situations in real-time providing a dynamic on-screen interface to external CCTV systems with facilities for CCTV switching, remote door broadcasting and audio output in response to alarm events.
AC2000 VIPPS (Visual Imaging & Pass Production System) allows CBN administrators to produce professional quality permanent and temporary ID passes for staff and visitors. CBN also uses CEM's AC2000 WEB Visitors application. This application has all the power of the original AC2000 visitors feature but with the added benefit of being accessible via the Web. This means that users can log in remotely via a Web page to manage visitors without the need for client access control software on their PC.
To meet the requirement for minimal downtime on site, CEM's AC2000 Failover was selected to create a secondary server that can take over from the main server in the event of system failure. The switch between the two servers is automatic and results in zero data loss, with notification of the event being sent to system users and administrators immediately.
In addition to the numerous software options chosen by the Central Bank of Nigeria, a variety of CEM hardware solutions are used on site. CBN is installing CEM's S610e intelligent card reader, which gives full off-line validation and decision making at the point of entry, even when host communication is not available. The S610e also features a keypad and backlit LCD which provides meaningful messages to cardholders for example Wrong Time Zone, Lost/Stolen Card and Access Granted.
Given CBN's focus on providing the utmost security Pentagon together with Geoffield and the other installation partners are deploying CEM's S610f biometric fingerprint readers in areas that required additional security. The CEM S610f is a fully integrated biometric and access control reader that is used to control access to restricted areas, which is managed and monitored by security staff using the AC2000 SE.
Additional hardware also included the S3030 Portable reader that can be used for ID card validation at temporary entrances which have no power, and can be used as a mobile device for random checks within pre-defined zones. The display of cardholder details on the reader such as Name, Date of Birth and Job Title and also cardholder photograph, allows for visual verification of cardholders.
Further reading:
Revamping Liberty Life's reception area
Turnstar Systems Access Control & Identity Management Commercial (Industry)
Turnstar supplied and installed four Speedgate Express lanes, each 550 mm wide, as well as two Pulse Special Needs Gates for wheelchair access to Liberty Life.
Read more...
---
Hybrid licence plate recognition
ZKTeco Products Access Control & Identity Management Transport (Industry) Logistics (Industry)
The ZKTeco LPRS2000 is a hybrid-recognition vehicle management terminal that combines the latest high-performance UHF reader.
Read more...
---
Suprema joins FiRa Consortium
Suprema News Access Control & Identity Management
Suprema recently became a member of the FiRa Consortium, a consultative body that establishes standards for ultra-wideband (UWB) technology, the next generation of wireless communication.
Read more...
---
Physical security at distribution centre
Turnstar Systems Transport (Industry) Access Control & Identity Management Products Logistics (Industry)
Turnstar's Velocity Raptors create a high-security physical barrier at Massmart's new 75 000 m2 distribution centre in Riversands, Johannesburg .
Read more...
---
Integrated smart parking management
ZKTeco Access Control & Identity Management Transport (Industry) Products Logistics (Industry)
ZKTeco smart parking management provides a solution for both small parking lots and busy multi-story car parks, providing maximum efficiency, transparency and security.
Read more...
---
UHF RFID standalone terminal
ZKTeco Products Access Control & Identity Management Transport (Industry) Logistics (Industry)
The U2000 increases access control functions and supports TCP/IP communication, Wiegand in/out, two relays, third-party electric locks, door sensors and exit buttons.
Read more...
---
PALMKI palm vein recognition technology
Access Control & Identity Management Products
Tactile Technologies has announced the launch of Palmki, a palm vein recognition solution developed and marketed by PerfectID, a Belgian company.
Read more...
---
ATG Digital launches solution for emergencies
Access Control & Identity Management Asset Management, EAS, RFID
ATG Digital has launched a Roll Call feature on its app to assist SHEQ managers and safety officers who cite attendance records in an emergency as one of their biggest challenges.
Read more...
---
UHF and Bluetooth multi-technology reader
Evolving Management Solutions Products Access Control & Identity Management
The SPECTRE nano offers hands-free identification of the vehicle and/or the driver, as well as interoperable and multi-protocol secure identification.
Read more...
---
Identity proofing allows easy virtual ID checks
Access Control & Identity Management Security Services & Risk Management
The identity verification market is expected to grow from $8 billion in 2021 to reach $17,7 billion in 2026 with a CAGR of 17,1%, and identity proofing in particular is gaining popularity.
Read more...
---